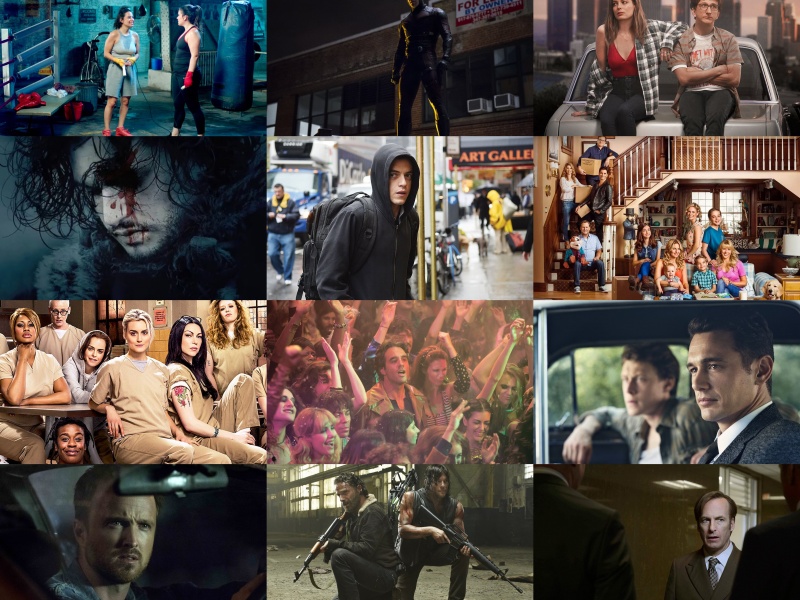 A new year means exciting new things and with that comes new TV shows and the comeback of some as well! We gathered the 20 most anticipated TV shows of 2016 for us.
VINYL
Created by Mick Jagger & Martin Scorsese & Rich Cohen and Terence Winter, this new drama series is set in 1970s New York. A ride through the sex- and drug-addled music business at the dawn of punk, disco, and hip-hop, the show is seen through the eyes of a record label president, Richie Finestra, played by Bobby Cannavale, who is trying to save his company and his soul without destroying everyone in his path. Additional series regulars include Olivia Wilde, Ray Romano, Ato Essandoh, Max Casella, P.J. Byrne, J.C. MacKenzie, Birgitte Hjort Sørensen, Juno Temple, Jack Quaid, James Jagger and Paul Ben-Victor. Scorsese, Jagger and Winter executive produce along with Victoria Pearman, Rick Yorn, Emma Tillinger Koskoff, John Melfi, Allen Coulter and George Mastras. Winter serves as showrunner. The 10-episode first season debuts February 14th. (HBO)
THE WALKING DEAD (SEASON 6.5)
The Walking Dead is back with the other half of Season 6. With no hope of safety in Alexandria, Rick and his band of survivors soon discover a larger world beyond what they understood it to be. In this new reality, there are new dangers, new opportunities and new complexities and face. To claim their place in this newfound landscape, the group must become the threat themselves, as terrifying as any of the adversaries they've encountered. The mid-season premieres on February 14th. (AMC)
BETTER CALL SAUL (SEASON 2)
Before he was Saul Goodman, Walter White's fashion-forward "criminal" lawyer, he was Jimmy McGill, a small-time attorney hustling to champion his underdog clients, build his practice, and somehow make a name for himself. The first season's finale found Jimmy walking away from a lucrative job offer, vowing to Mike Ehrmantraut that his days of playing the game straight are over. Season 2 of Better Call Saul follows the twists and turns of Jimmy's journey toward becoming his Breaking Bad alter ego, along the way soaring to new heights and sinking to new lows. Season two premieres on February 15th. (AMC)
11/22/63
Imagine having the power to change history. Would you journey down the "rabbit hole"? This eight–part event series follows Jake Epping (James Franco), an ordinary high school teacher, who is presented with the unthinkable mission of traveling back in time to prevent the assassination of John F. Kennedy on November 22, 1963. Jake is willing to live in the past in order to solve perhaps the greatest mystery of the 20th century — who killed JFK, and could it have been stopped? As Jake tries to rewrite history, he discovers that the past does not want to be changed and will do anything to stop him. J.J. Abrams adapts a Stephen King novel about a time traveler's attempt to prevent JFK assassination. It debuts on February 15th. (Hulu)
BROAD CITY (SEASON 3)
The BFFs are back! Yeah that's right, Abbi and Ilana are back with new adventures, new special guests and the same unbreakable bond. Broad City season three premieres February 17th. (Comedy Central)
LOVE
Love follows Gus and Mickey as they navigate the exhilarations and humiliations of intimacy, commitment, and other things they were hoping to avoid. Having recently ended their respective dysfunctional relationships, Gus and Mickey meet each other by chance at a convenience store and forge a connection in the mending of their broken hearts and egos. Created by Judd Apatow (40 Year Old Virgin, Trainwreck), Lesley Arfin (Brooklyn Nine-Nine, Awkward) and Paul Rust (Arrested Development). All episodes on February 19th. (Netflix)
TOGETHERNESS (SEASON 2)
Written, directed and executive produced by Jay and Mark Duplass (Jeff, Who Lives at Home, Cyrus), Togetherness is a comedic look at four middle-aged people reconciling their dreams with their current personal and professional lives in Los Angeles. Brett (Mark Duplass) and Michelle (Melanie Lynskey) are a married couple in their mid-late 30s struggling to adapt their relationship to the pressures of parenthood. Brett's best friend is Alex (Steve Zissis), an overweight, out-of-work actor debating if he still has a shot at being successful. Alex connects with Michelle's sister, Tina (Amanda Peet), a free spirit grappling with being single and getting older. Each adult fights to sustain his or her own passion without skirting responsibility. As the two couples find themselves living under one roof, Togetherness explores the significance behind every day moments. Season 2 premieres February 21st. (HBO)
FULLER HOUSE
Have Mercy! The house is full again. Fuller House is coming! In Fuller House, the adventures that began in 1987 on Full House continue, with veterinarian D.J. Tanner-Fuller (Candace Cameron-Bure) recently widowed and living in San Francisco. D.J.'s younger sister/aspiring musician Stephanie Tanner (Jodie Sweetin) and D.J.'s lifelong best friend/fellow single mother Kimmy Gibbler (Andrea Barber), along with Kimmy's feisty teenage daughter Ramona, all move in to help take care of D.J.'s three boys — the rebellious 12-year-old Jackson, neurotic 7-year-old Max and her newborn baby, Tommy Jr. Fuller House is the long-awaited sequel to the iconic hit series Full House. Created by original Full House creator Jeff Franklin, Fuller House will premiere February 26th. (Netflix)
THE AMERICANS (SEASON 4)
The Americans is a period drama about the complex marriage of two KGB spies posing as Americans in suburban Washington D.C. shortly after Ronald Reagan is elected President. The arranged marriage of Philip (Matthew Rhys) and Elizabeth Jennings (Keri Russell), who have two children – 14-year-old Paige (Holly Taylor) and 11-year-old Henry (Keidrich Sellati), who know nothing about their parents' true identity – grows more passionate and genuine by the day, but is constantly tested by the escalation of the Cold War and the intimate, dangerous and darkly funny relationships they must maintain with a network of spies and informants under their control. The Americans returns for an all new season March 16th. (FX)
DAREDEVIL (SEASON 2)
Just when Matt thinks he is bringing order back to the city, new forces are rising in Hell's Kitchen. Now the Man Without Fear must take on a new adversary in Frank Castle and face an old flame – Elektra Natchios. Bigger problems emerge when Frank Castle, a man looking for vengeance, is reborn as The Punisher, a man who takes justice into his own hands in Matt's neighborhood. Meanwhile, Matt must balance his duty to his community as a lawyer and his dangerous life as the Devil of Hell's Kitchen, facing a life-altering choice that forces him to truly understand what it means to be a hero. Daredevil returns March 18th. (Netflix)
THE CATCH
Alice Vaughan (Mireille Enos) is LA's top private investigator — and the one woman you don't want to mess with. But when her fiancé (Peter Krause) cons her out of millions and disappears, Alice goes on a private mission for payback. No matter where it leads or the secrets she must keep along the way, Alice will stop at nothing to catch her man. From the producers of Scandal, Greys Anatomy and How to Get Away with Murder, The Catch is a one-hour drama starring Mireille Enos, Peter Krause, Alimi Ballard, Jay Hayden, Jacky Ido, Rose Rollins, Elvy Yost and Sonya Walger. The Catch is executive-produced by Shonda Rhimes, Betsy Beers, Allan Heinberg and Julie Anne Robinson. The series premieres March 24th. (ABC)
THE PATH
We all want to believe in something, but to what lengths will we go to find meaning? The Path explores the unknown and mysterious world of the cult-like Meyerist Movement in upstate New York. At the center of the movement lies Eddie (Aaron Paul), a conflicted husband; Sarah (Michelle Monaghan), his devoted wife; and Cal (Hugh Dancy), an ambitious leader. We follow each as they contend with deep issues involving relationships, faith, and power. The series takes an in-depth look at the gravitational pull of belief and what it means to choose between the life we live and the life we want. The series premieres March 30th. (Hulu)
CATASTROPHE (SEASON 2)
Rob Delaney and Sharon Horgan write and star in this R-rated comedy about a one-week stand between a Boston ad exec and a London schoolteacher that leads to an accidental pregnancy. When Rob moves to the UK to help figure things out, cultures clash and hormones flare as these two realize they don't know the first thing about each other. Season 2 premieres April 8th. (Amazon)
UNBREAKABLE KIMMY SCHMIDT (SEASON 2)
Unbreakable Kimmy Schmidt is a sitcom created by Tina Fey and Robert Carlock, starring Ellie Kemper in the title role. The series follows 29-year-old Kimmy Schmidt (Kemper) as she adjusts to life in New York City after her rescue from a doomsday cult in Indiana where she and three other women were held by Reverend Richard Wayne Gary Wayne (Jon Hamm) for 15 years. Determined to be seen as something other than a victim and armed only with a positive attitude, Kimmy decides to restart her life by moving to New York City, where she quickly befriends her street-wise landlady Lillian Kaushtupper (Carol Kane), finds a roommate in struggling actor Titus Andromedon (Tituss Burgess), and gains a job as a nanny for the melancholy and out-of-touch socialite Jacqueline Voorhees (Jane Krakowski). With their help, Kimmy struggles to adapt to an unfamiliar world and jump-start the adult life that had been taken away from her. Season 2 premieres April 15th and it was renewed for season 3. (Netflix)
GAME OF THRONES (SEASON 6)
Summers span decades. Winters can last a lifetime. And the struggle for the Iron Throne continues. It stretches from the south, where heat breeds plots, lusts and intrigues, to the vast and savage eastern lands, where a young queen raises an army. All the while, in the frozen north, an 800-foot wall of ice precariously protects the war-ravaged kingdom from the dark forces that lie beyond. Kings and queens, knights and renegades, liars, lords and honest men…all play the Game of Thrones. The new season premieres on April 17th. (HBO)
MARSEILLE
As the municipal elections approach in Marseille, Robert Taro, the city's Mayor for the last twenty years, prepares his last coup: push through the vote for the construction of a casino in the historic center of the Marina. Nothing has been left to chance, and his successor, Lucas Barrès, is already designated. But the latter's all-consuming ambition and the secret interests of the city's leaders, whether they come from its opulent villas or from the cities of the northern suburbs, impede the Mayor's plans. The race for Mayor becomes a power struggle where no holds are barred. Only one question arises: how far will they go? The cast includes Gérard Depardieu (Robert Taro), Benoît Magimel (Lucas Barrès), Géraldine Pailhas (Rachel Taro), Nadia Farès (Vanessa d'Abrantès), Stéphane Caillard (Julia), Jean-René Privat (Cosini), Guillaume Arnault (Eric), Hedi Bouchenafa (Farid), Carolina Jurczak (Barbara), and Nassim Si Ahmed (Selim). Marseille is written by Dan Franck who serves as Executive Producer. It debuts on May 5th. (Netflix)
PREACHER
Preacher is the story of Jesse Custer (Dominic Cooper), a conflicted preacher in a small Texas town who is inhabited by a mysterious entity that allows him to develop a highly unconventional power. Jesse embarks on a journey to, literally, find God, joined by his ex-girlfriend Tulip (Ruth Negga) and an Irish vagabond named Cassidy (Joseph Gilgun). The series premieres May 2016. (AMC)
ORANGE IS THE NEW BLACK (SEASON 4)
Orange Is the New Black is based on Piper Kerman's memoir, Orange Is the New Black: My Year in a Women's Prison (2010), about her experiences at FCI Danbury, a minimum-security federal prison. The series revolves around Piper Chapman (Taylor Schilling), a woman in her 30s living in New York City, who is sentenced to 15 months in Litchfield Penitentiary, a minimum-security women's federal prison (operated by the "Federal Department of Corrections", a fictionalized version of the Federal Bureau of Prisons) in upstate New York. The new season premiers June 17th. (Netflix)
MR ROBOT (SEASON 2)
The first season of Mr Robot ended with lead character Elliot coming to terms with the fact that he has some serious mental health issues. Clearly, fans can expect to see him fight his inner demons in season 2 — but there will also be some big twists, promises showrunner Sam Esmail. Mr Robot season 2 is rumoured to premiere in June/July of 2016.
UNREAL (SEASON 2)
Set against the backdrop of the hit dating competition show "Everlasting," UnREAL is led by flawed heroine Rachel Goldberg (Appleby), a young producer whose sole job is to manipulate her relationships with, and among, the contestants to get the vital dramatic and outrageous footage that the program's dispassionate executive producer, Quinn King (Zimmer), demands. What ensues is an eye-opening look at what happens in the outrageous world of unscripted television, where being a contestant can be vicious and being a producer a whole other reality. The new season premiers this summer 2016. (Lifetime)