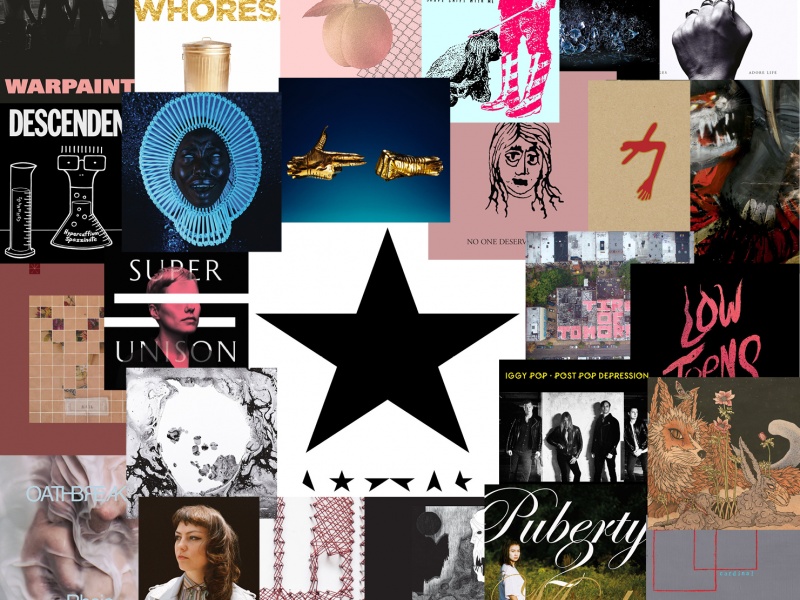 From Pinegrove to Mitski, from Run the Jewels (there's no way around it, RTJ3 is a 2016 record) to David Bowie, it was again hard to pick just 50 albums, but here's our Top 50 best albums of 2016 along with our thoughts on them. Each of our writers and editors submitted their 'Top 20 albums of 2016' lists and we worked out the top albums to put together this awesome list.
2016 was a strange and turbulent year, from Brexit to the US elections, from the shameful situation in Syria to the overwhelming migrant crisis. During the year, we lost legends who will be greatly missed and certainly not forgotten. Carrie Fisher, Alan Vega, David Bowie, Leonard Cohen, Mohammed Ali, Alan Rickman, Prince, Sharon Jones, Gene Wilder, Debbie Reynolds, Johan Cruyff, Alphonse Mouzon just to name a few…
So, we're going to put 2016 behind us and enter 2017 in the best way possible, with our new issue (out next week) and with high hopes that 2017 will be a challenging year that will bring about change for the best. Happy new year to you all!
---
50. Angel Du$t – Rock The Fuck On Forever (Pop Wig)
Angel Du$t show strength and depth within a genre which is in constant evolution and Rock The Fuck On Forever is definitely a record that will take the listener beyond the punk/hardcore scene into the deeper waters of rap metal, surf rock and alternative rock.
---
49. Whores. – Gold (Eone) 
On their debut LP, Whores. go frantically at it with a razor-sharp set of songs that for the most part are unwilling to take the foot off the gas. More than just a sonically rock album, Gold is of extreme relevance on a social level with its imposing, gut-wrenching, and extremely gritty lyrics.
---
48. Warpaint – Heads Up (Rough Trade)
It's got all the elements to become by far their most confident and daring album. Their dynamic is phenomenal, as usual, maintaining that electrifying and sensual approach, while they play their instruments and sing their lyrics. You just get wrapped up in those danceable beats and the intense melodies.
---
47. S U R V I V E – RR7349 (Relapse Records)

Between Kyle Dixon and Michael Stein's recent breakthrough success with Stranger Things and a general synthwave revival, the timing couldn't be better for S U R V I V E's return. They are shaping a world, a sonic cosmos that operates according to their rules – it's a dark place, but the sense of wonder and mystery makes it a joy to traverse.
---
46. You Blew It! – Abendrot (Triple Crown Records)
Abendrot, You Blew It!'s first record for Triple Crown Records, is a complex state of affairs for this American emo band. The quintet based in Orlando, Florida spew the skeleton for their third record in roughly four days and worked on it for the vast majority of the following six months. The dichotomy between the sense of urgency that prompted its fast turnaround and the quest for perfection defines an album that sounds sober-minded while at the same time it crumbles under an awe-inspiring, deep emotional weight – especially when frontman Tanner Jones' mental health is the subject. Abendrot proves to be the band's most ambitious effort to date and manages to feel effortless and sound cohesive within its progressive mentality.
---
43. Metallica – Hardwired… To Self Destruct (Blackened)

Hardwired… To Self Destruct has plenty of great songs making it a good and solid Metallica record. The heaviness in guitar tone is only surpassed by Ride The Lightning or the Black Album, making this one of Metallica's most powerful and heaviest sounding records to date. These songs don't feel as contrived or thought out as Death Magnetic and even with a few filler tracks, there's a quality and sincerity in this material that will undoubtedly resonate with most listeners, making Hardwired… to Self Destruct, easily, their best album in 25 years.
---
44. Car Seat Headrest – Teens Of Denial (Matador)
The new LP, which is the project's 13th full-length, sees CSH move forward musically and while maintaining the quality of the past. The musical vocabulary used on Teens of Denial is awe-inspiring. Taking cues from acts that represent some of the best in the history of songwriting – Nirvana, Pavement, Wire, Pixies, etc. – Toledo and company deliver a rock LP that is able to meet even the maddest expectations. Beware because Car Seat Headrest might well be the next pinnacle of rock songwriting.
---
43. Hellions – Opera Oblivia (UNFD)
Hellions, the Sydney-based quintet, have delivered one of the greatest albums in recent memory. Making wonderful use of operatic and theatrical elements, the Australians have learned from the cues given by the masters Queen and My Chemical Romance and have used this knowledge to create their own distinctive identity, which is filled with a myriad of cutting-edge musical ideas crafting an astounding and even over-the-top anthemic feel. Opera Oblivia is extremely rich in details, a hopeful testimony of a group that is willing to be as socially conscious as well self-aware. A majestic celebration of life, even when everything seems bleak and lost.
---
42. The Coathangers – Nosebleed Weekend (Suicide Squeeze Records)
Eclectic, blistering and unexpected, Nosebleed Weekend goes beyond the band's irreverent punk garage rock. Full of contagious sing-along hooks, loud-fast-quiet-loud-noisy repetitive vocal refrain, with influences ranging from Bikini Kill to Kim Gordon's Free Kitten sing alike, the result is a heavy dose of stripped-down pop anthems, 70's garage and 90's messy grunge. Songs like "Squeeki Tiki" and "Excuse Me?" are deliciously different and get stuck in your head for days, "Perfume" and "Make It Right" are pure rock anthems. The Coathangers level up their game and these fourteen in-your-face songs are a triumph.
---
41. Darkthrone – Arctic Thunder (Peaceville)

Arctic Thunder is a natural progression from Circle The Wagons, still a spiked-fist salute to NWOBHM and speed metal that rekindles the fires of Fenriz and Nocturno Culto but also one that dares to take things a step further – sometimes it works, like the cowbell and frazzled soloing on "Boreal Fiend", and other times it feels like you'd be better off digging out your old Sodom records. Still, it's one of the most musically accomplished things they've ever put out, it's undeniably catchy and, most importantly, it perfectly captures the spirit of heavy fucking metal they've championed since day one.
---
40. Marissa Nadler – Strangers (Sacred Bones/Bella Union)
Strangers is another exquisite and beautiful journey. Marissa's allure to convey her feelings into textural atmospheres just makes you wish it never ends. The mist around Strangers is sublime; the mysteries and wonders of our existence come to life with Marissa's sounds and words. This time around Marissa left aside themes like heartbreaks and she focused much more on global themes, leading to this delicate and deep dreamscape of hers. At her seventh full-length, she has given enough proof that she's a damn amazing songwriter and musician.
---
39. Swans – The Glowing Man (Mute)
The fourth "official" album since the surprise reunion of Swans and the third in a row has a mammoth two-hour running time and drags you head in first through varying degrees of intensity. The work of Gira and his cohorts has come to increasingly resemble the densely-packed and weighty cinema of a filmmaker such as Nuri Bilge Ceylan, with each release growing in magnitude and scope as it determinedly scrutinises and chips away at the vast unknowable rock-face of human emotion. With this comparison in mind, The Glowing Man is Swans' "Winter Sleep".
---
38. Joyce Manor – Cody (Epitaph)

From the opening track "Fake ID", it is clear that Cody is not going to disappoint. Not in the slightest! Singer Barry Johnson seems like the second coming of Morrissey and there's this new sense of clarity in his lyrics, everything seems more direct, mature and straight-forward. Cody is an evolution, perhaps their most ambitious and diverse album, all the songs are tender, sound big and ballzy, but at the same time are raw and intimate. From Morrissey to Elliot Smith, from Rancid to Sun Kil Moon, this is a band that's not stuck in the same old formula, they are creative minds and they're always renewing their own sonic influences. Simply magnificent.
---
37. Culture Abuse – Peach (6131 Records)
Their blend of power pop sticky melodies with the slickness of punk and the fuzzy-slacker shoegaze matches in perfection with their pedigree hardcore aggression. David Kelling's outstanding vocal performance is the key to Peach's countless and seamless transitions between songs. Don't get me wrong when I say that after you listen to Peach, something will grow on you, and yes, you're going to be too busy singing along to their anthems. "Do Whatever" is their motto and even when they tackle subjects like anxiety and depression, nothing seems to get weird or anything. They handle everything with the same ballzy attitude, quite inspiring I must say. They don't give a single fuck about what you think of them and you will easily learn that these dudes are the real deal, no bullshit attached. Fresh and strangely addictive, Culture Abuse are a huge contender to the best new band around and Peach is an eclectic, dreamy and a heavy artistic statement, full of hooks and top notch songwriting.
---
36. Angel Olsen – My Woman (Jagjaguwar)
My Woman wouldn't be so impactful without the contrasts that 2013's Burn Your Fire For No Witness offer. On her third solo album, Angel Olsen becomes more ambitious and in the midst of it steps into potentially vulnerable places with the way she seems to tackle relationship issues in her lyrics and with the decision of letting her incredibly flexible and dynamic voice to guide an album that is all around less hectic in its production values, offering a wonderful sense of clarity in terms of sound that makes the task of listening to it the more enjoyable. My Woman is an album that offers sonic and lyrical excellence through diversity – it never holds still and is always looking for a new colour and smell – but more importantly, My Woman is a breakthrough album by an artist that found a confidence so undeniable that we can taste it ourselves.
---
35. Planes Mistaken For Stars – Prey (Deathwish Inc.)
On their fourth album, and first since their reunion in 2010, the quartet led by guitarist and vocalist Gared O'Donnell manages to deliver what's arguably their most urgent and earthshaking effort. Starting with a noisy, aggressive, to-the-fucking-point, and chaotic "Dementia Americana" that throws a well needed "Wake Up!", Prey is an extremely multi-layered effort that wanders through a multitude of territories that are pieced together by Planes Mistaken For Stars' soulful, vulnerable, extremely emotional, and relentlessly complex approach. Prey is an album that celebrates the relevance and importance of honest rock and punk music.
---
34. Pinegrove – Cardinal (Run For Cover Records)
Indie rock evolves into 2016 as Pinegrove releases their latest record Cardinal. The New Jersey based group leads you through eight soft and emotional songs with simplistic guitar tracks and catchy lyrics. The vocal melody flows with an almost flawless touch as the music lies tightly under it. At certain points in the album, there are country-like guitar licks which add to the album's diverse influences. Indie, pop, rock, country and everything in-between blend perfectly in this creative, unique album. I'm very excited to see how Pinegrove will follow-up this release.
---
33. Muscle And Marrow – Love (The Flenser)

Love is one of those things that tend to be destroyed when deconstructed, and so is music sometimes. For their second LP Muscle & Marrow dive deeper into atmosphere, focusing on pulsing drumbeats, electronics and the overall gloomy ambiance of the record. A thoughtful and unconventional instrumentation, where the notes one chooses not to play are as important as the ones played – a kind of minimalism that only amplifies and enriches the whole experience. Dealing with loss and all the contradictory feelings that sometimes come along with love, this LP will certainly be amongst our 2016 favorites. And about Muscle & Marrow, with their intense and genuine expressiveness and the absolutely gorgeous vocal performance of Kira Clark, well, they definitely deserve the status of a very special project with an unparalleled identity.
---
32. White Lung – Paradise (Domino)
On their fourth album Vancouver-based White Lung have managed to further establish their unique sound, which makes the following statement imperative: Kenneth William's guitar work is as stellar as highly underrated. Following the guidelines that made 2014's Deep Fantasy an amazing work, Williams perfected the dual effect that his work with the strings has. The ten tracks are a stellar parade of riffs that sound as sharp as killing blades and extremely addictive, providing, with Anne-Marie Vassiliou's extremely tight drumming and Mish Barber-Way's unmistakable, powerful and memorable vocals, soundwaves that provoke a state of ecstasy and euphoria. If musically it comes as a huge achievement, the more matured and incisive lyrics of Mish, that successfully put things into perspective, make Paradise another vital work of the punk history.
---
31. Against Me! – Shape Shift With Me (Xtra Mile Recordings)
Against Me! are a band situated between the rush of fire and the refreshing clean air. That's the contrast that unfolds on the band's new record Shape Shift With Me, a contrast of love and war, of dreams and doubts. Lead singer Laura Jane Grace batters her voice, screaming out, overlapping the tension. She also bellows out words that describe the pollution of the world, a world falling down, crumbling piece by piece. And on the new album, politics is examined and truly unpacked, thrown to the vultures. And Grace doesn't powder over the cracks on songs such as "Crash" and "333". They're both highly tuned to provoke a response, they're truly engineered with creative guitar lines and bubbling energy. The tones are there and as well the lyrical decisiveness.
---
30. Mannequin Pussy – Romantic (Tiny Engines)
Romantic is undeniably impressive as it only takes 17 minutes and 11 songs to make you fall in love with it. It's short but fucking effective. Irresistibly confrontational, Romantic is fast, chaotic and introspective as hell, showcasing Mannequin Pussy's diverse sound, from their erratic hardcore tunes to their expansive non-stop noise rock and bubblegum saccharine pop. Intelligent and liberating, a captivating record for challenging times.
---
29. Slowcoaches – Nothing Gives (Leisure & District)

Nothing Gives is an unrelenting thrash of an album that blazes through its twelve tracks with the ferocity of the Ramones and a sharp tongue, taking on themes from mental illness to the state of the DIY scene. Despite its sometimes bleak themes, the record is loud, tongue-in-cheek and exhilarating, a testimony to Slowcoaches' prowess as a live band that translates so well on record it could incite a moshpit. What sets Nothing Gives apart from many debut albums is that it doesn't sound like one – and that's meant as a compliment.
---
28. Korn – The Serenity Of Suffering (Roadrunner Records)
The Serenity Of Suffering sounds like a blend between 2002's Untouchables and 2010's KORN III – Remember Who You Are, but with a new twist, Jonathan sounds angry and fucked up, his vocals are more powerful than ever, Nick Raskulinecz's production is top notch, everything sounds massive and heavy. The Serenity Of Suffering is a comeback to form, Head's return was the key element in Korn's new set of dynamics influencing the whole creative process. It still sounds impressive, refreshing and over the top, these dudes still sound unique and more organic than ever.
---
27. Wrekmeister Harmonies – Light Falls (Thrill Jockey)
Wrekmeister Harmonies' records tell grandiose stories. JR Robinson and Esther Shaw, the heart of Harmonies, destroy, resuscitate and move through worlds relying on cooperative contrasts. In the first part of the title piece, Robinson repeats, "stay in, go out, get sick, get well, light falls;" these words echo feelings of movement throughout each song. Light Falls was inspired by anti-fascist Primo Levi's memoir of his year in Auschwitz, If This Is a Man. Robinson transformed Levi's assertions, that inhumanity stems from slow changes that rational people inadvertently accept, into the album's theme: an audible change that mimics the sunset's transformation into darkness.
---
26. Architects – All Our Gods Have Abandoned Us (Epitaph)
With their new album All Our Gods Have Abandoned Us, the band maximise their sound to blitz everything they've done before, by mastering the art of volatility. Yes, they've always been loud and brash, but on the new opus, they proudly elevate. They reach beyond the cut throat drama, cancelling out any niggling aches of mediocrity. Songs such as "Phantom Fear" and "A Match Made In Heaven" are both electrifying and atmospheric, pushing the sound further. The guitar influence is always there to please, as well as the thought provoking lyrical play, words that pound and provoke a response.
---
25. Super Unison – Auto (Deathwish Inc.)

There's no bullshit here and their music is meant to be frontal. Auto is their debut full-length and a great follow-up to the band's EP. It's raw and bold, everything is straightforward, creating songs coming in at the two minute mark. Meghan blends aggressive with melodic singing, speaking about real damn important social issues. Having producer Jack Shirley (Oathbreaker, Deafheaven, Loma Prieta) on board to record this album, it gave a consistency to the dynamics of the band, resulting in an incendiary and intelligently brutal album.
---
24. Neurosis – Fires Within Fires (Neurot Recordings)
There are countless ways to describe Neurosis' art and impact. Saying they're one of the best to ever do it and that they've changed the "underground" game would just be the tip of the iceberg in an endless discussion. Celebrating 30 years of a mind-blowing career, the Oakland-based quintet follows-up a brilliant Honor Found In Decay – the 2012's album that took the band's sound to a whole new level with Noah Landis's atmospheric level carrying it to unspeakable new heights – with Fires Within Fires, an album that makes use of a more conservative and direct approach that sounds all too safe at times. "Failing" in providing a more challenging work, Neurosis leave in the room a solid enough of an album that has more soul and heart than most.
---
23. Thrice – To Be Everywhere Is To Be Nowhere (Vagrant)
How great is it to see Thrice back after what seemed to be an indefinite hiatus and with a brilliant take on their (comeback) ninth album? It's just too much awesomeness in one review. Even being inactive for quite a while, they didn't lose their essence and just like that they make a massive return. For those with cold feet on what to expect from this comeback, just get over it and listen to this amazingly written album. To Be Everywhere Is To Be Nowhere is the band's fiercer and bolder album to date, they go to their extremes and the outcome is something quite remarkable. Dustin's lyrics are sharper and deeper, he didn't hold anything back and he overcomes fear and hesitations through his words. The whole band feels reinvigorated with this new album and they're stronger than ever, that's for sure.
---
22. Descendents – Hypercaffium Spazzinate (Epitaph)

The Descendents, the punk legends that made a name for themselves with extremely witty self-deprecating remarks and an entrancing melodic sensibility and vision, are growing older. Now all in their 50s, they're releasing their first album in 12 years without losing a fucking ounce of relevancy, power, and appeal. As a matter of fact, it adds to what they had – they know they have grown up, even though back in the day they didn't want that to happen. Hypercaffium Spazzinate can be a record "made for old people by old people" but it often gets a universal appeal with its relevant social subject matters… not to mention that musically we find an extremely energetic band that delivers their most musically matured album to date. More than a record, a huge statement.
---
21. King 810 – La Petite Mort or a Conversation with God (Roadrunner Records)
King 810's mere existence requires a more complex conversation and to start that conversation there needs to be a certain degree of understanding regarding where it does come from and what they're trying to convey with it. As with any form of artistic expression, having the right mindset and perspective will dictate the existence or, inexistence, of appreciation. For this is an extremely cohesive piece of work that was puzzled together in such manner that its flow ends up being almost ridiculous. We're talking about a band that was able to put together a record that has more social consciousness and awareness than you're probably used to. More than a brilliant musical album, this album is a piece of art.
---
20. Miserable – Uncontrollable (The Native Sound)
Throughout all the 9 tracks that compose Uncontrollable, the shoegaze, doomy, jazzy, and bluesy approach provides the perfect soundtrack for the painful, intimate and personal reading of a diary filled with gut-wrenching, soulful, and (more than one would expect) anguished howls made by someone who has embarked on a painful journey towards understanding and accepting life's dynamics. Uncontrollable is the kind of record that you want to explore for many years to come, and that's rare.
---
19. True Widow – Avvolgere (Relapse Records)
A hybrid of stoner and shoegaze, Avvolgere is a dark, brooding, deliberately under-produced album that exists somewhere in the ether between the two aforementioned genres, but is happily flirting and dashing between the two in brazen and unashamed ways. Vocals sound like after thoughts, hidden deep in amongst the bass and fuzz-hewn guitars. Slow tempo drums beat slave ship rhythms throughout the songs, and the production allows every rough edge space to breath, enhancing the songs rather than displaying any naivety or lack of talent. It sounds like the music that would soundtrack a late 90's gothic action movie. It's completely comfortable in its skin, utterly unafraid of its limitations, wearing its heart proudly on its sleeve. And you have to kind of adore it because of that chutzpah.
---
18. Nothing – Tired Of Tomorrow (Relapse Records)
Here they are again with another fantastic record. Nothing's sophomore album, naturally, finds us with a more mature band. Although it might sound bleaker, Tired of Tomorrow, with its prominent shoegaze haziness and grungy feel, definitely sounds like what its title implies and seems to just accept the fact that sometimes life appears to turn into a very strange and cruel place and one must just turn off the brain for a little while and wait for the storm to pass.
---
17. Gojira – Magma (Roadrunner Records)
Gojira are a band that carry expectation with them heavily like a burden with each new LP cycle. Therefore, listening to this new release you can hear the weight of anticipation and the harnessed fear within each and every song. A more contemplative, slower and more introverted album than previous releases. But nonetheless creative, inventive and masterful for it. Opener "The Shooting Star" sets the mood within seconds, and the pace is kept steadily more panicked and moody with each new track. "The Cell" is a machine gun burst of intellectual metal, "Yellow Stone" is a doom laden stoner track, eponymous track "Magma" has a genuine sheen of menace and terror. Another stark and startling achievement from a band who do not compromise their vision for quality, and have knocked another homerun.
---
16. Emma Ruth Rundle – Marked For Death (Sargent House)
On her second solo album, Emma is expressing everything in the deepest way possible and she clearly wanted to deal with everything that has happened to her through the music. With ongoing health and personal issues, this album is a culmination of her experiences. Each song has a unique meaning and feeling, all autobiographical. Even the album's artwork is a self-portrait of hers, reflecting how raw and straight to the point the album is. With a season of change, Marked For Death is the perfect record to listen to through a gloomy autumn day. Nature is changing as the seasons change as Emma is evolving with her experiences and her ability to create something beautiful from painful events.
---
15. Mitski – Puberty 2 (Dead Oceans)

If the previous studio effort thrived in its energetic bursts, creating a certain layered cacophony to contrast the more soft-paced moments, the new album takes a more steady and confident approach piecing together, gently and dazzlingly, one of the most intimate, imposing, enthralling, and wonderfully crafted albums of 2016. Mitski's voice takes the front seat with one truly memorable melody after the other in a fantastic trip through reality made with an extremely lush production that rewards the most respectful listener with its electronic slickness, irresistible guitar work, and even a heaven-like saxophone that dazzles right in the album's opening track. The record never runs out of oxygen, allowing the witty metaphors of inner struggles that never go way and the pursuit of happiness and balance that always seems to fall short in the end to sink in. Truly brilliant!
---
14. Childish Gambino – Awaken, My Love! (Glassnote Records)

Childish Gambino's third album, Awaken, My Love!, might not illustrate originality in its most pure and conservative form but… who the fuck cares when we have an album like this one? Gambino became a father, took a look back at his father's record collection and created an album that has immensurable heart and soul. He embraced 70's soul, funk, R&B, and rock music and carved an album that thrills and astounds at every corner. "Have a word for your brother. Have some time for one another. Really love one another." Let's not diminish the value and importance of such words in times like these, especially when they're wrapped around with such beautiful and touching sonic expressions.
---
13. Every Time I Die – Low Teens (Epitaph)
A band's new album should always challenge and push beyond past accomplishments, and for Every Time I Die that's always mandatory. Low Teens is intense, the Buffalo mob unleashed a monster, perhaps their most accomplished effort ever and this time around they've pushed the band into inexplicably heavier territories. Killer riffs and fully dynamic, where Keith's screaming meets melodic vocals are sharper than ever, Low Teens have this menacing and raging attitude that really makes us feel that this album is a hardcore driven explosive cocktail of that which will explode in our hands at any time. It's an exhausting and relentless experience, but this is a brilliant effort in any way.
---
12. Sleigh Bells – Jessica Rabbit (Torn Clean)
Sleigh Bells – Derek Miller and Alexis Krauss – are back! The duo return with their first new album in three years, Jessica Rabbit. Gloriously expansive and full of sonic explosions, this is a return to form of a band that totally justifies their hype, once again they are firing raw passionate anthems all over the place. Jessica Rabbit is refreshing, it's noisy and confident, has sense of maturity throughout, attitude and precision. Derek Miller's incendiary riffs are still damn catchy and sharp, while Alexis Krauss thrashes and wails right on form with her trademark visceral raw minimalist vocal approach. No one matches Sleigh Bells' chaotic and wildly infectious sound, Jessica Rabbit is unpredictable and wonderfully dynamic. They're still the undisputed champions of originality!
---
11. The Body – No One Deserves Happiness (Thrill Jockey)
No One Deserves Happiness is sickening at times – almost comparable to Pharmakon's Bestial Burden – and unbelievably beautiful because of Chrissy Wolpert and Maralie Armstrong's mesmerising voices – a track like "Adamah" needs to get some fucking recognition. In one hand, there's the harsh and violent soundscapes, and on the other there's the electronic mixed with the dance-influenced industrial beats. It's an album of contrasts that represents the eclectic tastes of the duo. In the midst of their prolific career The Body are crafting a unique path.
---
10. The Dillinger Escape Plan – Dissociation (Party Smashers Inc.)
Dissociation is The Dillinger Escape Plan's sixth full-length and it could also be their last. Could this be the end? We don't fucking know… But we're fully aware that a Dillinger album is never easily made, and the whole process is for sure creative and personally exhausting, these guys don't operate like a normal band. Listening to a Dillinger Escape Plan album is always a new experience, like trying to solve a puzzle that never seems to end… Primal, crushing and rad, everything sounds frantic and perverse, it's like a vicious ride full of euphoria that pushes the listener in the same intellectual and sonic direction. Greg Puciato is once again out of control and Ben Weinman is the maestro of this unfashionable yet brilliant masterpiece, showing a group of artists more focused than ever in their pursuit of musical innovation.
---
09. letlive. – If I'm The Devil… (Epitaph)

At the crossroads. That's where we imagine letlive. in the moments following 2013's brilliant The Blackest Beautiful and preceding the brand new If I'm The Devil… The Los Angeles quartet prioritized the attempt to truly evolve and progress in detriment of what could have been a more comfortable and easy ride.
Its scope is one of the most impressive features, and the courage to redefine a dialect when it would be an arduous task to predict objectively if it would even remotely work. The sounds coming out of each song – soul, punk, hardcore, gospel, hip hop, and more – provide a universal appeal that can't be overlooked and should be praised. The emotional availability and vulnerability are not showing around the corner for the first time, but it was hardly as dashing as this time around. Jason Aalon Butler, who a long time ago decided that he wouldn't turn his back to those around him, puts himself on "trial" while at the same time connects with some of the issues that really matter.
---
08. Iggy Pop – Post Pop Depression (Loma Vista)
Iggy means rock n'roll and rock n'roll means Iggy. Post Pop Depression is the old and experienced mentor and the talented good hearted disciple proving us that one is just as old as he feels. The album sounds like the real collaboration that it is, with Josh Homme being definitely the most legit heir of Iggy's throne. Musically speaking, expect to be surprised!
---
07. Touché Amoré – Stage Four (Epitaph)
Touché Amoré started well with 2009's …To the Beat of a Dead Horse and from there they managed to evolve and increase significantly the quality of their songwriting to the point of reaching almost perfection with the unbelievable fulfilling 2013's art-punk masterpiece, Is Survived By.
After a great landmark there's always some reservations regarding the follow-up. Unfortunately, for the singer and lyricist Jeremy Bolm, life was a great provider of material for Amoré's fourth album – Bolm's mother was diagnosed with Stage Four cancer and passed away in 2014. And from there is born the most emotional, personal, and cathartic album of the band's career thus far. A piece that testifies the importance of art in life and vice-versa, and confirms Touché Amoré as one of the most important acts in the punk/rock/whatever spectrum.
Stage Four isn't only a great work around acceptance and understanding from this one man, is also the alternative soundtrack for said subjects. An exquisite and delightfully detailed soundtrack for anyone that is willing to grow up with the band. Stage Four makes seem that there's much more to come.
---
06. Nick Cave & The Bad Seeds – Skeleton Tree (Bad Seed Ltd)
The album as a whole, from "Jesus Alone" to "Skeleton Tree," feels as if Cave is guiding you through the process of accepting his tragedy. Your tragedy. An occurrence everybody has experienced which threatens to carve the still-beating heart from your chest. Yet, Skeleton Tree assures that there is life after pain and sorrow. Whether or not there truly is, well, that is for each listener to decide for themselves.
It seems nearly intrusive to be a part of something so painfully personal. It's also testament that the most extreme life events yield the most beautiful art. Absorb every waver in Cave's deep voice and understand his carefully chosen vocabulary. Skeleton Tree is an album that should never have been made, but it is the utmost humbling honor to be entrusted with such an intimate work. "And it's alright now."
---
05. Radiohead – A Moon Shaped Pool (XL Recordings)
If you still long for guitar detonations with Radiohead, then it really is time to move on elsewhere. With 2000's Kid A and tracks like "Treefingers", Radiohead were regarded as a group taken leave of their collective senses. Instead, they have refined themselves into a musical entity which is translucent, opaque, shimmering without borders or restraints and spinning endlessly in and out of reach. Radiohead help us understand the times we live in, not by appealing to our base instincts, but by showing us what we could be.
---
04. Run The Jewels – Run The Jewels 3 (Run The Jewels, Inc.)
The question that followed the release of RTJ2 was, "Are there more steps to climb in the Run the Jewels' ladder?" The answer is as crystal clear as pure water: "You're gonna need a bigger boat, boys, you're in trouble" ("Down"). If "Jeopardy" (opening track of RTJ2) was just as nasty as fuck, then opening track "Down" is the deep state of consciousness through meditation before going to war. When 2016 gives strong hints that the end is near, the deadliest duo of our times rise once again to deliver their most cutting edge effort, firing bullets with the precision of Simo Häyhä and offering a lucidity in this dark times when a revolution seems like the only option.
RTJ3 goes after the masters in the name of the "classless masses", and in doing it takes as fair game the show of horrors that is war (that is ok taking advantage of children), the corruption that seems inherent to power, police brutality, the relentless greed that leads to obnoxious atrocities, the consequences of political correctness, the lack of empathy that dominates our world, our horrible "leaders", and much more. In a time where people are afraid to speak their minds, Killer Mike and El-P say 'FUCK YOU!' and take advantage of their fame to speak their minds in an unforgiving way, making it impossible to overlook the message. But even though their art holds an extremely high value, there's not elitist manners to it. RTJ's art on RTJ3 thrives with its appealing sounds and moves, creates excitement at every weird ass sound, and even in its eclectic nature – El-P is one of the dopiest producers to ever do it, and his greatness ("I'm the son of Rick Rubin rushing full-thrust," he says) has been untouchable even when he pushes himself – is able to grab every single one of us, never assuming that the audience is too dumb to get it.
---
03. Savages – Adore Life (Matador)

There's an entire incisive nature and approach to Adore Life that can't be possibly overlooked or diminished. It's a revolution that makes use of words and music, never allowing an unevenness, between the two, to occur. Almost in the middle of its way two of the most important questions emerge, "Is it human to ask for more? / Is it human to adore life?" ("Adore"), creating the most nauseating and revolting feeling. In the light of the social injustices that have been so openly displayed and constantly perpetrated, Adore Life reveals more concern in providing answers than to simply point the finger – even their questions sound like answers. And to achieve its purpose shakes, and sometimes breaks, emotionally the listener with a strong unwillingness to soften their hard hitting nature.
Adore Life is an indispensable compass in this life clouded by fear, pain, and confusion, and Savages are probably the leanest and meanest band around these days.
---
02. Oathbreaker – Rheia (Deathwish Inc.)
Hardcore is, at its heart, a form built on catharsis, an expulsion of disgust and ire at injustice and ills, and anyone who has seen Oathbreaker live can testify that they embody this ethos. Rheia is, therefore, something of an anomaly as while it remains an emotionally impactful effort, its toning down of blackened aesthetics and focus on earnest intricacy marks a definite move towards maturity. The songs are longer and more unpredictable, though never meandering nor resting on weary repetition; they can chill the bones with a show of deliberate tenderness without first hacking through skin and flesh; they are a huge leap forward for a band who always sounded hungry for something greater, more audacious, and it's enough to leave you stunned, thirsting for what they deliver next.
---
01. David Bowie – Blackstar (Columbia / RCA / ISO)
Blackstar concludes with Bowie wagging his finger to the fans – smiling at them coyly, but telling them that – with as much as he has given away on this record, as much as he has confessed, as much as he has allowed them into his mind – he always has the ability to draw the line, close the door and tell them clearly I CAN'T GIVE EVERYTHING AWAY. A subtle, impish finale to an album full of gentle and evocative moments.
If The Next Day was the record of a man who has discovered he is unwell, and coming to terms with who he is to himself, to his fans and to his family. Coming to terms with his life and his legacy – and his own past – Blackstar feels like the record of a man who realizes he has everything and nothing to lose. A man at ease with who he is and has always been. A man who knows his own path and mind, and who has decided to roll the dice one last time – knowing the game is fixed – and yet still gets to walk away with the whole pot.
An absolutely stunning and jaw-dropping album. Far and away from the loss of the mastermind behind it, Blackstar is a fitting end – a fitting full stop – to the legend, legacy and career of one of the planet's most defining artists. Every bit as good as his most famous work, every bit deserving of being the album that we recall when we remember him.