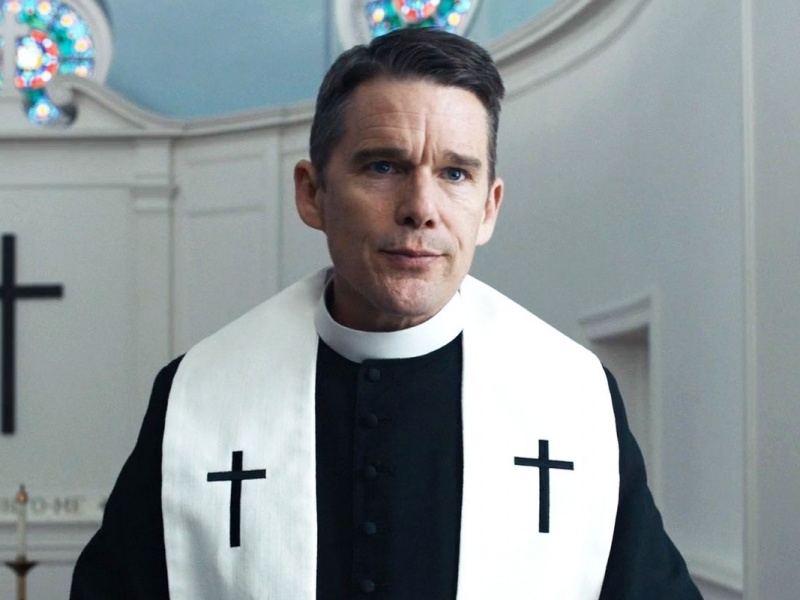 DIRECTOR: Paul Schrader STARRING: Ethan Hawke, Amanda Seyfried, Cedric the Entertainer, Victora Hill, Michael Gaston, Cedric Kyles USA 2018
8
Paul Schrader is responsible for some of your favorite movies (and if they're not, they should be), such as Taxi Driver, Raging Bull and The Last Temptation of Christ… but as a screenwriter. Not as a director. Films like Auto Focus, Light Sleepers and The Canyons have flown under the radar for most people, and most reviews of his directorial work are not extremely flattering. So it's possible that his name more often than not does not ring a bell (despite the fact that he is a Hollywood veteran). But after First Reformed, it will.
Reverend Ernst Toller is a troubled man (I mean, come on, considering the director and screenwriter, what did you expect?), troubled by traumatic events in his life. After being visited by Mary, who requests his assistance in conversing with her husband over a crisis of faith in humanity and growing extremist views and concerns, the reverend starts delving into questions of morality concerning the natural world around us. The message of the film slowly unfolds itself upon the viewer until it is right up front for us to feel shameful at our historical course as a species. The cinematography is immaculate and clean, but claustrophobic and suffocating at times. The film is also very grounded for the most part, save for a couple of more "artistic" sequences (namely one involving levitation which was actually a highlight in the film). But the film's real anchor is Ethan Hawke, who delivers a staggering performance (nothing unusual there), conveying deep emotion in every single scene.
First Reformed is slow-paced, methodical and uncomfortable, but it is all the more rewarding for it, and it will make you question where we are heading.
Words: Bruno Costa