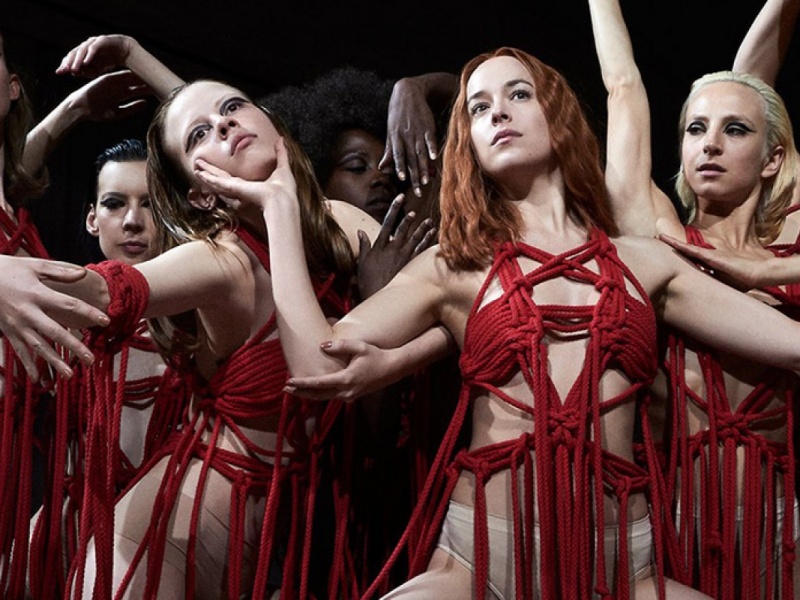 DIRECTOR: Luca Guadagnino Starring: Dakota Johnson, Tilda Swinton, Mia Goth, Angela Winkler ITALY/USA 2018
7
The original Suspiria, directed by legendary filmmaker Dario Argento, is a true masterpiece of the horror genre, a kaleidoscopic cinematic experience where the mesmerizing phantasmagoric atmosphere it evokes through the use of ravishing colors and the unforgettable eerie soundtrack by Goblin make up for the lack of a more complex narrative. It is certainly a powerful movie which has influenced many people across the globe, including a young Luca Guadagnino who, after discovering and falling in love with it more than 30 years ago, decided he would like to one day create its own version of this cult classic.
In that sense, the new Suspiria ends up being much more than a simple remake and more like the original film reimagined by the talented director of the acclaimed, Oscar-nominated Call Me by Your Name. Instead of simply following the formula of its source of inspiration, Guadgagnino played homage to the influential material by departing from it. The original film featured intense visual elements – including the extentive use of the color red to signal imminent danger – this one has no primary colors and its look is winterish and melancholic; the original had a very basic plot while this one values the story more than anything else, and well… the original was also far superior, at least in some ways.
Now, being a huge fan of the 1977 horror classic, it definitely wasn't easy for me to accept, at first, that one of the movies I love most was going to be remade, and with so many changes on top of that. Nonetheless, once I learned that Luca Guadagnino was the director, I felt like giving it a chance since I was impressed by his work on the beautiful and heartfelt Call Me by Your Name. His is an ambition-driven filmmaker, someone who will not stop until he achieves perfection (in his mind, of course, since we are talking about an abstract concept here), but on Suspiria his own ambition is, unfortunately, his biggest downfall, and also what makes the film so fascinating. Confused? Well, let's break this down, shall we?
There are movies which fail due to a lack of ideas, but not this one; the new creative effort by this talented Italian filmmaker has plenty of ideas, and it would be much better if it didn't have so many. While the original work was little more than a charming, unique tale of witchcraft, this one goes beyond that and includes several references to the political history of Germany: Baader- Meinhof, the far-left militant organization that terrorized Berlin around this time (1977, the year the film is set), is mentioned on multiple occasions, and the dance academy Suzy Bannion (the main character in the original movie as well) goes to displays a political division between Madame Blanc and Helena Markos which we assume is purposely similar to the one that defined Germany during the era of the Berlin Wall. There are also references to feminism and even motherhood (the inclusion of The Three Mothers concept is a clear nod to the famous film trilogy by Dario Argento consisting of Suspiria, Inferno and The Mother of Tears) – in other words, there is a lot to digest, which is both a good and a bad thing.
On one hand, you have to respect and admire Guadagnino for taking the Suspiria plot to the next level in what was a very bold move. The way he mixes fantasy (the supernatural elements) with reality-based references is particularly brilliant, and so is the manner in which the dance scenes are shot (a true example of cinematic beauty). The cast also does a very good job, especially Tilda Swinton who masterfully plays three different roles, including a male character (the psychotherapist, whose wife is actually played by Jessica Harper a.k.a. the original Suzy Bannion). Last but not least, the soundtrack by Thom Yorke is absolutely one of the highlights of the film, and it`s truly amazing how someone who, admittedly, is not a movie buff was able to produce something so perfect.
Still, what really went wrong? Well, this is one of those movies that forces the viewer to do mental gymnastics in order to understand everything that happened, living us with more questions than answers, questions that only begin to be answered( though not all of them) when we carefully analyze what we visualized. Usually such exercise is very useful and exciting, but in this case, it kind of feels somewhat forced, as if the movie is complex just so it can distance itself from the narrative simplicity of the first one. It also leaves us wondering why certain ideas were included – for example, the whole story could be told without mentioning the Baader- Meinhof radical political group, which seems to only be there to emphasize how unstable the universe of the movie really is – inside and outside the academy. On the other hand, in this age of perpetual distraction, it always feels good to watch something as challenging as this. Even with all its flaws, this version of Suspiria deserves some praise for not falling under one specific genre (it is definitely more than "just" a horror flick) and for giving us a captivating, albeit convoluted, story.
Words: Jorge Alves