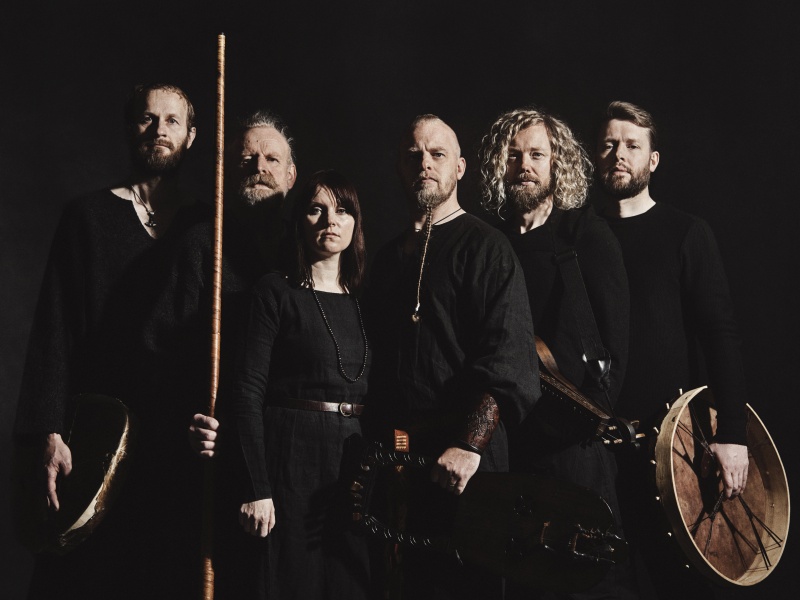 Wardruna reveal the release date and title of their brand new album, Kvitravn (meaning White Raven), incoming on Music For Nations/Columbia Germany, on 5th June.
About the new album, Wardruna founder Einar Selvik reveals, "To recite and copy the past is not very difficult, but to understand and integrate ancient thoughts, tools and methods with real purpose into a creation that is relevant to the modern era is truly challenging and remains our prime goal in our work"; He continues, "although the album carries a variant of my own totemic artist name, it has, in this context, little to do with me but rather refers to the symbolism and legends of sacred white animals found in Nordic and other cultures all over the world. These highly regarded ghostly creatures, whether a raven, snake, bear, moose, reindeer, elephant or lion – are in animist traditions seen as prophetic, divine messengers, and guardians representing renewal, purity and a bridge between worlds"
Artwork for Kvtraavn:

Also revealed today is Wardruna's only mainland European show during the week of release taking place on 11th of June at the Gelsenkirchen Amphitheater, Germany. Full dtes below.
28 Mar – Oslo (NO) – Sentrum Scene
02 Apr – Kristiansand (NO) – Kilden Teater
03 Apr – Stavanger (NO) – Konserthus
04 Apr- Bergen (NO) – Grieghallen
30 Apr – Moscow (RUS) – Crocus City Hall
01 May – St. Petersburg (RUS) – Yubileyny Sports Palace
03 May – Poznan (PO) – Hala Ziemi
04 May – Krakow (PO) – ICE Congress Center
05 May – Bratislava (SK) – Refinery gallery
07 May – Belgrade (SRB) – Sava Centar
08 May – Bucharest (ROM) – Arena Romanele
04 Jun – Manchester (UK) – Albert Hall
05 Jun – Dublin (IRL) – Vicar St.
06 June – Birmingham (UK) – Symphony Hall
07 June – Glasgow (UK) – Royal Concert Hall
09 June – London (UK) – Royal Festival Hall
10 June – Cambridge (UK) – Cambridge Corn Exchange
11 June – Gelsenkirchen (DE) – Amphitheater
20 June – Clisson (FR) – Hellfest
15-18 July – Ostrava (CZ) – Colors of Ostrava Festival
01 Aug – Savonlinna (FI) – Savonlinna Opera Festival
12-16 Aug – Dinkelsbühl (DE) Summer Breeze Festival
12-16 Aug – Midgardsblot (NO) Midgardsblot Festival
05 Sept – Selb (DE) Festival Mediaval
21 Sep – Reykjavik (ISL) – Harpa
Photo credit: Kim Öhrling