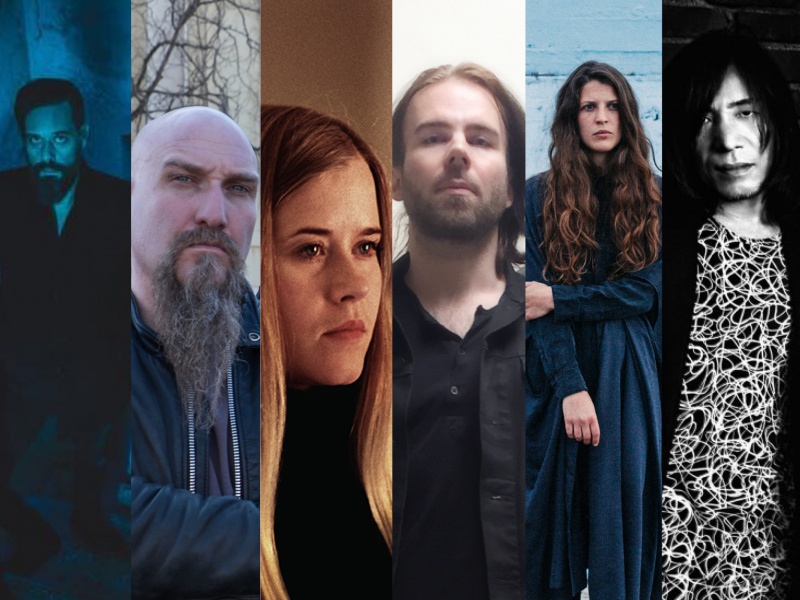 Amplifest 2016 is taking place from August 20 and 21 (plus August 19 and August 22 with the Extended Experience) at Hard Club in Porto, Portugal. It's their sixth installment in the year Amplificasom is celebrating their tenth anniversary.
Once again we have that special moment of the year for people that don't only appreciate but rather passionately love experimental, heavy, awesomely weird, and breathtaking music. Neurosis, Mono, The Black Heart Rebellion, Anna Von Hausswolff, Oathbreaker, Roly Porter, Kowloon Walled City, and many more will certainly ensure another awesome edition, which, as usual, includes a bunch of Listening Sessions, Films, and Amplitalks. Take a look of what we consider to be some of the most essential performances to watch at this year's Amplifest:
NEUROSIS
---

Upcoming Release: Fires Within Fires (out 9/23 via Neurot Recordings)
Why You Can't Miss Them: Formed in 1985 in Oakland, California, Neurosis have been a highly influential band since the release of their magnificent 1992 album Souls At Zero. From that point on, the band never missed a beat and have been exclusively delivering exquisite albums. Their highly cathartic, spirtitual, and emotional performances leave no one indifferent. Get ready for what can very well be an out of body experience.
ANNA VON HAUSSWOLFF
---

Current Release: The Miraculous (City Slang)
Why You Can't Miss Them: Swedish singer and multi-instrumentalist Anna von Hausswolff owns a unique and riveting strength that few artists have nowadays. The way she puts her deepest and rawest emotions in to her music is just superb. It will definitely be an intimidating and cathartic live experience to witness, and she will bring her latest stunning album, The Miraculous.

OATHBREAKER
---

Upcoming Release: Rheia (out 9/30 via Deathwish Inc.)
Why You Can't Miss Them: Not being strangers to Portugal's audience, Oathbreaker just deliver an intense and brutal live experience every time they take the stage. This time around, they will bring their third album, Rheia, which showcases the band at their best and most ambitious sound to date, with new heights and chaotically beautiful atmospheres.
MONO
---

Upcoming Release: Requiem For Hell (out 10/14 via Pelagic Records)
Why You Can't Miss Them: Because the Tokyo-based instrumental outfit Mono have been blending orchestral arrangements and shoegaze guitar noise in their music with such sucess that they've managed to create a very unique approach and sound that won over – since 1999, when they were formed – thousands and thousands of people's hearts. Their following is one of the testaments of their undeniable greatness.
MINSK
---
Current Release: The Crash & The Draw (Relapse Records)
Why You Can't Miss Them: With a sound that is rooted in the post-metal/sludge landscape – think of Neurosis – this Peoria/Chicago-based band has been delivering forward-thinking metal since 2002. Minsk's sound is as heavy as emotionally and spiritually complex. Their performances have cathartic written all over them.
PRURIENT
---
Current Release: Frozen Niagara Falls (Profound Lore Records)
Why You Can't Miss Them: Dominick Fernow is Prurient, and he's America's most prominent noise figurehead. Prurient is a truly daring voyage through some of the most mind-blowing noisy, experimental, and ambiental roads. We're talking about some truly visionary and legendary shit. A hard pillow to swallow for some people but an experience that you should NOT miss.
CASPIAN
---

Current Release: Dust and Disquiet (Big Scary Monsters)
Why You Can't Miss Them: There's a reason for why Caspian are considered one of the greatest bands of the entire post-rock and instrumental rock scene. They've constantly created high quality music over the ten plus years of existence.
KAYO DOT
---
Current Release: Plastic House on Base of Sky (The Flenser)
Why You Can't Miss Them: When avant-garde doesn't cut it anymore, there's Kayo Dot. Audacious in sound and spirit, the Toby Driver-helmed unit has spent 13 years crafting challenging, vital music without repeating themselves once, coming to a natural head with the sensual synthsplosion of this year's Plastic House On Base Of Sky. Definitely one to catch because who knows what you'll get.
---
Photo Credit: Cláudia Andrade
F

or more insight to what Amplifest is all about, we caught up with its founder André Mendes, who told us about how's been these 6 years of bringing such exciting bands to such an amazing event.
---
What did inspire you to start Amplifest?
We had been promoters for five years before Amplifest started, so it felt like a logical step – to sum up in one weekend our programming philosophy and the aesthetics we identify with.
What was the most challenging part in putting together the festival in its initial stages?
Geography is a bit of an obstacle, for instance – it's not easy for bands to reach Portugal in their tours, so that make things a bit harder. But our main obstacle, and something that didn't change to this day, is the lack of support – we don't have any kind of funding or sponsorships so ticket sales are the one and only source of income.
Were you expecting such an impressive feedback now that's been 6 years of Amplifest?
We are so immersed in this that sometimes is a bit hard to have an outside perspective, but we feel that the audience really understands what we are proposing. It's a fact that the percentage of amplifesters from far away is growing edition after edition (this year, we'll be a family coming from at least 23 countries) and the interest from the national and international media also grows every year so that's also a very good sign that we are reaching more people.
What artists are you most looking forward or curious to see perform this year?
Every band, every initiative at this year's edition is important. We don't say this just to be polite, it's what we really believe. There's not one single band we don't want to catch live, let's see if we have the time.
Bands that are yet on your wishlist because unfortunately for some reason you couldn't book them to Amplifest?
Sunn O))), definitely. It's on our wishlist for the 2017 edition so fingers crossed. But right now, we are completely focused on Amplifest 2016.
This year's Amplifest will happen in a year you guys at Amplificasom are celebration your tenth anniversary. Did that change the way you usually program Amplifest?
Not really, the goal is always to have an eclectic line-up with the most relevant and forward-thinking bands and artists. Luckily or not, maybe it was the universe leaving us a message, Neurosis is the best 10 anniversary present we could ever ask for.
For the first time Amplifest will happen in the summer, while the other editions occurred in the autumn. Was there anything in specific that made you change the festival from October to August?
Neurosis. Not having any kind of support, we need to find a starting point for the programming, that special band that allow us to define a weekend and start working hard on the lineup. It happened before with GY!BE, Swans, Converge… This year we'll have Neurosis performing in Portugal for the first time ever.
What do you make of what has been done, in terms of Amplifest, in these last 6 years and what's your aim for the future?
It's been a fantastic adventure, we are really happy with everything we have achieved, but we prefer to have an eye on the future instead of in the past. Our future right now is this next edition of Amplifest, the one we believe is the best so far.
---
Single day ticket:
Saturday, August 20 is 39€ [buy] [timetable]
Sunday, August 21 is 49€ [buy] [timetable]
Two-day Weekend pass:
Saturday/Sunday (August 20/­21) is 75€ [buy]
Extended Experience:
August 19 to August 22 is SOLD OUT.