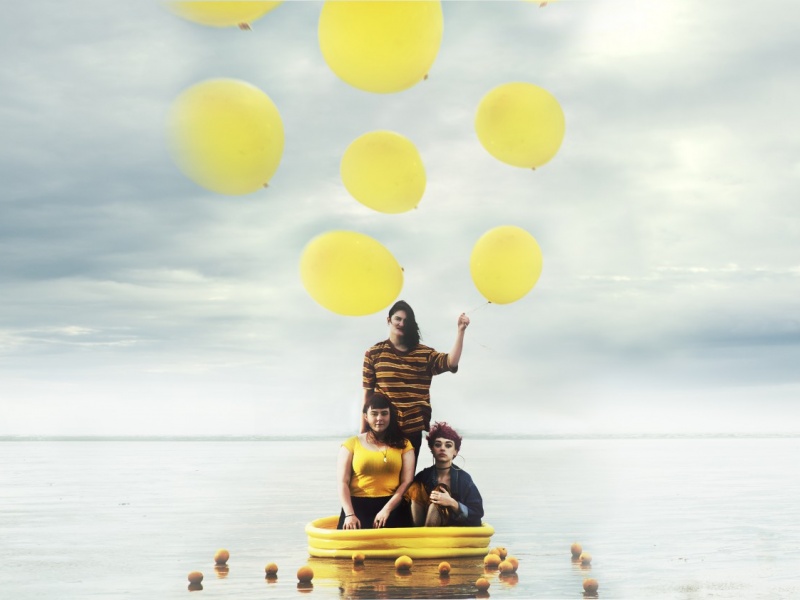 Welsh trio Adwaith have announced the release of their debut album, Melyn, which translates as "Yellow" in Welsh and it will be out October 12th on Libertino Records. The title was chosen by the band as the colour that signified the youthful joy of creating music that flows from its songs. It also counters the darker lyrical themes that runs throughout: uncertainty, heartbreak, and the pains of growing up, leaving the certainties of childhood and stepping into the unknown adult world.
The main recording session for the album took place with the band's long standing producer, Steffan Pringle last summer in Giant Wafer Studios in Llandrindod Wells, mid-Wales, with further sessions taking place over the last year in Cardiff. Adwaith have also been instrumental in encouraging gender equality within the Welsh music scene, via the creation of the FEMME gig nights. A succession of sold out club shows featuring artists as diverse as Ani Glass, Chroma, Serol Serol, Gwenno and the legendary Patricia Morgan from Datblygu all sharing the same stage.
The band have also shared a remix made by James Dean Bradfield (Manic Street Preachers) of their most recent single "Gartref". The song was remixed and produced by James Dean Bradfield and Loz Williams and mixed by Dave Eringa.
Listen to the James Dean Bradfield remix of "Gartref" below:
Melyn artwork & tracklisting:
1. Intro
2. Lipstick Coch
3. O Dan y Haenau
4. Yn Fy Mhen
5. Colli Golwg
6. Newid
7. Y Rhai Gorau
8. Diafol a Fi
9. Pwysau
10, Y Diweddaraf
11. Osian
12. Fel i Fod
13. Cariad Cytser
14. Gartref
15. Tair
Live dates:
11th September – The Social, London
26th September – The Lexington, London
12th October – Thekla, Bristol*
13th October – Now Wave, Manchester*
17th October – Tramshed, SWN, Cardiff*
18th October – Islington Assembly Hall, London*
19th October – The Loft, Southampton*
20th October – Falmouth University*
21st October – Exeter University*
November 17th – Aberystwyth, Students Union
* Supporting Gwenno
Photo credit: The Shoot