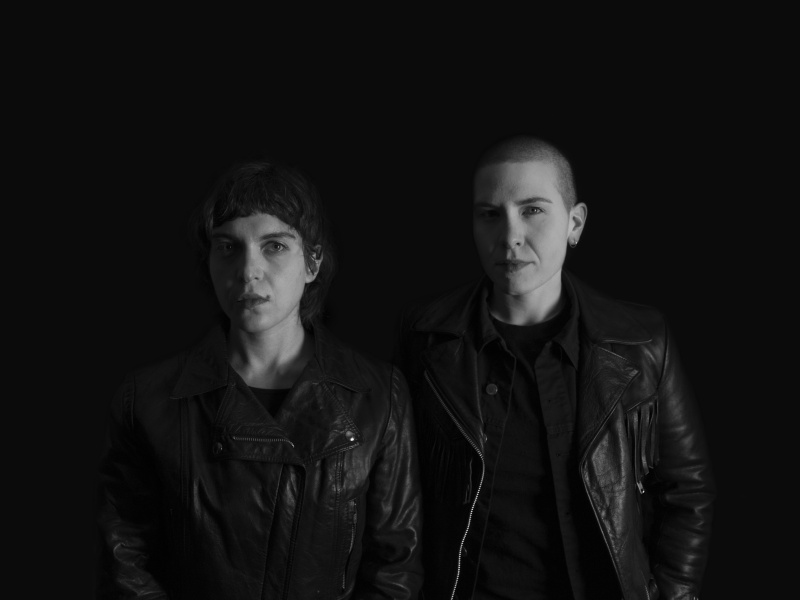 Bonnie Trash is the drone-rock project of Canadian-Italian twin sisters Emmalia and Sarafina Bortolon-Vettor. Today they have announced details of their debut album, Malocchio, to be released on October 28th via Hand Drawn Dracula, and have shared new single "Have You Seen Her".
Speaking on today's new single, the band comment: "The music video plays out like a sci-fi involving an alternate dimension/timeline. Using the same idea of the malocchio that haunted our nonna decades ago, what does it look like when conjured by generations later in the future, and can this generational haunting finish once and for all? We see two siblings confront the malocchio head-on, only for it to follow once more. The curse has become a part of them. Do not be afraid.
Have You Seen Her is also about the tragic loss of a loved one, longing to be with them, and wondering where they've ended up – above the clouds? Below the earth? A new (to us) dimension? Death is the only thing we know to be true in this world. Precious memories here are what we hold onto. When our loves are taken from us by what may be a curse, it's only natural that we want to find a way to reverse it, and reunite with them in harmony."
Listen to "Have You Seen Her" and watch the video for it below:
Malocchio unspools a real-life horror story based on the stories told to them by their Italian grandmother. Over heavy, hypnotic riffs, pounding drums and spooky soundscapes, the lyrics pull the listener into the meaning of the "evil eye," a hex of malice onto another.
Malocchio was co-produced by the band and Josh Korody (Vallens, Fucked Up, Nailbiter, Breeze, Beliefs) at his studio, Candle Recording in Toronto. COVID slowed down the planned recording schedule, but the additional time gave the duo a chance to strip down the sound to its fundamentals and dig deeper into their "apocalyptic emotional doom" aesthetic, as Korody pegged it. In the fall of 2020, Korody sent three mixes to his label boss, James Mejia, which piqued his interest, and with 'Malocchio', Bonnie Trash joins the roster of esteemed Canadian indie label, Hand Drawn Dracula.
Malocchio artwork & tracklist:
1. Maria
2. Have You Seen Her – Official video
3. Silence Is A Killer
4. Teeth – Official video
5. Lashes on Fire
6. Goodnight My Dear
7. Perfect Moment (A Beautiful Reunion)
8. Out At Sea
9. Basta
Bonnie Trash live dates:
– July 15 – Kazoo Fest – Guelph, ON
– August 11 – Horseshoe Tavern w/ Praises, Roach – Toronto, ON
Photo credit: Dana Bellamy