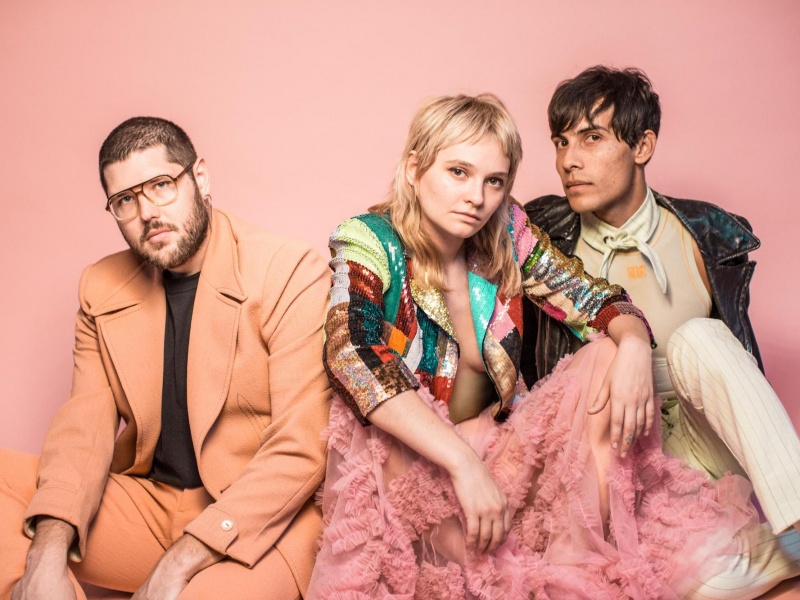 Cherry Glazerr, the Los Angeles based trio led by 21-year-old frontwoman Clementine Creevy, announces their fourth album Stuffed & Ready, due February 1st on Secretly Canadian.
Alongside today's announcement, they share the lead single "Daddi", with an animated video that seeks to visualize the song's searing attack against traditional gender roles. The video was directed by artist Danny Cole, the creative director for Portugal. The Man, who the band supported on US dates this year.
Watch the video below.
"I am telling my story of how I feel and where I am in life," Clementine Creevy says. "I've felt the need to explain my feelings … not just state them, but search for why I feel the way I do honestly. With Apocalipstick, I was an over-confident teenager trying to solve the world's problems. With Stuffed & Ready, I'm a much more weary and perhaps a more cynical woman who believes you need to figure your own self out first."
Now as a three-piece composed of Creevy alongside drummer Tabor Allen and bassist Devin O'Brien (synth player Sasami Ashworth has moved on to her own solo work,) Cherry Glazerr made a first version of Stuffed & Ready early in 2018 with much-loved engineer and musician John Vanderslice. Together they concocted a "very live sounding, self-produced album, which was cool, but wasn't exactly what I wanted to put into the ether right now," says Creevy. So they approached Carlos de la Garza, who had co-produced Apocalipstick. "I wanted a producer to push me. I wanted to be questioned, to rip my songs apart and look at their guts and pour myself open again. And I wanted it to sound massive."
Stuffed & Ready tracklist and artwork:
1. Ohio
2. Daddi
3. Wasted Nun
4. That's Not My Real Life (feat. Delicate Steve)
5. Self Explained
6. Isolation
7. Juicy Socks
8. Pieces
9. Stupid Fish
10. Distressor
Cherry Glazerr have also announced North American and European tour dates in support of Stuffed & Ready, full dates below.
Wed. Feb. 13th – Washington, DC – U Street Music Hall
Thu. Feb. 14th – Philadelphia, PA – First Unitarian Church
Fri. Feb. 15th – Boston, MA – Brighton Music Hall
Sat. Feb. 16th – New York, NY – Bowery Ballroom
Tue. Feb. 19th – Burlington, VT – Higher Ground
Wed. Feb. 20th – Toronto, ON – Velvet Underground
Thu. Feb. 21st – Detroit, MI – El Club
Fri. Feb 22nd – Cleveland Heights, OH – Grog Shop
Sat. Feb. 23rd – Chicago, IL – Bottom Lounge
Sun. Feb. 24th – Columbus, OH – Melted Music Festival
Tue. Feb. 26th – Minneapolis, MN – Fine Line Music Café
Wed. Feb. 27th – Kansas City, MO – The Record Bar
Fri. Mar. 1st – Englewood, CO – Gothic Theatre
Sat. Mar. 2nd – Salt Lake City, UT – Kilby Court
Mon. Mar. 4th – Santa Cruz, CA – The Catalyst
Wed. Mar. 6th – Portland, OR – Wonder Ballroom
Thu. Mar. 7th – Seattle, WA – Neumo's
Fri. Mar. 8th – Vancouver, BC – Rickshaw Theatre
Sun. Mar. 10th – San Francisco, CA – The Independent
Mon. Mar. 11th – Los Angeles, CA – Troubadour
Fri. Mar. 29th – Dublin, IE – Whelan
Mon. Apr. 1st – Glasgow, U.K. – Stereo
Tue. Apr. 2nd – Manchester, U.K. – Gorilla
Wed. Apr. 3rd – London, U.K. – Brixton Electric
Thu. Apr. 4th – Bristol, U.K. – Thekla
Sat. Apr. 6th – Paris, FR – Point Ephemere
Mon. Apr. 8th – Luxembourg City, LU – Rotondes,
Tue. Apr. 9th – Brussels, BE – Botanique
Wed. Apr. 10th – Hamburg, DE – Molotow
Thu. Apr. 11th – Copenhagen, DK – Vega
Fri. Apr. 12th – Stockholm, Sweden – Melodybox
Sat. Apr. 13th – Gothenburg, SE – Oceanen
Mon. Apr. 15th – Berlin, DE – Musik & Frieden
Tue. Apr. 16th – Cologne, DE – Blue Shell
Thu. Apr. 18th – Amsterdam, NL – Bitterzoet