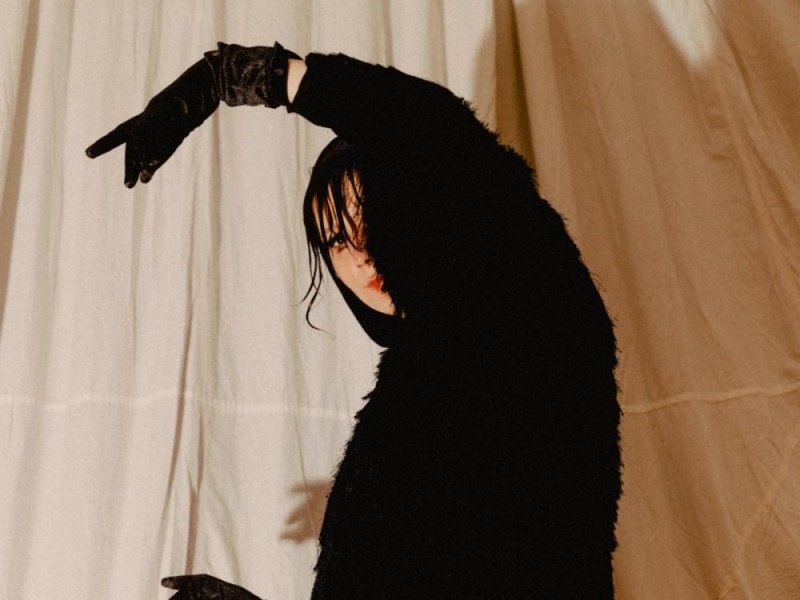 Circuit des Yeux (Haley Fohr) has shared a new single and video taken from her Matador Records debut, -io, out October 22nd. "Vanishing" is Circuit des Yeux at her most colossal, with driving strings that border on Bond theme leading to a howling chorus refrain, with Fohr's sonorous 4-octave voice at center stage. The self-directed video for "Vanishing" sees Fohr veering between different personas and backdrops, channelling the multifaceted drama, absurdity and apocalypse which underpin the new album.
Fohr says: "Vanishing is an account of climate change and loss through the final stage of grief. In this video I embody our evolving consciousness toward Earth and its health by representing four characters. Lemonade Lady is the evasive optimist who is unwilling to acknowledge her changing surroundings. Prepared Weather Person is the anxious prepper; ready for the worst and isolated by fear. The Mortal Sufferer gets blown away in a field and serves as evidence that us corporeal beings are at the behest of our environment. And Worm Girl personifies the stoic reality that all things human undoubtedly decompose in time."
Listen to "Vanishing" and watch the video for it below:
Circuit des Yeux has also announced an European and North American tour dates for 2022. The live band, consisting of Fohr (vocals, guitar, sampler), Ashley Guerrero (drums), Andrew Scott Young (contrabass) and Whitney Johnson (viola), will be joined on select dates by a string section. This includes a special performance at the Barbican Centre's Milton Court Concert Hall accompanied by a quintet of soloists from the London Contemporary Orchestra on April 6th. A full list of dates can be found below.
TOUR DATES
Fri 22-Oct – Brooklyn, NY @ Knockdown Center
Sun 11-Nov – Chicago, IL @ Thalia Hall
Sat 02-Apr – CH, Bern @ Dampfzentrale
Mon 04-Apr – DE, Berlin @ HAU 1
Wed 06-Apr – UK, London @ Barbican Centre, Milton Court Concert Hall
Fri 08-Apr – NL, Den Haag @ Rewire Festival
Mon 11-Apr – FR, Paris @ Centre Pompidou
Wed 13-Apr – FR, Lille, L'Auditorium du Conservatoire
Photo credit: Evan Jenkins