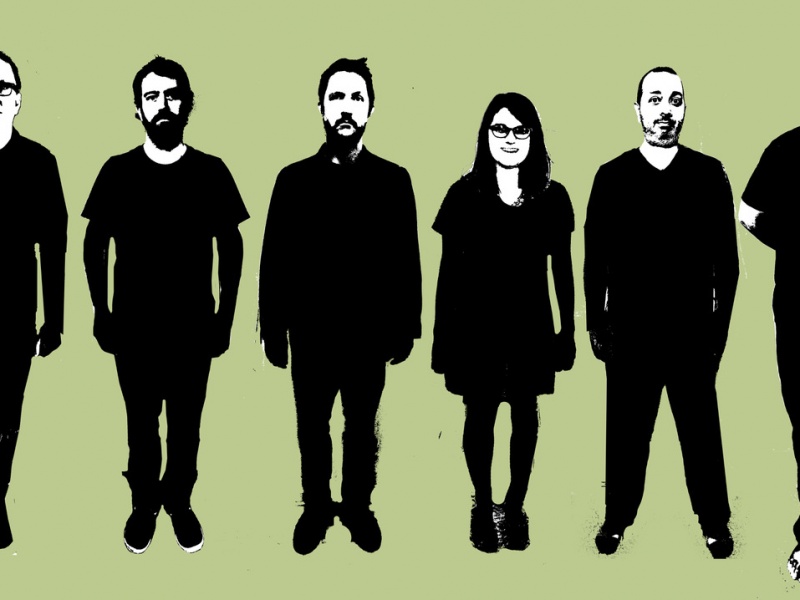 Big Scary Monsters Records have announced that they will release the new album from Omaha, Nebraska cult rock band Cursive later this year. The record will be the band's first new material in six years. The new album is titled Vitriola and will be released on 5th October 2018 by Big Scary Monsters (UK) and the band's own 15 Passenger Records (US).
Listen below to Cursive's lead single "Life Savings".
Commenting on the track, front man Tim Kasher said: "This song reminds me of machinery, maybe a train that keeps chugging forward, or perhaps a printing press printing 'money'. It also feels as though it's burdened with a heavy weight and, for many of us, the weight of worrying about money can be all consuming."
For the first time since Happy Hollow, the album reunites Kasher, guitarist/singer Ted Stevens and bassist Matt Maginn with founding drummer Clint Schnase, as well as co-producer Mike Mogis (Bright Eyes, M. Ward, Jenny Lewis) at ARC Studios in Omaha. They're joined by Patrick Newbery on keys (who's been a full-time member for years) and touring mainstay Megan Siebe on cello.
Vitriola artwork & tracklist below:
Free To Be Or Not To Be You And Me
Pick Up The Pieces
It's Gonna Hurt
Under The Rainbow
Remorse
Ouroboros
Everending
Ghost Writer
Life Savings
Noble Soldier / Dystopian Lament
Cursive — joined by touring drummer Pat Oakes — will head out on a month-long tour of the U.S. this fall, full dates below.
Thu-Oct-18 Kansas City, MO @ Record Bar*
Fri-Oct-19 St. Louis, MO @ Off Broadway*
Sat-Oct-20 Louisville, KY @ Headliners*
Sun-Oct-21 Nashville, TN @ Basement East*
Tue-Oct-23 Tallahassee, FL @ The Wilbury*
Wed-Oct-24 Tampa, FL @ PRE FEST 6
Thu-Oct-25 Fort Lauderdale, FL @ Culture Room^
Fri-Oct-26 Gainesville, FL @ THE FEST 17
Sat-Oct-27 Orlando, FL @ The Social^
Sun-Oct-28 Jacksonville, FL @ Jack Rabbits*
Tue-Oct-30 Atlanta, GA @ The Masquerade*
Wed-Oct-31 Charlotte, NC @ The Underground*
Thu-Nov-01 Carrboro, NC @ Cat's Cradle*
Fri-Nov-02 Washington, DC @ 9:30 Club#
Sat-Nov-03 Philadelphia, PA @ Union Transfer#
Sun-Nov-04 Asbury Park, NJ @ Stone Pony*
Tue-Nov-06 Long Island, NY @ Amityville Music Hall*
Wed-Nov-07 New York, NY @ Irving Plaza *
Thu-Nov-08 Boston, MA @ Paradise*
Fri-Nov-09 Hamden, CT @ Space Ballroom*
Sat-Nov-10 Buffalo, NY @ Tralf Music Hall*
Sun-Nov-11 Pittsburgh, PA @ Rex Theater#
Mon-Nov-12 Columbus, OH @ Ace of Cups*
Tue-Nov-13 Cleveland, OH @ Grog Shop*
Wed-Nov-14 Detroit, MI @ El Club*
Thu-Nov-15 Chicago, IL @ Thalia Hall^
Fri-Nov-16 Madison, WI @ High Noon Saloon*
Sat-Nov-17 St. Paul, MN @ Turf Club*
Sun-Nov-18 Omaha, NE @ Waiting Room*
* Meat Wave, Campdogzz support
^ Campdogzz supports
# Meat Wave supports
Vitriola is released 5th October 2018 via Big Scary Monsters