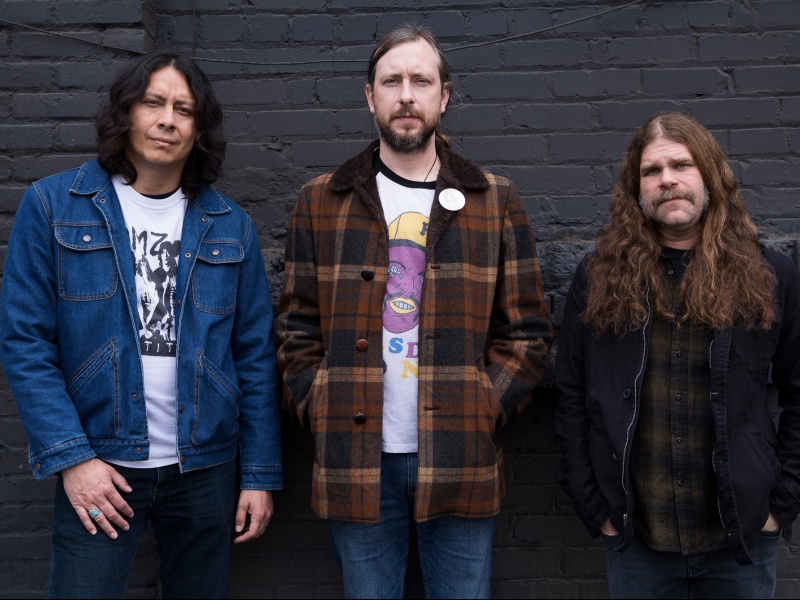 Earthless, who recently announced their Nuclear Blast debut, Black Heaven, is now sharing the album's title track ahead of the band's eagerly-anticipated North American and European tour.
Listen below to Earthless' new track ""Black Heaven".
"A whirlwind ride through dark clouds and muddy waters, hi-energy sludge that rolls and heavy riffage that rocks," is how drummer Mario Rubalcaba described "Black Heaven." "Psychedelic sprinkles all over the place make me wanna turn this sucker up loud as hell only to howl at the heavens"
"The main riff for 'Black Heaven' came about during a soundcheck in Australia in 2015," adds bass player Mike Eginton. "I think we sort of played that riff a little bit several times on that tour while we were setting up. Other parts came in over the following years, but it wasn't ever worked on very seriously until we started working on Black Heaven. Then it came together pretty quickly when we started jamming it out."
Black Heaven was recorded at Rancho de la Luna in Joshua Tree, Calif. with Dave Catching (Eagles of Death Metal) handling production.
Upcoming Earthless tour dates:
February 28 San Rafael, CA Terrapin Crossroads
March 1 San Francisco, CA Great American Music Hall
March 2 San Diego, CA Casbah
March 3 San Diego, CA Casbah
March 4 Los Angeles, CA Teragram Ballroom
March 5 Santa Cruz, The Atrium
March 7 Las Vegas Beauty Bar
March 8 Pioneertown, CA Pappy & Harriet's
March 13 Cleveland, OH Grog Shop
March 14 Toronto, ON Lee's Palace
March 15 Montreal, QC L'Astral
March 16 Brooklyn, NY Market Hotel
March 17 Boston, MA The Sinclair
March 18 Philadelphia, PA Underground Arts
March 20 Washington, DC Rock'n'Roll Hotel
March 21 Richmond, VA The Broadberry
March 22 Nashville, TN Mercy Lounge
March 23 St. Louis, MO Blueberry Hill
March 24 Chicago, IL Empty Bottle
March 25 Chicago, IL Empty Bottle
All North American tour dates with Kikagaku Moyo and JJUUJJUU except San Rafael which is Earthless and JJUUJJUU only
April 3 Korkrijk, Belgium De Kreun
April 4 Bristol, UK The Fleece
April 5 Manchester, UK The Deaf Institute
April 6 London, UK Islington Assembly Hall
April 7 Paris, France Petit Bain
April 8 Frankfurt, Germany Zoom
April 10 Munich, Germany Feierwerk
April 11 Berlin, Germany Bi Nuu
April 12 Copenhagen, Denmark Pumpehuset
April 13 Oslo, Norway BLA
April 14 Gothenberg, Sweden Truckstop Alaska
April 16 Hamburg, Germany Molotow
April 19-21 Tilburg, Netherlands Roadburn 2018
All European, non-Roadburn dates with Comet Control
June 1 Nelsonville, OH Nelsonville Music Festival
August 10 Moledo, Portugal Sonic Blast
Photo credit: Attiba Jefferson