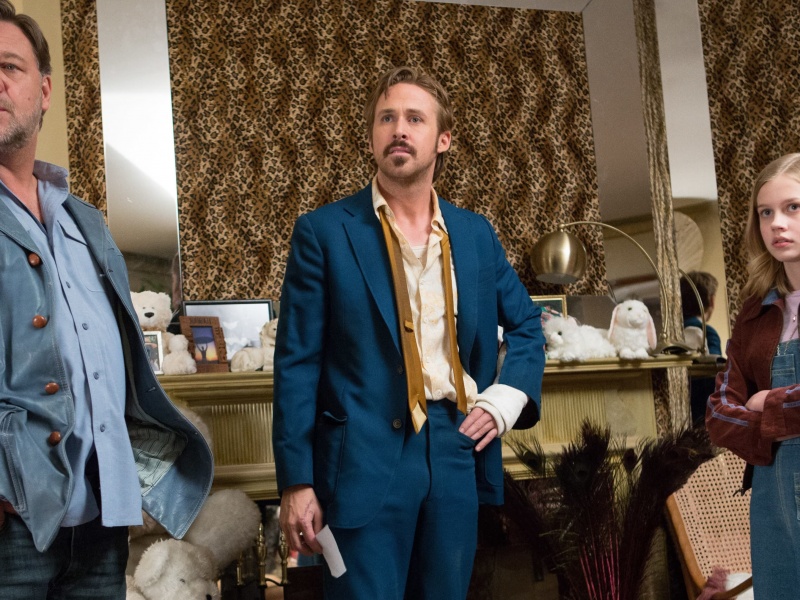 DIRECTOR: Shane Black STARRING: Russell Crowe, Ryan Gosling, Angourie Rice, Matt Bomer, Margaret Qualley, Yaya DaCosta, Keith David, Beau Knapp, Lois Smith, Murielle Telio, Gil Gerard, Daisy Tahan, Kim Basinger, Jack Kilmer, Ty Simpkins USA 2016
8
Shane Black's The Nice Guys is a homage to great action comedies that we just don't get anymore such as the Lethal Weapon series and The Last Boyscout, both of which Black wrote. With his latest venture, Shane Black proves he is one of – if not the best – the best action comedy screenwriter around.
The film follows Holland March (Ryan Gosling) and Jackson Healy (Russell Crowe) working together to uncover the mysterious death of a fading porn star in the late 70's. The premise is very simple, reminiscent of an early Paul Thomas Anderson feature, but works tremendously well with all the creative, quirky characters and plot threads to keep the viewer interested.
Detractors may say this is too similar to Black's previous buddy cop film, 2005's Kiss Kiss Bang Bang, but the time period and homages to the reference material from the 80's and early 90's keeps you too entertained to notice or even be bothered. While the villains are underdeveloped and quite weak (despite the great Keith David making an appearance), The Nice Guys is certainly a film that will achieve cult status and rightly deserve it. Hopefully a few sequels will spawn and this will become a Lethal Weapon for the modern generation.
Words by Joe Doyle