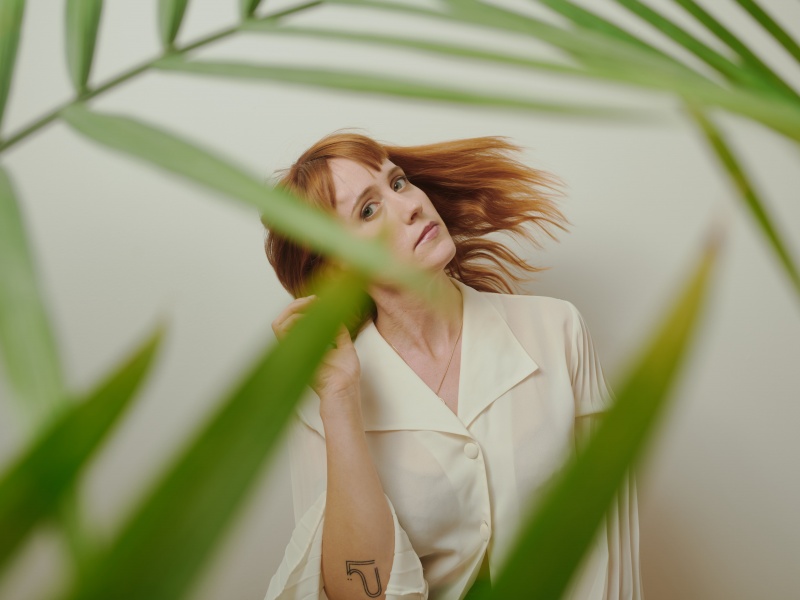 Flock of Dimes (Wye Oak's Jenn Wasner) has announced the release of her new album, Head of Roses, out on April 2nd, 2021 via Sub Pop. She has also shared the album's lead single and the official video, "Two".
The video for today's release, "Two," which was directed by Lola B. Pierson and Cricket Arrison, stars Wasner and Arrison and explores the layers of artifice that we wrap ourselves in to make it through the day. Directors Pierson and Arrison offer this on the video's specific theme: "The world of the video shows two humans during three consecutive days. One human lives her life from morning to night, the other from night to morning. In the middle of the day they meet and the next day begins. By exploring dichotomies (natural/artificial, day/night, everyday/majestic) the work points to the pain caused by categorization and the joy of unification."
Wasner elaborates: "'Two' is about trying to find a kind of balance between independence and interdependence, and the multitudes within ourselves. It's about trying to reconcile the desire to maintain a sense of personal autonomy and freedom with the need to connect deeply with others. And it's about struggling to feel at home in a body, and learning how to accept that the projection of self that you show to others will always be incomplete. I made this video with an incredible team of generous and talented people, including some very dear old friends. I think what we made captures the spirit of the song perfectly—the sense of delight and wonder at the absurd beauty of everyday life, and the true moments of spontaneous joy that can erupt in those rare moments when you catch a glimpse of yourself the way others see you."
Listen to "Two" & watch the video for it below:
Head of Roses is the soundtrack of Wasner letting go – of control, of heartbreak, and of hiding who she is: "I think I've finally reached a point in my career where I feel comfortable enough with myself and what I do, that I'm able to relax into a certain simplicity or straight forwardness that I wasn't comfortable with before."
Head of Roses was produced by Nick Sanborn (Sylvan Esso) and Wasner at Betty's in Chapel Hill, NC, engineered by Bella Blasko with additional engineering by Sanborn, mixed by Ari Picker and Blasko, and mastered by Huntley Miller. The album features appearances from guitarist Meg Duffy, Bon Iver's Matt McCaughan, Wye Oak's Andy Stack, and Landlady's Adam Schatz.
Head of Roses artwork & tracklist:
1. 2 Heads
2. Price of Blue
3. Two
4. Hard Way
5. Walking
6. Lightning
7. One More Hour
8. No Question
9. Awake for the Sunrise
10. Head of Roses
Photo credit: Graham Tolbert