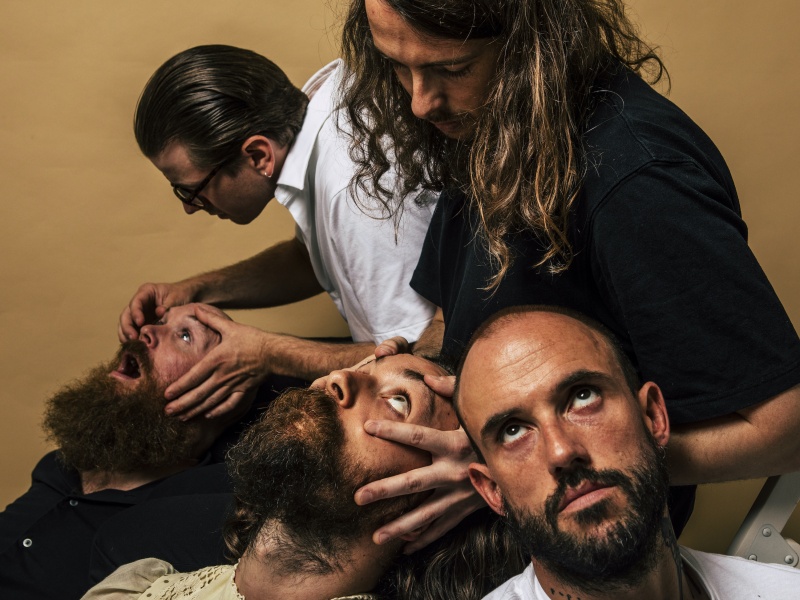 Last month Idles released their brand new album Crawler (via Partisan Records) – their fourth in as many years and the follow-up to their 2019's Ultra Mono. Today, they have released a new video for the single "When The Lights Come On". With it's motorik rhythm and propulsive bass lines the track harks back to the days when frontman and lyricist Joe Talbot would DJ in Bristol clubs until the early hours, chasing the party into the night only to be confronted by the harsh realities that turning the lights on can expose.
Speaking about the track Talbot writes: "When the lights come on. Our third offering from Crawler. A poem of light and sound exploring the cold light of day. Thank you x"
Watch the video for "When The Lights Come On" below:
(Credits: Staring George Garrett of Bristolian band Heavy Lungs, written by Joe Talbot, directed and edited by Lee Kiernan – Holding Hands with Horses. Production by JonesMillbank)
2022 will be by far the biggest year for touring Idles have ever seen – starting with a run of dates in the UK and Europe then heralding to play their first ever shows in South America, before returning for an extensive series of festivals – and finally, closing the year with shows in Australia and New Zealand. Full dates below.
16 JAN 2022 / UK / London / O2 Academy Brixton SOLD OUT
17 JAN 2022 / UK / London / O2 Academy Brixton SOLD OUT
18 JAN 2022 / UK / London / O2 Academy Brixton SOLD OUT
19 JAN 2022 / UK / London / O2 Academy Brixton SOLD OUT
21 JAN 2022 / UK / Cardiff / Motorpoint Arena SOLD OUT
22 JAN 2022 / UK / Birmingham / O2 Academy SOLD OUT
24 JAN 2022 / IE / Dublin / Vicar Street SOLD OUT
25 JAN 2022 / IE / Dublin / Vicar Street SOLD OUT
26 JAN 2022 / IE / Dublin / Vicar Street SOLD OUT
28 JAN 2022 / UK / Manchester / O2 Victoria Warehouse SOLD OUT
29 JAN 2022 / UK / Manchester / O2 Victoria Warehouse SOLD OUT
30 JAN 2022 / UK / Manchester / O2 Victoria Warehouse SOLD OUT
01 FEB 2022 / UK / Sheffield / O2 Academy SOLD OUT
02 FEB 2022 / UK / Newcastle / O2 City Hall SOLD OUT
03 FEB 2022 / UK / Glasgow / Barrowland Ballroom SOLD OUT
04 FEB 2022 / UK / Glasgow / Barrowland Ballroom SOLD OUT
05 FEB 2022 / UK / Glasgow / Barrowland Ballroom SOLD OUT
18 FEB 2022 / DE / Hamburg / Docks SOLD OUT
19 FEB 2022 / NE / Amsterdam / Melkweg SOLD OUT
20 FEB 2022 / NE / Amsterdam / Melkweg SOLD OUT
22 FEB 2022 / DE / Berlin / Columbiahalle SOLD OUT
23 FEB 2022 / DE / Cologne / E-Work SOLD OUT
24 FEB 2022 / DE / Munich / Muffathalle SOLD OUT
26 FEB 2022 / BE / Brussels / Ancienne Belgique SOLD OUT
28 FEB 2022 / FR / Paris / Elysee Montmartre SOLD OUT
01 MAR 2022 / FR / Paris / Elysee Montmartre SOLD OUT
02 MAR 2022 / FR / Lyon / Le Transbordeur SOLD OUT
03 MAR 2022 / IT / Milan / Fabrique
06 MAR 2022 / FR / Toulouse / Le Bikini SOLD OUT
07 MAR 2022 / ES / Bilbao / Santana
09 MAR 2022 / ES / Barcelona / Razzmatazz
10 MAR 2022 / ES / Madrid / La Riviera
11 MAR 2022 / PT / Lisbon / Coliseum
20 MAR 2022 / AR / Bueno Aires / Lollapalooza
25 MAR 2022 / COL /Bogota / Estéreo Picnic
27 MAR 2022 / BR / Sao Paulo / Lollapalooza Brazil
Photo credit: Tom Ham