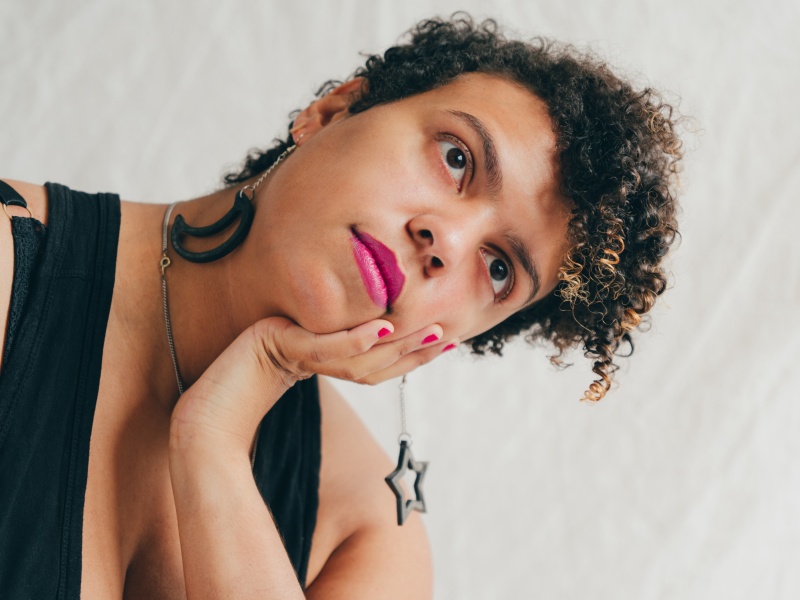 Brooklyn artist Oceanator, aka Elise Okusami has just released her sophomore album, Nothing's Ever Fine, an album with such great and contagious energy, that will lift up anyone who will listen to it, because sometimes things don't turn out fine, but at the end of the day that's just life. We talked with Elise about the album's writing process, working with Bartees Strange and also her brother and longtime bandmate Mike Okusami, and much more.
---
You have just released Oceanator's sophomore album, Nothing's Ever Fine. Your debut album Things I Never Said kind of felt like your cinematic vision of the end of the world, but Nothing's Ever Fine feels more like hopeful but also down-to-earth. What was your mindset while writing these new songs?
That's funny because I actually felt like Things I Never Said was more hopeful and this one is more like – 'let's remember the good times because everything is actually terrible'? But I also think that if it feels more hopeful to some folks then that's great! However it speaks to someone is great, I'm not going to tell someone how to respond to it, ya know?
For me when I was writing it I was kind of thinking I wanted the arc of it to be like a day, but that that "day" is kind of like a life or a section of a life, so it starts off waking up, having some good times, the disaster comes, and then by the end I do think the last song can feel either hopeful or despairing, depending on how you're feeling when you're listening to it.
The title Nothing's Ever Fine is quite a strong statement. Can you elaborate on why you picked up that title?
I got it from the movie Empire Records. There's a part in there where Liv Tyler's character yells "No it's not going to be fine! Nothing's ever fine!" after someone tells her it's going to be fine, and ever since I saw that movie as a kid that's what I think of when someone says "it's going to be fine." Sometimes I think it and sometimes I say it out loud but it's always there. So when I was trying to name the record I was ranting to a friend on text and sending them possible names and they said "it's going to be fine" and I texted the line back and was like oh…there it is, that's the name of the record.
What was the most challenging thing about working on this record?
Mostly that we didn't get to play any of the songs live before recording it. Usually I get to try things live before going into the studio just to get a feel for it, but obviously that wasn't possible this time around. So I just had to play them to no one in my room and imagine what they might sound and feel like.
What artists or records were an inspiration while working on your new music?
Oh too many to name, but a few are Elliott Smith, Black Eyes, Bears, and the Presidents of the United States Of America.
You shared a video for the album's leading single "Bad Brain Daze" and it was directed by Chris Farren, featuring special appearance by Jeff Rosenstock as 'Saxophone Man'. How was it like to work with them?
So fun! Chris is so funny and really great to work with, and he had a really strong vision for what we were doing and despite what he might say is a great director. We shot for like two half days and it was so smooth and fun. Jeff came over one morning and got the saxophone scenes done and then went off for a hike for the rest of the day! It was a super fun and chill experience.
One of the other single revealed was "Stuck", definitely a striking song. What can you tell us about the meaning of this one for you?
Lyrically for this one I was thinking about how every little thing (or big thing) just adds up over your life and weighs you down and once something really bad happens it kind of sticks with you forever. Musically I was thinking I have a baritone guitar now FINALLY I am going to make a heavy ripper because I want to and I can.
Listening to "Stuck" one can associate that overwhelming feeling about everything that's going on our world right now: global pandemic, climate changes and the war. How are you feeling with all that is happening at this moment?
Probably the same as a lot of people, just really sad and overwhelmed.
Nothing's Ever Fine is definitely an album with such great and contagious energy, that will lift up anyone who will listen to it, because sometimes things don't turn out fine, but at the end of the day that's just life. How do you feel about this album now and the time it will be released?
I'm really excited for it to come out. I feel really proud of these songs and I really hope people like them and respond to them. And I can't wait to play them live.
Nothing's Ever Fine was co-produced by Bartees Strange and also your brother and longtime bandmate Mike Okusami. How was it like the recording process for this new album?
It was great! We did 4 days with Bartees at the studio. My friend and drummer Andrew Whitehurst was there for the first two and did all his drum parts (Mike played on Nightmare Machine but Andrew did the rest). And then the next two days were just lots of guitars, organs, Wurlitzer, and other fun stuff. It was super fun to work with Mike and Bartees to get all the sounds and tones and make the album sound as huge as I heard it in my head. They're both so talented, it was just a really great time working with them.
You're about to go on tour supporting such great artists like Laura Jane Grace, Pup, among others. What are you most excited to be back on the road to play your new album live?
I'm sitting under an Against Me! poster as I write this. [laughs] I'm just excited to get to play shows and get to share the live music experience with people again. It's such a wonderful and special thing to get to be in a room full of people all experiencing this one thing together, and I'm looking forward to having that again.
What have you been listening to lately?
I like this Big Nothing record that came out a bit ago, the new Maneka album, the new Chris Farren album, Black Country, New Road, and the latest Charlotte Cornfield!
Words: Andreia Alves // Photo: Alex Joseph – Nothing's Ever Fine is out now via Big Scary Monsters / Polyvinyl.