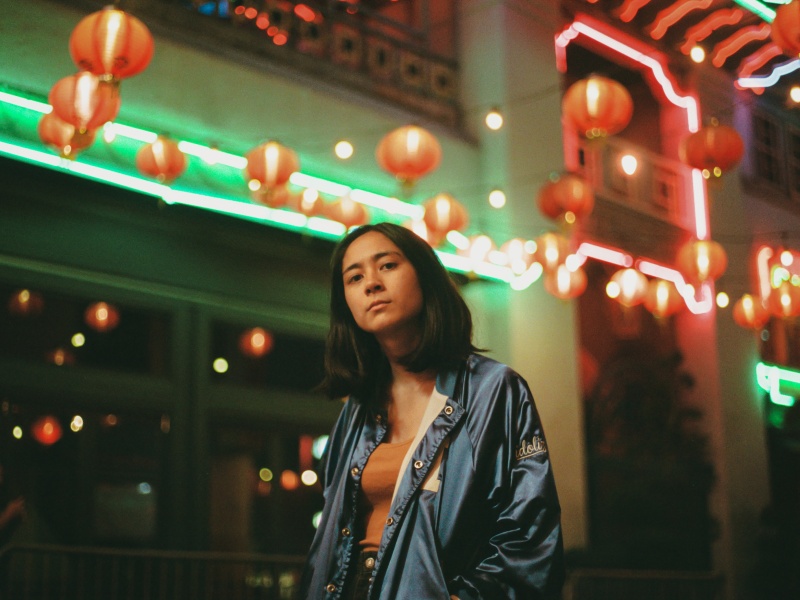 Mini Trees, the solo musical project of the Southern California born and Los Angeles based songwriter Lexi Vega, has recently released her debut album, Always In Motion, which is an honest perspective on how we move through life and how life is quite unpredictable, but despite all that we go through, life always keeps moving forward. We talked with Lexi about her music background, the songwriting process for her album and much more.
---
Tell us a little bit about yourself and your music journey so far.
Well, I've been playing music pretty much my whole life. I grew up with musical parents so it always kind of made sense for me to pick up instruments for myself and try to form bands with people. I played drums for other bands for a while before giving the solo project thing a fair shot, but a few years ago, while there was kind of a lull in the band activity, I started shifting my focus to songwriting. I recorded and released my first single as Mini Trees in 2018, and from there I kind of just took it and ran with it.
I'm curious about your band's name. Why naming it as Mini Trees?
Unfortunately, there's not really any deep significance to the name. [laughs] I tried for a while to come up with something meaningful, like a Japanese word or phrase that felt like it captured the project or myself somehow, but a lot of the ideas I came up with were already taken, so I went more of a silly route and named the band after my obsession with miniature objects. I've always collected mini things, and it became a joke among my friend group. Any time someone would find a mini Tabasco bottle or something of that nature, they'd bring it back for me.
Always in Motion is your first full-length and it's like a sincere perspective on how we move through life and how life is simply inevitable and unpredictable, but despite all that we go through, life always keeps moving forward. What was your mindset while writing the songs for your debut album? Did the global pandemic influence the writing of these songs?
The pandemic definitely influenced my writing because it forced me to be still and just sit with my thoughts for months on end. I'd always tried to fill my schedule with a lot of activity because I think busyness helped me feel like I was doing something important with my life (which was not a healthy mindset), so when the pandemic hit and we all went on lockdown, I realized very quickly that I needed to figure out a way to process all of the thoughts, anxieties, and emotions that were bubbling up. There are definitely pandemic references in some of the songs but there are also a lot of other themes related to my upbringing, identity, grief, etc.
How does work the songwriting process for you?
I try to make it a practice to sit down and write for a little bit everyday. (Although I've been slacking off big time in recent weeks now that live music is back in the picture.) Sometimes I sit down with an idea already starting to form in my mind, for melodies, or a progression, or a beat, and I'll track a demo version of it at home. If I get excited about a song and if it feels like it "fits in" to the collection I'm putting together, then I'll take it into the studio to work on with Jon Joseph, my producer who's been with me since the first single. We did co-write the song "Underwater" from scratch in the studio which was really fun and something I hadn't done before.
What was the most challenging thing about writing/recording this album?
It was challenging at times to get into a creative headspace when it felt kind of like the world was falling apart, but oddly at other times the stress of the pandemic helped me write. Figuring out how to record the album was also tricky with covid, but thankfully Jon and I do most of the tracking anyways. The other players we had on the album (who contributed clarinet and pedal steel) were able to track remotely, so that helped.
How do you feel listening back to these thoughtful songs now that the record is finally out?
I feel proud of them! There's the temptation sometimes to be a bit of a perfectionist and harsh critic of myself, but ultimately, I'm really happy with how it all turned out. I know I have more growing to do as a songwriter and artist, but it feels really cool to have reached this big milestone of a first LP.
What's your favourite song of this record and why? (Hard to pick, but mine is "Cracks in the Pavement")
Dang, I'm not really sure I can pick one out of the bunch! They're all special to me in different ways but now I think I'll say "Youth". That one is kind of a brutally honest song that I was nervous for people to hear. All my music to date is pretty vulnerable but this one felt especially so. I'll probably answer this question differently every time. [laughs]
You've been on tour with Julien Baker. How's it like to be back on stage and play live shows again?
Touring with JB and the band was an absolute blast. I think everyone, both bands and fans alike, were so excited to be back at shows that the energy felt really great every single night. Playing live is my favourite part of this whole thing, so I'm really, really happy to be able to do it again.
What have you been listening to lately?
Porches' latest singles have been on repeat for me, as well as the new Sufjan/Angelo tracks. Very excited for that record to come out soon!
Words: Andreia Alves // Photo: Danielle Parsons – Always In Motion is out now via Run For Cover Records.