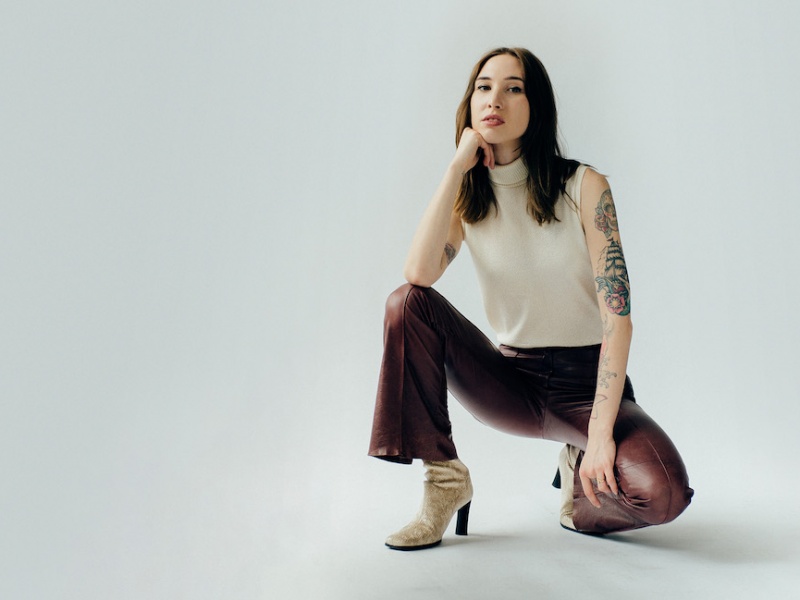 Julia Bardo has signed to Wichita Recordings and announced the relese of her debut EP, Phase, that will be released on March 6th.
The Italian-born Bardo, who is now based in Manchester, has shared a first track and accompanying video, "I Wanna Feel Love." She explains that she wrote the track during a strange moment in her life, saying: "I was in a relationship that didn't work for me. I felt like I lost my inspiration—There was no colour in my life. I started to think, 'Is this how I want my life to be? Is my life over at 24? Is this really the way I want to be loved?' So I started to write about the way I see love. I've always wanted to feel special for someone, I've always wanted a fiery and intense, passionate love. And eventually I got it."
"In the video, I impersonate an older version of myself — a more mature woman, almost like a retired film star from the '60s, who's been waiting her whole life for something to happen, for love to come" she comments. "The video is about this never-ending wait — waiting for something to end, waiting for something to start, waiting for someone to come home, for a phone call, for someone who's going to love me."
Watch below the video for new single "I Wanna Feel Love".
Julia Bardo is influenced by the music she grew up with (Italian musicians from the '60s such as Mina, Lucio Battisti, Patty Pravo, and other icons of that era like Nancy Sinatra) as well as her modern day heroines (Cate Le Bon, Angel Olsen, Aldous Harding, Lucy Dacus, Sharon Van Etten, Jessica Pratt and Weyes Blood, to name a few).
She co-produced 'Phase' alongside The Orielles' Henry Carlyle Wade at Stockport's Eve Studios. "It was exciting," Bardo recalls. "For the first time these songs feel like me."
Phase Tracklist and artwork:
1. Into Your Eyes
2. Please Don't Tell Me
3. Lonely Morning
4. I Wanna Feel Love
Julia Bardo Live Dates:
2/27 – Stoke, UK @ The Sugarmill *
3/01 – Brighton, UK @ Chalk *
3/02 – Bristol, UK @ SWX *
3/05 – London, UK – Annie Mac presents show @ Shacklewell Arms +
3/08 – Leeds, UK @ Headrow House
3/11 – Manchester, UK @ YES
3/12 – Derby, UK @ The Venue
3/13 – Liverpool, UK​ @ Studio 2
3/14 – York, UK @ Fulford Arms
3/19 – London, UK @ Pin Ups
3/21 – Sheffield, UK @ Delicious Clam
3/28 – Halifax, UK @ Orange Box
* w/ The Orielles
Phase will be released on March 6th via Wichita Recordings.
Photo credit: Ashton Hugh