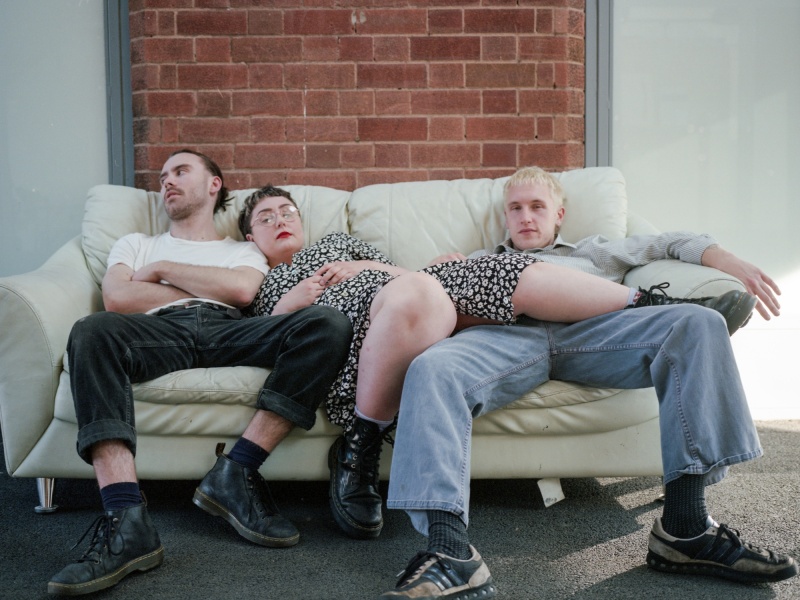 Alcopop! Records have announced that they have signed Nottingham trio Kagoule and will be releasing their new album Strange Entertainment later this year.
The band support Drenge on their upcoming run of headline shows this month (see below for full dates) and to celebrate the news of the signing are also streaming lead single "Bad Saliva" in full today.
Commenting on the new track, the band say: "Bad Saliva is a track about turning off the path you find yourself on; the temptation to make a change and the anxieties of then making it."
Listen below to Kagoule's new track "Bad Saliva".
"We always felt this pressure early on to decide what type of band we were going to be and this record is an exercise in our self-confidence as a band by being all of them at once," comments frontman Cai Burns. "We think we've written an album that doesn't have a direct comparison in guitar music. Lyrically, I think this album is much more mature. I've found myself writing songs as a healing process for certain events or to capture moments that I don't want to forget. I still mask them in fantasy for the fun of it but the topics of each song are more personal and the lyrics far more direct," he continues. 
"We were all very young and I think we allowed ourselves to be mollycoddled a bit too much. It took a few years for us to realise we had to take control of it for ourselves," continues Burns "Urth was very much an ode to grunge I think. Although I maybe didn't realise at the time, when I listen back the early 90's influences are plastered all over it. Since then we've branched out on what we listen to and a huge amount of different influences have crept in. With the guitar playing I wanted to take it more into the post-punk world. The bass lines are groovier and the drumming is just straight up weird."
New album Strange Entertainment was produced by MJ Hookworms and mixed by Tarek Musa from Spring King in two separate sessions "because we ran out of money", admits Burns in typically honest fashion "Working with MJ was great. He understood where we were coming from and instantly knew we didn't want to be balls out rock music – he put forward some great ideas for the songs and his input made a big difference to the record."
Strange Entertainment tracklist and artwork:
1. Egg Hunt
2. Bad Saliva
3. Too New Too Soon
4. It's Not My Day
5. Superhuman
6. Monsieur Automaton
7. Magnified
8. Balance
9. Repent! Said The Insect Man
10.Strange Was The Time
Kagoule 2018 Tour Dates:
26.04.18 – London – Islington Assembly Hall *
27.04.18 – Bristol – The Lantern * (SOLD OUT)
29.04.18 – Liverpool – WRONG Festival
02.05.18 – Manchester – Gorilla * (SOLD OUT)
03.05.18 – Glasgow – The Art School *
04.05.18 – Newcastle – Riverside (Hit The North) *
* w/ Drenge
Photo credit: Powis Pages