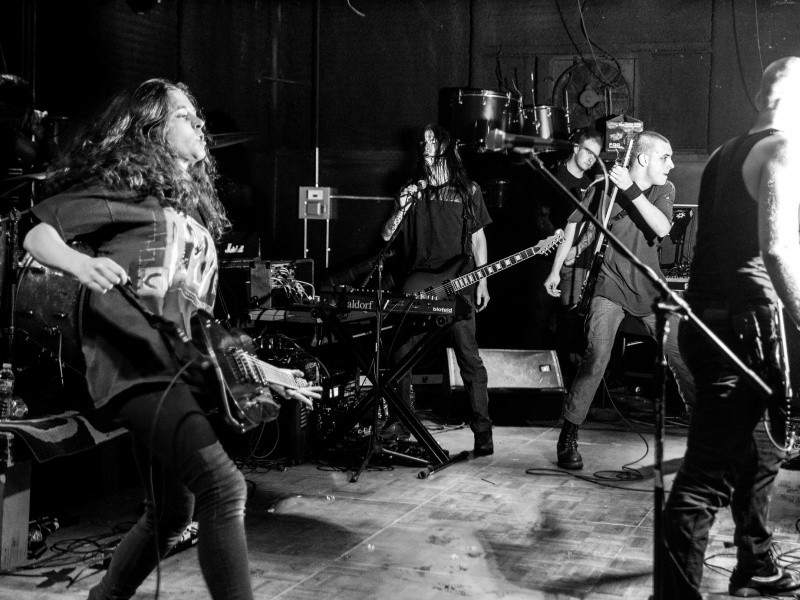 Code Orange + Gatecreeper + Youth Code // Eastdown Warehouse, Houston (USA)
Words and Photos by Teddie Taylor
Gatecreeper, Youth Code and Code Orange performing on the same bill was the most diverse, thrilling night of 2017. Death metal, electronic/industrial metal and hardcore/metalcore are very different, very distinct sub genres, yet they possess enough similarities to lead into one another seamlessly.
Arizona's Gatecreeper is amongst the best actively touring death metal bands. Playing better "old school death metal" than some older bands themselves, their doom-ridden sound is a glimpse into the depraved landscape from which they hail. Chase Mason's barking vocals were pitted against buzzsaw riffs and occasional funerary tones (see the intro to "Patriarchal Grip") that created a sense of impending damnation to the saguaro filled Sonoran. Starting with their record opener "Craving Flesh" and playing through most tracks from the LP, the set was a nonstop barrage that was familiar, yet entirely fresh. Gatecreeper have toured extensively behind their debut Sonoran Depravation and every show further endears them more to old and new death metal fans alike.
Youth Code encountered sound problems early on, but the setback disappeared as the duo captivated Houston with their take on the industrial and electronic genres. Frantic, impassioned and completely in tune with one another, Sara Taylor and Ryan George set themselves apart in every way, from sound to message to the performance itself. Lyrically, Youth Code songs are important–taking on animal and human rights, politics and mental health. To add to their already meaningful statements, George's equipment setup was fronted with "CASH ASKEW ETERNAL" in memory of the late Them Are Us Too guitarist. Taylor's husky, assertive vocals were distinct against the synths and effects with which George created a sonic palette existing somewhere in between the 90s and distant future. Ending their set with their powerful "Consuming Guilt," they were most assuredly an act best seen up front sans earplugs.
Code Orange went above and beyond I Am King with Forever. In a live setting, they pushed even further past their already hard-hitting records and become another, stronger entity. Tracks like "My World" and "Spy" are antagonistic and vehement in nature–traits which characterize the majority of Code Orange's appeal and make their shows exciting, unpredictable and aggressive. Hardcore at heart, the band, though now signed to a major label, could create the atmosphere of the smallest, darkest venue in an arena. Between Jami Morgan fueling the desire to mosh from behind his drums and Joe Goldman stalking the front of the stage and pacing to encourage the already voracious pit, there was a simultaneous sense of danger and ecstasy coursing through the audience.
Apart from Goldman's intimidating figure at the forefront, Reba Meyers' unceasing movement was the focus of all eyes for the majority of the set. It was almost difficult to pinpoint a band leader or watch one are of the stage too long throughout the night. Meyers commanded attention with her frequent vocals and red hair flying as she played guitar. Morgan sat atop the drum riser contributing vocals to most songs while fulfilling his half of the rhythm. Goldman was the ringleader who controlled the audience while completing the rhythm section. Eric Balderose lent a metal appearance and death metal growls to most tracks while controlling all electronics and synths, as well as guitar. Touring guitarist/vocalist Dominic Landolina naturally meshed with the core four and may as well become a permanent member. An aura of power surrounds Code Orange and permeates their music; it was a complete adrenaline rush to be in the same room as the Philadelphia band.
Gatecreeper
Youth Code
Code Orange