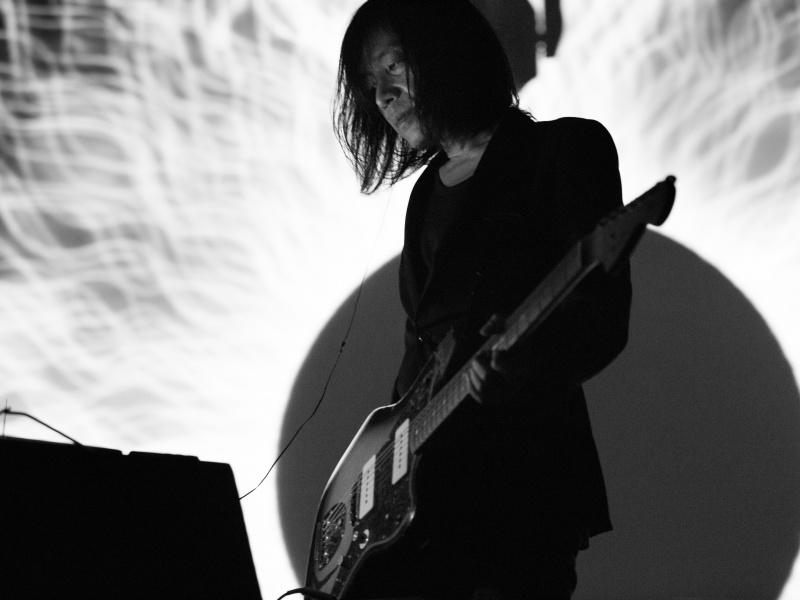 Behind The Shadow Drops // Garage Attic, Glasgow (UK)
Words: David Bowes // Photos: Yoko Hiramatsu
It only takes a precursory glance at Takaakira Goto's setup to convince even the most open-minded of MONO's listeners that their guitarist's solo performance will be delivering something radically different. There are no pedal boards vast enough to function as a dinner table, for one; instead, a guitar, a laptop that provides much of the set's denser moments, a small keyboard and a projector which exists solely to deliver Godard-esque two-tone beauty form the backbone of the simple, elegant compositions from this year's H a r m o n i c album.
The shimmering drone of 'The End Of Daydreams' eases the few fortunate spectators into the glacial pace of the evening, trip-hop beats and sparse keys forming a base for Taka's serpentine melody, looping and swirling as what looks like coiling snake vertebrae spin on the screen behind him. Unfortunately, 'Trace of Snow Waltz' shows the limitations of the set-up, the piano accompaniment much less involving than the stirring compositions emanating from the laptop.
It's a necessary hazard for such a venture but remarkably it's the only one which rears its head; instead, 'Utopia' leaves the electronics to handle a throbbing bass beat while a noticeably more animated Taka writhes and lurches to a tune that does for Tokyo's city-life what Burial did for London's and 'Positive Shadow, Negative Light' takes his cinematic scope into a more John Carpenter-tinted universe. A polite thank you from Goto signals an end to the performance but there's a sense that it wasn't him, but rather what he has birthed and given form to, that transformed a rainy Tuesday night into something enrapturing.