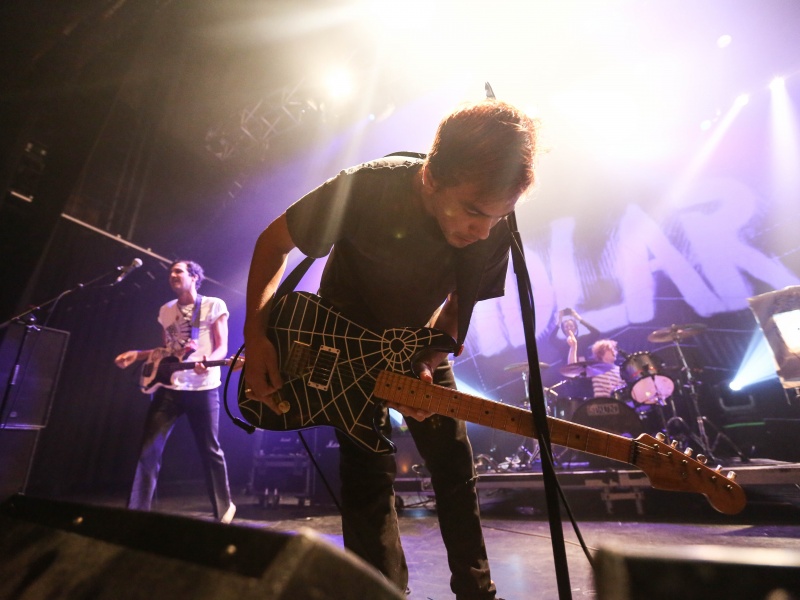 FIDLAR + BULLY // Kentish Town, London
Words by Antigoni Pitta // Pictures by Neelam Khan Vela
Even in the wake of events that took away the rock'n'roll show's status as a safe space, the Forum is packed with fans waiting for FIDLAR to pick up where they left off at Heaven last June. This time the main support is Bully, and even though sonically they are different from the headliners, they have the same hard-hitting approach to live shows. Playing songs from their debut Feels Like, the Nashville band showcase the incredible energy that defines songs like "I Remember" and "Trash" and translates perfectly live, with Alicia Bognanno's vocals occasionally echoing Bleach-era Kurt Cobain.
Chaos ensues the moment FIDLAR walk on stage. "This goes out to Paris" announces frontman Zac Carper before the band launches into "Stoked and Broke". Within minutes, cold and rainy Kentish Town turns into hot and sweaty California and it's clear that nobody is fazed by the venue's ban on crowdsurfing – by the time "Cheap Beer'' distinct riff comes on, kids are already being pulled over the barrier by the venue's security guards who look like they don't know what hit them. Among beer-soaked anthems from the band's self-titled debut, the setlist includes live favorite "Awkward", a cover of Weezer's "Undone — The Sweater Song" and some equally well-received material from their new, 'grown-up' album Too. Pop-punky "40oz. On Repeat" is a heavy hitter and so is "Why Generation", which sees everyone singing along to the totally relatable lyrics. "Cocaine" and the encore of "Wake Bake Skate" end the night on a high note, much
needed to brave the rain outside.

Bully

Fidlar