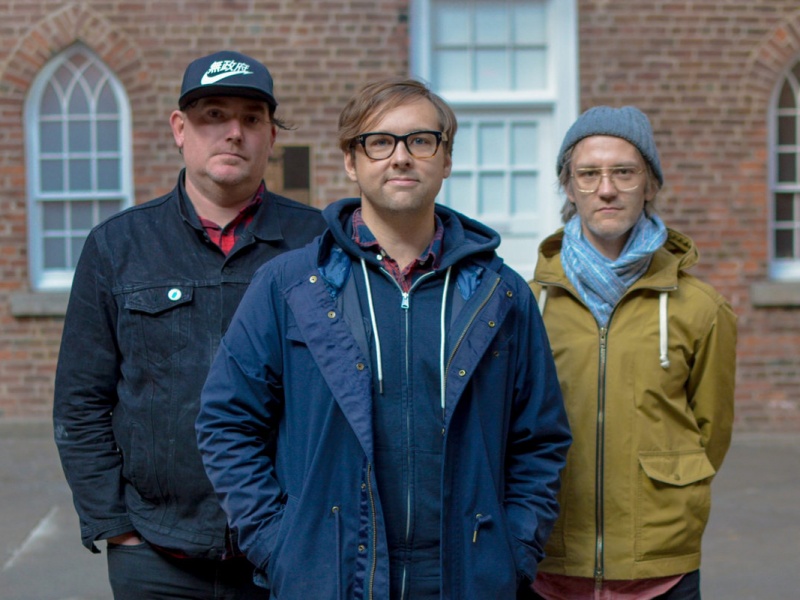 This last summer, Kestrels put out their fourth full-length entitled Dream or Don't Dream, an album that takes us into this much needed dreamy and liberating sonic experience. We caught up with the band's frontman Chad Peck to know more about their new album, their collaboration with Dinosaur Jr's J Mascis and how's been for them to deal with the whole pandemic situation and everything in between.
---
First of all, how are you guys and how are you dealing with the whole pandemic situation along with what's going in our world right now? How's it been like in Canada?
It's difficult to find the words for it. I am lucky and privileged in many ways, but it's been a lot. My girlfriend is an emergency room nurse and has been a frontline worker (and actual hero) in a terrifying time. I live 10 minutes from the epicenter of the mass shooting that happened in Nova Scotia just over a month ago. Watching the police brutality in the States is horrific. So, it hasn't been a great time. There have been moments of positivity and people coming together, so I'm holding out a little hope that things keep moving in that direction. I've been taking time to reach out to people and do a lot of self-reflection.
You guys released your new record last July. How do you feel about putting out a record on harsh times like these?
My friend is an author who completed a novel around the start of the pandemic, and he said "I think I wrote a book for a world that no longer exists". I didn't totally understand what he meant at the time. I do now. But I feel excited that it's coming out. It's my favourite record and I put a lot of emotional energy into writing it and recording it; I think it shows. I also signed to a long-running/fantastic/influential label, Darla Records. James at Darla really believes in the record and has the ability to get it in front of a lot of people. That feels great. It's been finished for a year and I'm glad people will get to hear it soon. People need music as much as ever.
Dream or Don't Dream is your fourth album and it feels like an album that was built upon dreamy sonic experiments that you had on hold, delivering a neat yet powerful record. What can you tell us about that?
I definitely have an urge to make things sound huge and loud but inviting and soft at the same time. I spend a lot of time on guitar sounds when I'm tracking and the juxtaposition of extreme sound and melody is something I'm always striving for in the records I make. One of the benefits (and drawbacks) of having a home studio is that I can record overdubs and vocals at home and live with them for a while before committing to a given part, but it's how I prefer to work.
It has been 4 years since you released your previous self-titled album. When did you begin to write this album and what was creative force while writing these new songs?
A few of the ideas are from the period between recording and releasing our last album, but when I wrote the songs "It's a Secret", "Don't Dream" and "Feels Like the End" in July of 2017, I felt like I was onto something new. I always find that each record is a response to the previous record, and this one feels more open musically; it's still got dense sounds but the arrangements have a bit more room in them. I also made a conscious effort to make the lyrics less obtuse and glib and try to be open myself.
I read that some of your inspirations for this album were novelist David Markson, Virginia Woolf, and the time-traveling finale of Twin Peaks: The Return. In which way did those references had an influence on your songwriting?
Initially I was naming each demo after books I was reading, and I kept those names for "Vanishing Point" and "Dalloway". (I also had a song called "2666" after the Bolano novel but it didn't make the cut.) Markson was a new author for me and was recommended to me by a friend/former professor (who also taught me Woolf's Mrs Dalloway). Markson is a novelist in the Beckett tradition of dismantling tropes and conventions of fiction, and when I read that tetralogy I was completely floored by how engaging and rhythmic the writing was. Mrs Dalloway is challenging because it asks the reader if they can compare trauma which is a wildly uncomfortable idea. Their inspiration was more conceptual I guess; pushing things further and playing with notions of form and tradition. I loved Twin Peaks: The Return. There's a line in "Feels Like the End" that says "Time folds over and over" and I was thinking about how that show ended and whether you can escape from your history, good or bad.
Are you a daydreamer? What do you the dream the most about right now?
I typically daydream a lot about the Pacific Coast Highway and song ideas. Right now I'm daydreaming about not being in a state of anxiety 24/7.
One of the things that stands out on this album is Dinosaur Jr's J Mascis guitar solos featured on the song "Grey and Blue". It must have been a dream come true for you to work with him since you are a big fan of Mascis' work and he's just incredible. How did you guys meet and how was it like to have him playing in one of your songs?
Kestrels opened for Dinosaur Jr at this secret show in J's hometown around the release of Give a Glimpse of What Yer Not. It was upstairs a bike shop and it got a little crazy. I met his wife Luisa in the parking lot after the show and we stayed in touch. She invited me over to their place one night when we were tracking at Sonelab, and when I got back to the studio, Justin said J should play on the record. He sent him an email and that was it. J sent a bunch of takes over for "Grey and Blue" and I had the enviable task of comping a J Mascis solo. Maybe someday I'll release an EP with all of the different versions. It's still surreal to think he played on the record. I grew up listening to his music and learned lots about guitar by playing along to Dino songs. It's kind of funny; I initially did a lead for that song that I thought was pretty good, but when I listened to his version there was no comparison.
The album's instrumental structure was done throughout a series of studio sessions at Steve Albini's Electrical Audio in Chicago, Sonelab in Massachusetts, and Sonic Temple in Halifax. What would you say made the recording experience for this album different from previous experiences in the studio?
Previously we'd pick one studio and do all of the drums and some overdubs there, and I'd finish it at my home studio. This time, I knew I was starting over which gave me a weird sense of freedom. Things sort of fell into place. Michael Catano was living in Chicago at the time and I had planned to go visit him. Leading up to the visit I asked if he wanted to drum on a few songs I had been working on, and I booked Electrical. We tracked four songs that day in Studio B. I told the engineer Taylor Hales to treat it as his dream recording scenario and set up as many mics on the drums as possible. I think there were 21 or 22 tracks in total. It was my first time working with Catano. He is a savant on the drums and has one of the deepest understandings of music of anyone I know. Needless to say, he killed it.
Because the test run in Chicago went so well, I reached out to Justin Pizzoferrato to book time at his studio Sonelab. He was amazing to work with and we did the bulk of the tracking for the record there. He had an intuitive sense of what each song needed and kept hauling out all of these cool amps and pedals to try. I learned a lot from him during our time there, especially about the importance of chaining together a bunch of pedals when tracking leads. Justin rules.
I thought the record was finished after that, but got back home and wrote a few songs I thought were strong. Michael was home visiting family and we finished the last few tracks in Halifax one afternoon in December. After all of that, it was business as usual and I recorded the vocals, additional guitars, and bass at home.
Being in those different studios taught me a lot and kept things fresh and exciting. It gave me the confidence to not over-edit things either, which happened on the last record.
You had a great recording team on board with mixing from John Agnello and mastering engineer Greg Calbi. What was the impact do you all feel of working with them?
John and I connected a few years ago via Instagram. He was really excited to work on the record which was flattering. He did the first six songs remotely and I flew to New Jersey and was in the studio while he mixed the final four tracks and did the recalls. John makes great sounding records and works almost entirely in the analog domain — I think there were two plugins on the whole record. It's a weird way to describe it, but he makes things sound so alive. There was also something exciting and refreshing about seeing him mix on the API desk at Kaleidoscope Sound and not just endlessly mess around on Pro Tools. He has great energy in the studio (and great stories) and treats each record as its own thing; you don't just get the Agnello template. Plus he likes the guitars nice and loud, just the way I do. Love that guy.
John says Calbi takes his mixes and makes them 30% better and his discography speaks for itself, so it was a no-brainer to have him master this record. I had him do a separate pass for the vinyl master as well to make sure the LP was the highest quality. It sounds huge but nuanced.
What have you been listening to the most during this lockdown?
I've been stress-listening to current events podcasts like everyone else in my cohort. My comfort listening has been: Norma MacDonald's Old Future, Rocketship, the singles from the forthcoming Phoebe Bridgers record, Land of Talk, Hazel English, Peel Dream Magazine, a playlist of the Gerard Love Teenage Fanclub songs, the last three Malkmus records, and some new demos I've been working on.
How do you see the future of independent music during and after this covid-19 crisis? What can we all do to help?
The thing I keep hearing from my friends is "I'll never complain about staying out late again", so I suspect whenever live shows return and feel safe, they'll be well attended. For now, just buy records and tell people about the records you love. Like mine.
Words: Andreia Alves // Photo: Meg Yoshida – Dream or Don't Dream is out now on Darla Records.