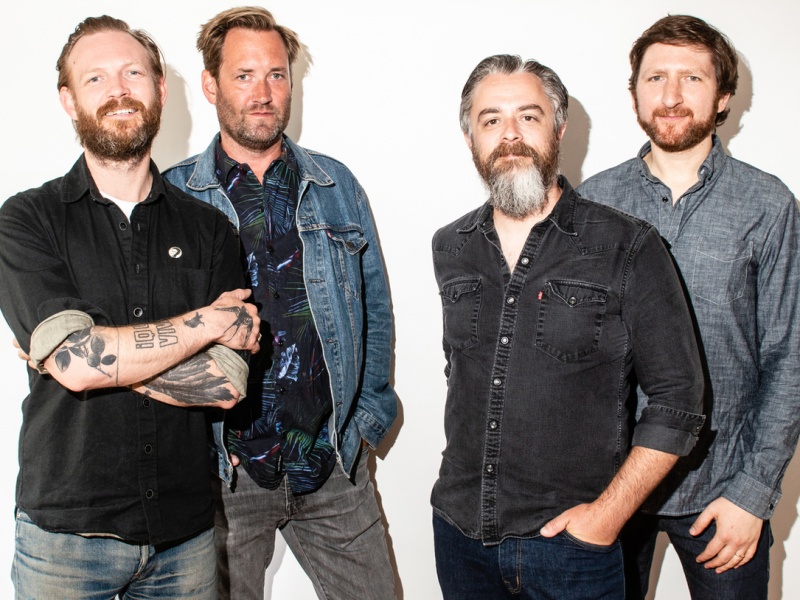 Minus the Bear have shared their new single, "Viaduct," the latest offering from their forthcoming EP, Fair Enough, which is due out October 19th on Suicide Squeeze Records.
The band has also announced a charity auction they're partnering on with MusiCares, a nonprofit that provides support and community services to musicians in need of medical, personal and financial assistance. Today, Minus the Bear launch an auction for the first in a series of four original paintings by artist and Minus the Bear bassist Cory Murchy, created for the cover of Fair Enough. Cory has the following to share on his thoughts behind the painting and EP cover art:
"It was important for me to create a cover relevant to the band and our history, as well as something strong enough to stand on its own artistic merit. The picture we used for our first EP was a blurry photo of the band walking through the forest. We were grainy and not so well defined, monochromatic, youthful. This painting is a response to those same young men and the 17 year-long journey they took together. The human figures, now much more defined, have been replaced by shapes that are now finding their own colors to live in. Much less unified but still working within each other's orbit. The wonder of the woods has been replaced with a milled piece of working lumber. It's a representation of who we've become as individuals and I think it reflects the music in a lot of the same ways. Distilled by time and purpose."
MusiCares holds a special place in Cory's heart, as he personally benefited from their aid while struggling with a chronic back injury.
Listen to "Viaduct" below.
This past July, the band announced their breakup in tandem with a final farewell tour, which kicks off in Nashville on October 9th and culminates with three sold out shows in their hometown of Seattle on December 14th, 15th and 16th, full dates below.
OCTOBER
09 – Nashville, TN @ 3rd & Lindsley *
10 – Carrboro, NC @ Cat's Cradle * – SOLD OUT
11 – Atlanta, GA @ Masquerade *
12 – St. Louis, MO @ Ready Room
13 – Kansas City, MO @ The Truman *
14 – Omaha, NE @ The Waiting Room *
15 – Minneapolis, MN @ Varsity Theatre *
17 – Chicago, IL @ House of Blues *
18 – Columbus, OH @ Newport Music Hall *
19 – Cleveland, OH @ Agora Theatre *
20 – Detroit, MI @ St. Andrews Hall *
21 – Toronto, ON @ Phoenix Concert Theatre *
23 – Pittsburgh, PA @ Mr. Smalls Theatre *
24 – Silver Springs, MD @ The Fillmore *
25 – Boston, MA @ Paradise Rock Club * – SOLD OUT
26 – Asbury Park, NJ @ The Stone Pony * – SOLD OUT
27 – Philadelphia, PA @ Electric Factory *
28 – New York, NY @ Irving Plaza * – SOLD OUT
29 – New York, NY @ Irving Plaza*
30 – Boston, MA @ Paradise Rock Club* – SOLD OUT
NOVEMBER
27 – Tampa, FL @ The Ritz Ybor ^
29 – New Orleans, LA @ House of Blues ^
30 – Dallas, TX @ Granada Theatre ^
DECEMBER
01 – Austin, TX @ Emo's ^ – SOLD OUT
03 – Albuquerque, NM @ El Rey Theatre ^
04 – Denver, CO @ Ogden Theatre ^
05 – Salt Lake City, UT @ The Complex – Grand ^
07 – Tempe, AZ @ The Marquee ^
08 – Pomona, CA @ The Glass House ^ – SOLD OUT
09 – Los Angeles, CA @ The Fonda Theatre ^ – SOLD OUT
10 – Santa Ana, CA @ The Observatory ^
11 – San Francisco, CA @ Regency Ballroom ^
12 – Sacramento, CA @ Ace of Spades ^
13 – Portland, OR @ Roseland Theatre ^
14 – Seattle, WA @ The Showbox ^ – SOLD OUT
15 – Seattle, WA @ The Showbox ^ – SOLD OUT
16 – Seattle, WA @ The Showbox # – SOLD OUT
* = w/ Caspian
^ = w/ Tera Melos
# = with Helms Alee
Photo Credit: Chona Kasinger