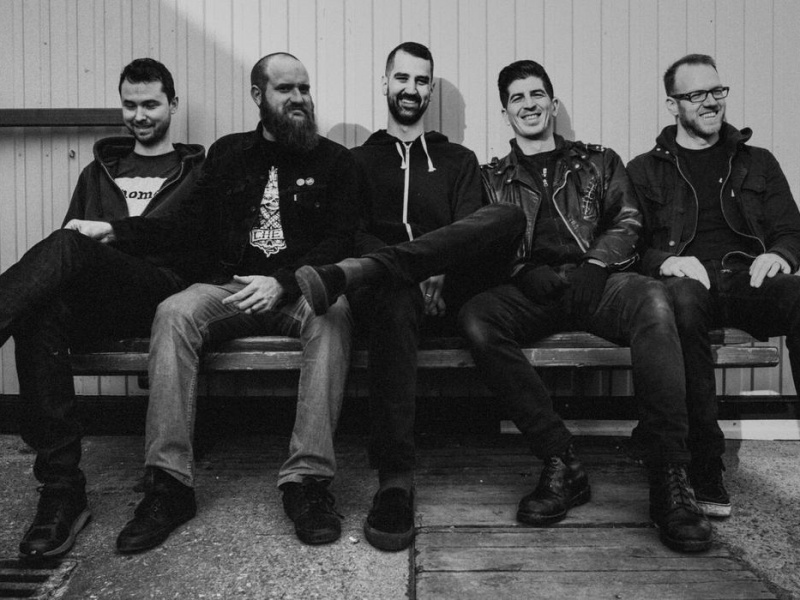 Modern Life Is War have announced an ongoing singles series titled Tribulation Worksongs and they have now released Volume 1, which is now available on Deathwish Inc. Featuring two tracks, "Feels Like End Times" and "Lonesome Valley Ammunitions," Tribulation Worksongs: Volume 1 is their first new release since 2013's excellent LP, Fever Hunting.
Tribulation Worksongs: Volume 1 was recorded by Luke Tweedy at Flat Black Studios and mixed by Kurt Ballou at God City Studios. Aiming to be as hand built as possible, the lyrics/credits of each song were typed by Modern Life Is War vocalist/lyricist Jeff Eaton on his antique typewriter. These were later hand stamped on the front and back covers by artist Jacob Bannon, making each cover totally unique. The labels of the vinyl were also hand stamped before final assembly by the people at Deathwish.
Listen/watch "Feels Like End Times" below:
Modern Life Is War will be on tour in the UK & Europe this Summer, and will play select shows with Gorilla Biscuits and others this September in the U.S.A.
Modern Life Is War tour dates:
Jun. 17 — Aarau, Switzerland — Kiff
Jun. 18 — Leipzig, Germany — Conne Island *
Jun. 19 — Prague, CZ — Eternia *
Jun. 20 — Berlin, Germany — SO36 *
Jun. 21 — Karlsruhe, Germany — NCO Club *
Jun. 22 — Paris, France — Petit Bain *
Jun. 23 — Clisson, France — Hellfest
Jun. 24 — Dessel, Belgium — Graspop
Jun. 25 — Brighton, UK — The Haunt
Jun. 26 — Leeds, UK — Brudenell Social Club
Jun. 27 — Bristol, UK — The Exchange
Jun. 28 — London, UK — Underworld
Jun. 29 — Ijsselsteyn, NL — Jera On Air
Jun. 30 — Munster, Germany — Vainstream Rockfest
Sept. 15 — Denver, CO — Marquis Theater
Sept. 29 — Chicago, IL — Metro ^
Sept. 30 — Des Moines, IA — Wooly's ^
* w/ Cro-Mags, Culture Abuse
^ w/ Gorilla Biscuits