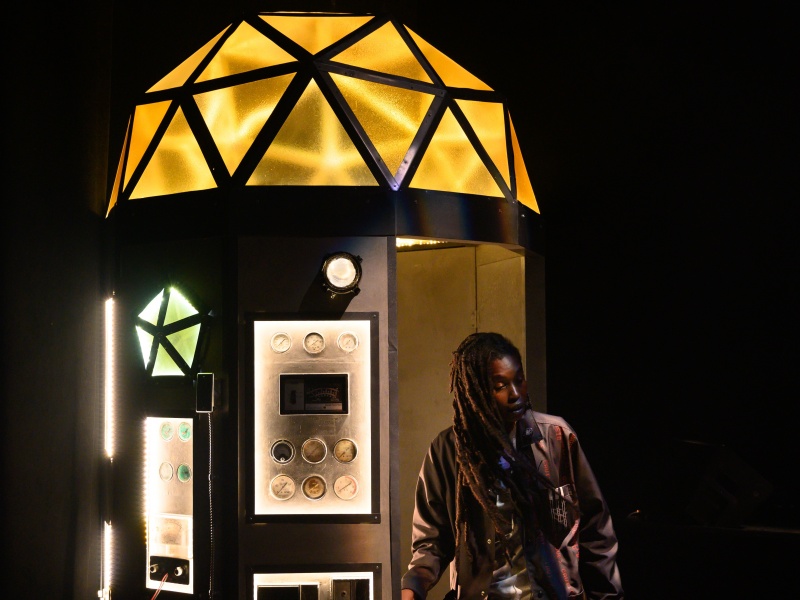 Philadelphia poet, noise musician and activist Moor Mother has announced the release of a new album titled Circuit City, and it will be released this Friday, September 25th via Don Giovanni Records.
Circuit City is the recorded soundtrack of a staged-production of the same name, set in a living room in a futurist corporate-owned apartment complex. Part musical, part choreopoem, part play, the work was composed by Moor Mother (aka Camae Ayewa) to address and eliminate systemic problems associated with the injustice of housing rights, public vs. private ownership, and technology.
Divided into Four Acts, Circuit City is bursting with beauty, frustration, anger and love, conveyed through a frenzy of free jazz. Framed by Ayewa's bold poetry and bolstered by new Moor Mother music performed live by members of Irreversible Entanglements and the Circuit City Band, Circuit City is an afro-futurist song cycle for our current climate.
An 11-minute short film is out now, as a visual component to the first track on the album "Act 1 – Working Machine." Listen/watch it below:
An essay included in the liner notes Playbill of Circuit City written by Moor Mother collaborator Rasheedah Phillips, describes the inequity of housing availability, illegal evictions, and hyper-gentrification, and how these disproportionately affect women of color, Black people, LGBTQ+ people, and immigrants at an alarming disparity. These themes are central and of paramount importance to the work of Moor Mother, and specifically the material contained in Circuit City. As Phillips states in the essay,
"Single mothers and their children, seniors, Black people, LGBTQ people, immigrants, and people living with disabilities are disproportionately impacted by evictions and lack of access to safe, habitable, and affordable housing. The ACLU, for instance highlights how "women of color bear the burden of eviction," noting that women of color made up 62% and 70% of the tenants facing in eviction in Chicago and Philadelphia respectively. This loss of housing has a distinct racial impact, where 63% of African-Americans live in project-based housing compared with 44% of the city's population, and where African-Americans are disproportionately more likely to carry severe housing cost burdens in the city."
Circuit City artwork:
Photo credit: Bob Sweeney