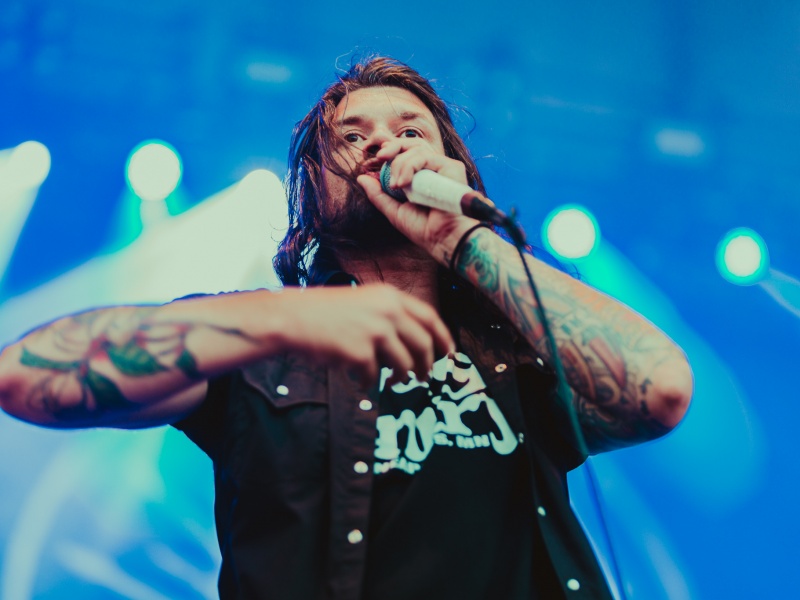 Taking Back Sunday + Coheed And Cambria + The Story So Far // Huntington Beach Pavilion, Chicago (US)
Across the nation, at local emo nights, Taking Back Sunday's 'MakeDamSure' is an early 2000's staple on every local DJ's Spotify playlist, and to be fair it is a dam good song to yell at the top of your lungs and take everyone down memory lane. However, there is nothing like actually getting to witness Adam Lazzara in all his full-blown glory singing the songs that defined a generation and helped usher in a new wave of emo.
The band just wrapped up their national co-headlining tour with prog-rock band Coheed and Cambria and pop punk band The Story So Far. The tour made its way to Chicago to bring a midweek dose of emo to the Huntington Beach Pavilion.
The band kicked off their set with the first song off their emo classic album Louder Now, 'What's It Feel Like to be a Ghost?," and with such fever the crowd sang along as the Adam Lazzarra and John Nolan plus company ushered the crowd back to those golden emo days of the early 2000's. Although the band may have grown older and wiser, while they're on stage, they never miss a beat. With every mic swing, with every note, and with every chorus, Taking Back Sunday flaunts that they haven't changed and continue to be emo royalty.
Taking Back Sunday ran through their catalogue of hits saving the best for last including: 'You're So Last Summer,' 'Cute Without the 'E' (Cut from the Team),' and 'MakeDamSure.' It's truly a glorious moment to hear 5,000 plus people sing back "I just wanna break you down so badly" and come to the realization everyone is still a little emo in the inside – regardless of how long time has passed.
No word yet if the band will make their way back to the studio to write a follow up to 2016's Tidal Wave or if another tour announcement is underway, but let's hope it's in the works!
Words & Photos: Annayelli Flores
Coheed and Cambria
The Story So Far
Taking Back Sunday