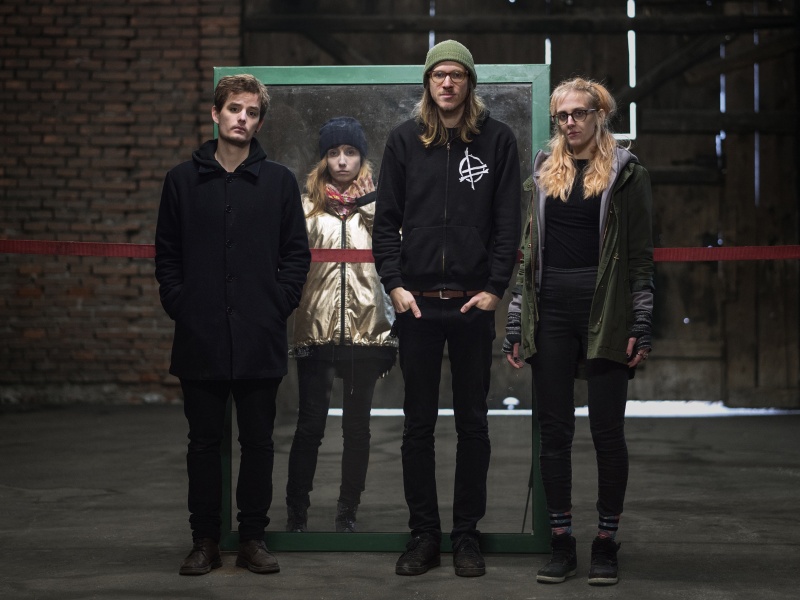 Petrol Girls recently announced that their new EP The Future Is Dark will be released via Hassle Records on September 14th – including on limited etched 12" vinyl – and now they've their new single "Sister".
"I've been wanting for us to write a song about sisterhood for a long time, because it's these relationships that have had the biggest impact on my life and that form the heart of my feminism," says Petrol Girls' vocalist Ren Aldridge. "I've got two younger blood sisters and a few very close friends that I consider sisters, as well as our family dog Skye who passed away last summer but I loved her like a sister too. All of those relationships have taught me so much. They've guided me, taken care of me, made me laugh til I cry and nurtured me into better versions of myself. I think society often puts too much emphasis on sexual relationships when sisterhood is incredibly important and powerful. This song celebrates a relationship that can pose a real threat to capitalism and patriarchy because it challenges competition and is built on care and trust."
Watch below the music video for "Sister".
The EP is named after a Virginia Woolf quote that writer Rebecca Solnit uses as a starting point for her essay "Woolf's Darkness," in "Men Explain Things To Me."
"The dark, just like the future, is full of possibilities," muses Aldridge. "It makes me think about how its only in the dark that we can see the stars and think about ourselves as just tiny parts of this cosmic system, as part of a bigger picture. I find it really grounding and inspiring to feel individually small but part of something huge."
The EP also includes the previously-released single "Survivor", which is inspired by the growing movement against sexual violence. Aldridge explains its motivation — "The people who've spoken up so courageously about their experiences have broken the silence that has protected abusers in the past, often at massive risk to their own safety and well being. I hope that their bravery inspires the cultural shift in attitudes that is so desperately needed."
Catch Petrol Girls on tour, full dates below.
AUGUST
24 – Reading, UK – Reading Festival
25 – Leeds, UK – Leeds Festival
SEPTEMBER
11 – Austria, Wiener Neustadt, Triebwerk
13 – Germany, Munich, Baracke
14 – Bristol, UK – Mother's Ruin
15 – London, UK – Tufnell Park Dome – Loud Women Fest
17 – Paris, France – Olympic Cafe
18 – Amsterdam, Netherlands – Cinetol
20 – Hamburg, Germany – Reeperbahn Festival
21 – Madrid, Spain – Sala Wurlitzer
22 – Valencia, Spain – Alberto Quimera Festival
25 – Stockholm, Sweden – Kafe 44
27 – Kiel, Germany – Kieler Schaubude
29 – Berlin, Germany – Scharni 38
30 – Prague, Czech Republic – Cross Club
OCTOBER
01 – Brno, Czech Republic – Kabinet Můz
04 – Poznan, Poland – Pod Minoga
05 – Warsaw, Poland – Klub Poglos
06 – Vienna, Austria – EKH