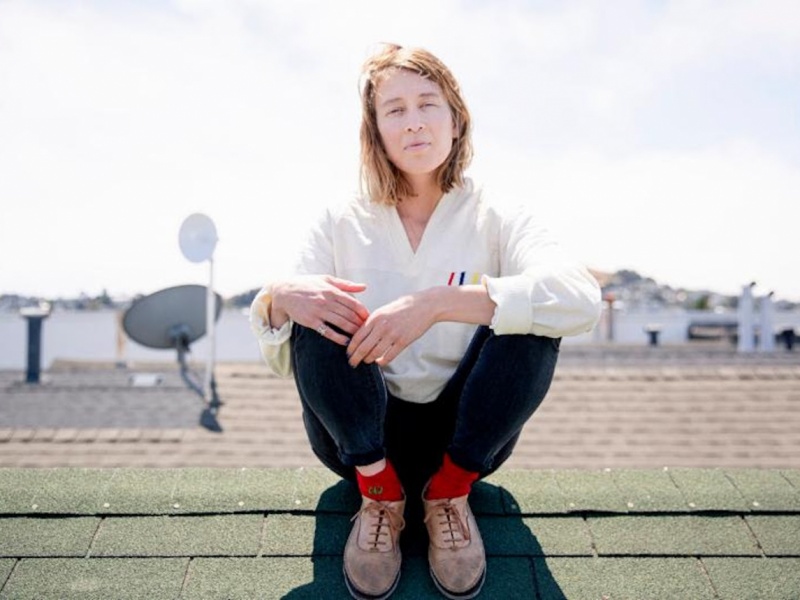 San Francisco's Rose Droll has announced the release of her debut album, Your Dog, out November 16th on Father/Daughter Records (US) and Double Denim Records (UK).
"I've never tried to emulate someone else's playing," Rose says. "I've never tried to go 'that is so cool and I want to copy that.' I don't know how to copy people." The resulting album, self-recorded and self-produced in a duplex in LA's Highland Park and in a quiet cabin in Big Bear, is a collection of ten diverse tracks spanning the last three years. She played every instrument on the record, including guitar, piano, drums, bass, cello, and glockenspiel.
Your Dog follows last year's Photograph, a raw, mostly-acoustic EP that explored gorgeous sonic textures and lyrics that railed against the quickly gentrifying nature of the Bay Area. Those lovely sounds remain on Your Dog, though they're morphed into something more peculiar, something more ominous.
"It's about starting out holding your creative vision higher than anything else, then experimenting with substance to aid your creative process, and then waking up one day to find that the tables have turned and you're holding the substance in a higher position than your art to the point where you're not making art anymore," Rose explains. "I hate when I see that happen to others and it's always been my biggest fear, so when I started to see those same patterns in myself, I backed up a little. It changed the way I view the relationship between creativity and substance."
Rose has also shared the album's lead single "Hush". Listen to it below:
Your Dog artwork & tracklisting:
1 – Outside Looking In
2 – Hush
3 – Happy Kitten
4 – Boy Bruise
5 – Fat Duck
6 – Riddle
7 – Cat June
8 – Something of a Rabbit
9 – Episodes in the Park
10 – Your Dog
Rose Droll supports Madeline Kenney on a handful of October west coast shows, tour dates below:
Oct 15 – Santa Cruz, CA @ The Crepe Place (with Madeline Kenney)
Oct 20 – Los Angeles, CA @ The Moroccan Lounge (with Madeline Kenney)
Oct 21 – San Diego, CA @ Che Cafe (with Madeline Kenney)
Nov 13 – San Francisco, CA @ Green Apple Books on the Park
Dec 13 – San Francisco, CA @ The Independent