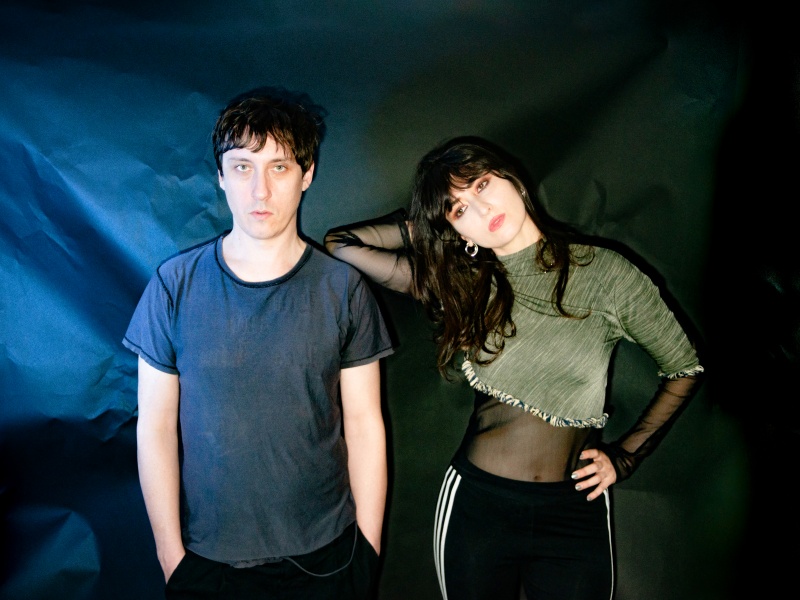 New York City duo, comprised of Jasmine Golestaneh and Eddie Cooper, aka Tempers have announced their new album New Meaning is set for release April 1st via DAIS and have shared the first single from the record "Unfamiliar".
Speaking about the track, Tempers' vocalist Jasmine Golestaneh reveals: "'Unfamiliar' explores the idea of progress, and what qualities might be needed to actualise it. So often change is just a rebranding of the same structures and conventions, history repeating itself. But also on a personal level, it's hard not to repeat mistakes, habits are so seductive. I was thinking about the power of liminal space, and how building a tolerance to unfamiliarity might be a revolutionary act."
Listen to "Unfamiliar" below:
New Meaning is a document of forking paths and fleeting transcendence, the celebration of instability and impermanence, of embracing "a constant state of becoming." Ten anthems for a derailed age, fugitive and sympathetic, nightwalking through an "anguished city" towards a nameless future, poised for rebirth: "When I have / when I have no name / my joy is blinding."
The album has a companion book of original artwork and lyrics. Jasmine created a hand made collage for each song, translating it's sonic landscapes and lyrical themes into concrete images. The book is published by Old Habits Press.
New Meaning artwork & tracklist:
1. Nightwalking
2. Unfamiliar
3. Multitudes
4. In And Out Of Hand
5. It Falls Into You
6. Secrets and Lies
7. Here Nor There
8. Song Behind A Wall
9. Carried Away
10. Sightseeing
See Tempers live:
14-Mar-22: Austin, TX – SXSW
31-Mar-22: New York City, NY – Elsewhere Zone 1
04-Apr-22: Detroit, MI – Sanctuary
06-Apr-22: Madison, WI – U. Wisconsin
10-Apr-22: Chicago, IL – Empty Bottle
12-Apr-22: Toronto, ON – The Garrison
13-Apr-22: Montreal, QB – Ritz
16-Apr-22: Seattle, WA – Crocodile 2nd Stage
17-Apr-22: Portland, OR – Mississippi Studios
19-Apr-22: San Francisco, CA – Milk Bar
20-Apr-22: Los Angeles, CA – Zebulon
21-Apr-22: San Diego, CA – Whistle Stop
24-Apr-22: El Paso, TX – The Reagan
27-Apr-22: Houston, TX – White Oak Music Hall
28-Apr-22: Austin, TX – Mohawk
13-May-22: London, UK – Moth Club
18-May-22: Paris, FR – Point Éphémère
03-Jun-22: Berlin, DE – Kantine am Berghain
Photo credit: Julia Khoroshilov