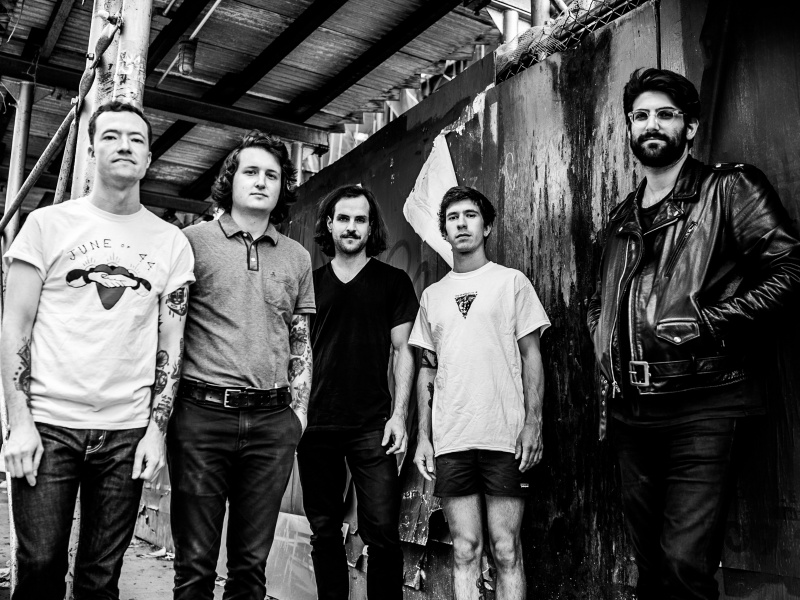 In the three years since the release of their brilliant fourth studio album, Stage Four, Touché Amoré has spent their time touring and reflecting on a record that was deeply personal.
Time heals, and singer Jeremy Bolm explains that moving forward, they want to shake things up, "This time around, we need to take a chance with the unfamiliar. Someone who would take us out of our comfort zone. Enter Ross Robinson. A man who knows no comfort zone. I followed his career all through my youth to being a young adult. When we returned from our recent Midwest tour, we entered the studio to record a song with Ross and see if there was chemistry…"
Listen below to Touché Amoré's brand new song, "Deflector".
"Deflector" will be featured on an exclusive 7" with previously released track "Green." Fans can pre-order the 7" now in olive green with white splatter via the band's webstore, here.
Touché Amoré will kick-off a month long European co-headlining tour with labelmates Deafheaven on Monday, September 16th in Budapest.
EU/UK co-headline dates w/ Deafheaven:
16-September, 2019 – Budapest, A38 (HU)
17-September, 2019 – Ljubljana, Kino Siska (SL)
18-September, 2019 – Milan, Santeria Social Club (IT)
20-September, 2019 – Vienna, Arena (AT)
21-September, 2019 – Prague, Meet Factory (CZ)
22-September, 2019 – Berlin, SO36 (DE)
23-September, 2019 – Copenhagen, Vega (DK)
25-September, 2019 – Hamburg, Markthalle (DE)
26-September, 2019 – Haarlem, Patronaat (NL)
27-September, 2019 – Wiesbaden, Schlachthof (DE)
29-September, 2019 – Bristol, SWX (UK)
30-September, 2019 – Newcastle, Riverside (UK)
1-October, 2019 – Glasgow, Garage (UK)
2-October, 2019 – Manchester, Academy 2 (UK)
3-October, 2019 – London, Electric Ballroom (UK)
4-October, 2019 – Brussels, AB Ballroom (BE)
5-October, 2019 – Paris, Trabendo (FR)
7-October, 2019 – Cologne, Live Music Hall (DE)
8-October, 2019 – Munich, Backstage Werk (DE)
9-October, 2019 – Zurich, Rote Fabrik (CH)
10-October, 2019 – Lyon, Epicerie Moderne (FR)
11-October, 2019 – Barcelona, AMfest (ES)
12-October, 2019 – Madrid, Sala Shoko (ES)
13-October, 2019 – Porto, Amplifest (PT)
Photo credit: Angela Owens