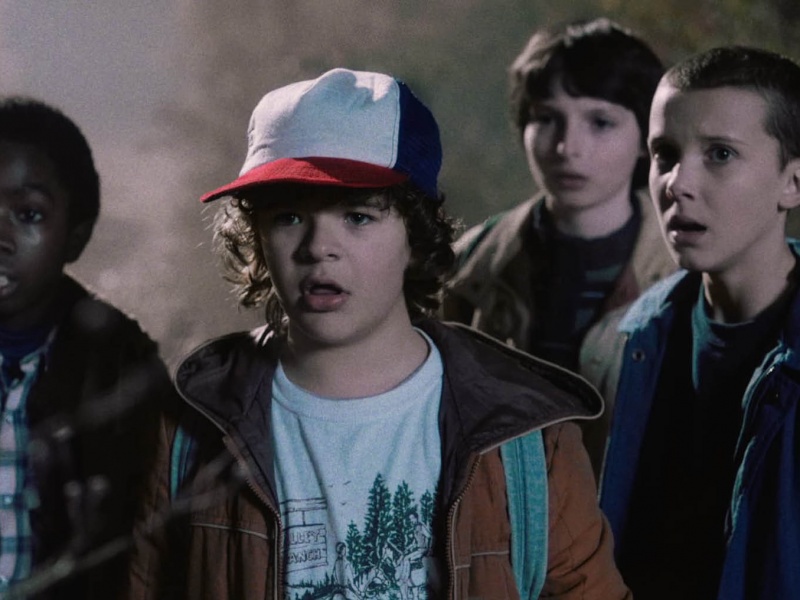 CREATORS: Matt Duffer, Ross Duffer STARRING: Winona Ryder, David Harbour, Finn Wolfhard, Millie Bobby Brown, Gaten Matarazzo, Caleb McLaughlin, Natalia Dyer, Charlie Heaton, Cara Buono, Matthew Modine, Joe Keery, Rob Morgan USA 2016
10
There's always something more in Stranger Things, perhaps is another nostalgia affair that goes deep into your heart. At a certain point we're flirting with the past, with some of our favourite movies, characters or even unforgettable 80's movie scenes.
We could be so damn cliché and say that Stranger Things is a thrilling homage of 80's sci-fi meets horror meets thriller movies, but The Duffer Brothers created something quite beautiful, rich and memorable. Stranger Things' plot is quite simplistic and compelling, but pure entertainment. In fact, twin creators Matt and Ross Duffer pictured the 80's so well, making it clear the type of coming-of-age nostalgia adventure films they're honouring.
Set in 80's Indiana, where Will (Noah Schnapp), a young boy vanishes into thin air and the search for him includes friends, family and local police. Their search for answers, draws them into an extraordinary darker and sometimes frightening mystery involving top-secret government experiments, supernatural forces and one very strange little girl with powerful abilities.
The heart of the show are Will's friends. Mike – or Frogface to his bullies – (Finn Wolfhard), Dustin (Gaten Matarazzo), and Lucas (Caleb McLaughlin), they are leading the quest to rescue Will, but everything gets more strange and interesting when they cross paths with the amazing Eleven (Millie Bobby Brown), a strange and innocent mysterious girl. From Will's out of control mom (the amazing Wynona Ryder), who never backs down to find her son, to Will's sometimes weird old brother Jonathan (Charlie Heaton), everything follows the classic 80's nostalgic characters. We get the classic lost chief of police (David Harbour), the strange doctor (Matthew Modine) and even a group of cliché 80's teenagers and their soapy love triangle.
Stranger Things is nostalgia driven unique adventure, it's easy to get lost in time when there are so many references to the films you grown up loving and admiring. From The Thing poster spotted on the wall, to the walkie-talkies, the kids travel around on bikes and we even get to see He-Man and the Masters of the Universe on TV. There are obvious references to Stand By Me, The Thing, Poltergeist, E.T. The Extra-Terrestrial and of course The Goonies, but there's also a classic X-Files approach on it. Let's say that The Duffer Brothers were clearly influenced by Spielberg, John Carpenter and Richard Donner among others, but what's more impressive is the way that they somehow pay tribute to their influences, without being cheesy and random imitators.
Stylish and fresh, even if they lose in originality, the Duffers replicate the sci-fi blockbusters family films of the 80's with a perfect script, terrific performances and compelling characters. They captured the starting point, the essence and purity of the 80's pop culture, how we had fun with simple things and how we can honestly say that we miss the 80's. It was a pleasure for this writer living the 80's and experiencing the 80's – that can never be taken away from me.
By the way, have you met Austin soundscapists S U R V I V E? They're the band behind the Stranger Things nostalgic and creepy awesome score. Go find them, google them, they deserve all the praise.
Words by Fausto Casais