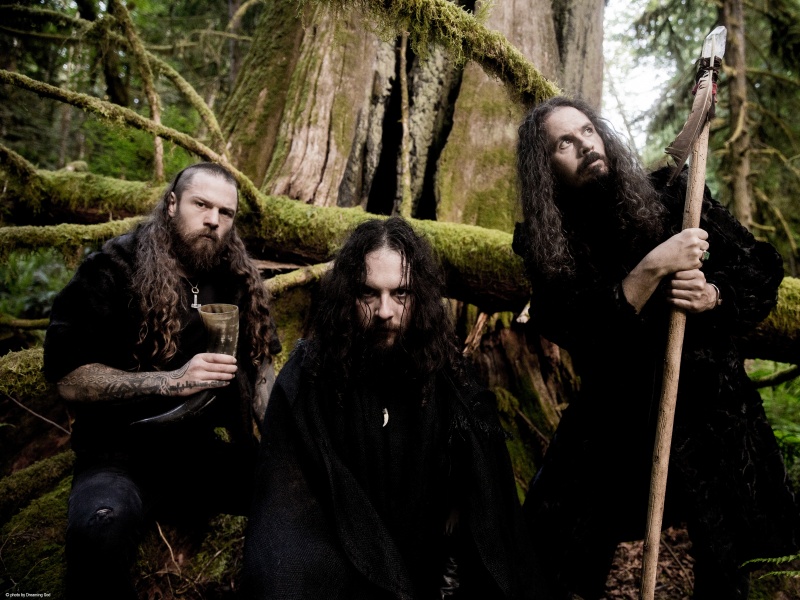 Two decades into their journey as ritualistic black metal conjurers, Wolves In The Throne Room have emerged from the forest with Primordial Arcana, their first release via Century Media Records (outside of USA and Canada) and Relapse Records (USA and Canada) out August 20th.
Watch below the "Mountain Magick" music video, directed by Wolves In The Throne Room.
"Mountain Magick was shot in the northern reaches of the Olympic Mountains and the ancient forests that shroud the foothills. We wrote the story, created the costumes, shot the footage and did the editing ourselves, so it is a true product of our hearts and souls. Creating our own videos has been a long standing dream and now It's very exciting to bring these Visions into the Cinematic Realm."
Primordial Arcana is the band's first completely self-contained work: In addition to composition and performance, brothers Aaron and Nathan Weaver alongside guitarist Kody Keyworth handled all aspects of recording, producing and mixing at their own Owl Lodge Studios in the woods of Washington state.
Primordial Arcana tracklist and artwork:


Mountain Magick
Spirit of Lightning
Through Eternal Fields
Primal Chasm (Gift of Fire)
Underworld Aurora
Skyclad Passage (additional track only available on the Ltd. Gatefold 2LP & LP-Booklet & Poster variants)
Masters of Rain and Storm
Eostre
European Tour Dates with: Blood Incantation & Stygian Bough (A collaboration between Bell Witch & Aerial Ruin), full dates below:
13.10.21 (DE) Hamburg – Knust
14.10.21 (DK) Copenhagen – Pumpehuset
15.10.21 (NL) Utrecht – Tivolivredenburg Pandora
16.10.21 (NL) Nijmegen – Doornroosje
19.10.21 (PL) Warsaw – Proxima
20.10.21 (PL) Krakow – Kwadrat
21.10.21 (CZ) Prague – Futurum
22.10.21 (HU) Budapest – Instant
23.10.21 (AT) Vienna – Szene
26.10.21 (FR) Lyon – CCO Villeurbanne
27.10-21 (DE) Karlsruhe – Die Stadtmitte
28.10.21 (FR) Colmar – Le Grillen
29.10.21 (DE) Munster – Sputnikhalle
31.10.21 (DE) Leipzig – Conne Island
02.11.21 (DE) Berlin – SO36
03.11.21 (DE) Hannover – Musikzentrum
04.11.21 (FR) Paris – La Machine du Moulin Rouge
05.11.21 (FR) Dunkirk – Les 4Ecluses
06.11.21 (UK) Leeds – Damnation Festival
07.11.21 (UK) London – Heaven
09.11.21 (SP) Madrid – Mon
10.11.21 (SP) Barcelona – Apolo 1
11.11.21 (FR) Toulouse – Le Rex
12.11.21 (IT) Milano – Legend Club
13.11.21 (CH) Winterthur – Gaswerk
14.11.21 (DE) Munich – Backstage Halle
Photo credit: Dreaming God