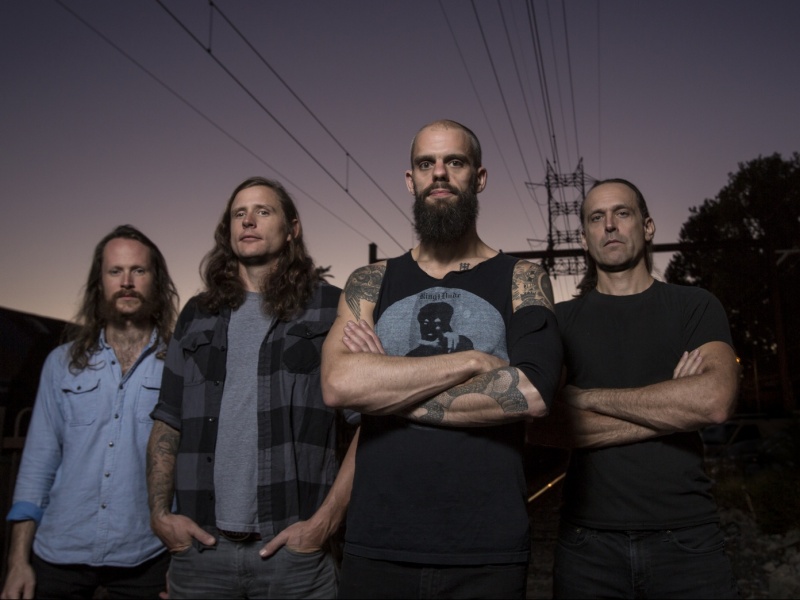 H

ow excited are we with the amazing comeback of

Baroness

? Very fucking excited. These dudes suffered a huge setback while touring in Europe a few years ago, but they're back, happier, stronger and hungrier than ever to rock this place up.
Our brand new issue is finally here, and it's loaded with big guns, from exciting new acts like
Milk Teeth

,

Mothers

,

Palehound

or

Muncie Girls

, to huge, iconic and legendary acts like

Anthrax

,

Tortoise

,

7 Year Bitch

,

Ulver

and

Bloc Party

. We can even say that this is perhaps our most diverse and rich issue ever, having Wild Nothing, Mystery Jets, Money or Basia Bulat side by side is an honor and for all the right reasons we're sharing with you guys how thrilled and happy we are with our brand new

ISSUE 17

.
The new issue is also made of changes, our edition gets bigger and goes bi-monthly, and for that reason we are for raising our own limits and level up the game a bit more. Enough of boring talk, enjoy our brand new issue.
---
BARONESS

Vocalist and guitarist
John Baizley

spoke to us about the changes the band have undergone over the past few years and why these have made them happier, stronger and hungrier than ever.
MUNCIE GIRLS

From Caplan To Belsize is their debut album and it was about that we caught up with
Lande Hekt

that gave us more reasons to say they're really a band to watch and catch live in 2016.
WILD NOTHING

Finding balance and time for his third record was something really motivating and interesting. WILD NOTHING's
Jack Tatum

talked with us about the importance of taking a pause in your life and how it inspired him for the new record, Life Of Pause.
BLOC PARTY

Hymns is the name of Bloc Party's fifth album and guitarist
Russell Lissack

took us through the making of such pivotal album, which is also an admitted rebirth.
MILK TEETH

It was about Vile Child, their debut album and everything that now surrounds Milk Teeth that we talked about with guitarist and songwriter
Chris Webb

.
TORTOISE

After seven years in the wilderness they have returned with another uncategorisable gem in The Catastrophist, and we nabbed co-founder
Dan Bitney

to find out what keeps Tortoise marching through the ages.
ANTHRAX

We caught up with bassist
Frank Bello

in a Houston backstage area before one of Anthrax's gigs in their current tour to talk a bit about their latest release, For All Kings.
PALEHOUND

Palehound is the moniker for guitarist/songwriter
Ellen Kempner

and she brings a much reinvigorate way to write personal and emotional songs. Those songs are on her debut album, Dry Food, so  we caught up with Ellen about her record and her beginnings as a musician.
++ Interviews with 7 Year Bitch, Ulver, Mothers, Like Pacific, Mystery Jets, Trixie Whitley, Roam, Palehound, Money and much more…
++++ TONS OF REVIEWS
ALBUMS

// David Bowie, Anthrax, Big Ups, Black Mountain, Bossk, Basement, Cullen Omori, Death Index, Frankie Cosmos, Graves At Sea, Heck, Iggy Pop, Ihsahn, Inverloch, John Carpenter, Lust For Youth, Mamiffer, Matmos, Mogwai, Milk Teeth, Muncie Girls, Oranssi Pazuzu, Parquet Courts, Pinegrove, Rorcal, Saul Williams, September Girls, Simmer, Thao & The Get Down Stay Down, The Coathangers, The Body, The Thermals, Tombs, Wild Nothing, Violent Femmes, Yuck and much more…
LIVE

// Baroness, Marching Church, Enter Shikari, The King Blues, The Wonder Years, Deafheaven, Myrkur, Shopping, Blues Pills.
CINEMA & TV

// Deadpool, Anomalisa, Truth, Diary Of A Teenage Girl, Love (Season 1).
By the way, you can read for free below our brand new issue…