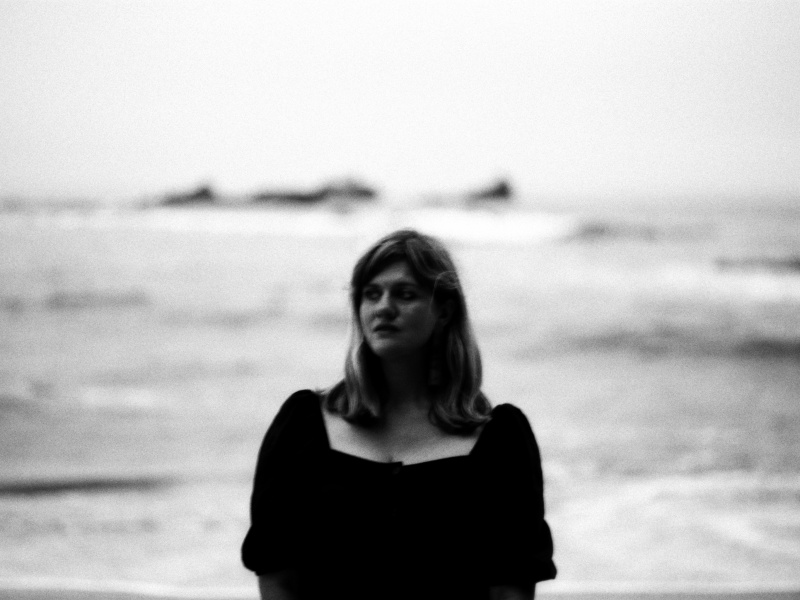 LA harpist Mary Lattimore is back with a new album titled Silver Ladders, the follow-up to 2018's album Hundreds of Days. This new effort is a special one because it was made along with Slowdive's Neil Halstead. Their great individual writing skills fit perfectly turning out to be a utterly bright and engaging record. We caught up with Mary and we talked about the new album, working with Neil and her thoughts and hopes for what's left of 2020.
---
First of all, how are you and how are you dealing with everything that's happening in our world, especially in the states?
I'm okay. There are ups and downs. I'm lucky to have a nice apartment, instruments, and just got a kitten and she brings some sunshine into the quarantine days. I think the record coming out feels positive and is a nice distraction, too. I'm really hoping the election turns things around for us here. As a person who's used to being on tour a big part of the year, I'm really missing the travel and meeting people and playing the harp for people very deeply, but recognize that it could be way worse right now. This year has taught us that things could always be worse, so always looking for silver linings.
Listening to Silver Ladders, it feels like a hopeful yet a melancholic album. It takes you into this instrospective journey where you picture yourself walking in the seaside in a winter day, trying to figure out the meaning behind one's life purpose. Well, at least that's what made me feel and experience while listening to it. How did the songs for this album come to be?
Thank you so much for finding that feeling in the record. That's amazing, thank you. Some of the songs came from me sitting by myself in my apartment and layering sounds, including the title track, which I first recorded on my phone and then worked out at home. Some of the songs came from improvising in Neil's studio while he recorded it. A lot of the vibe of the record was influenced by being in coastal Cornwall in the wintertime, so I'm glad that came through!
Silver Ladders was recorded in Cornwall with Slowdive's Neil Halstead, who you met at a festival when touring your last album, 2018's Hundreds Of Days. Tell us about how was it like to meet and work with Halstead for your new album.
Meeting and working with Neil and hanging out was a dream come true. We really hit it off. He was very generous with his time and our working style was great and easy and productive. We finished the record in 9 days. We also took one day and went to a village called St. Ives, where he went surfing while his partner Ingrid and baby and I went to the Barbara Hepworth museum. I have such lovely memories of January in Cornwall and listening to records and having dinners and it all contributed to the feel of the album, I think.
This new effort was recorded over the course of nine days at Halstead's studio stationed on an old airfield. This time around you didn't work on your music by yourself, so how was that experience for you?
It was terrific. It would've been very different if Neil and I had different personalities, but I think both of us are pretty easy-going and curious and it felt like a very collaborative time. I respect his taste a lot, as he's made some of my very favorite music, so to hear my songs put through his filter was really exciting. He had ideas I never would've come up with and knew how to use technology to bring out a different palette of sound.
The album's first single "Sometimes He's In My Dreams" was written collaboratively between you and Halstead during the recording sessions. Can you elaborate how was that like?
I recorded a long jam, a long improvisation, and Neil liked this part of the improvisation as a stand-alone song. He looped a bit of it and shaped it and added some of his gorgeous guitar on top of it.
To be honest, I love your new album as a whole, but the title track stands out the most for me. What can you tell me about the story behind this song?
Thanks so much! I spent some time in Stari Grad, this tiny town in Croatia on the island of Hvar, last year. There were these ladders that you'd climb down to get into the sea and had the best swims of my life there in the bay in the town. When I came back to the US, I was playing a wedding in Big Sur in California overlooking the ocean and this melody came to me, as I remembered Croatia. It feels like a very watery song to me, looking at rugged cliffs and thinking about water and being carried away. So, I recorded the melody on my phone and developed it when I got back to my apartment. I brought it to Neil's and he got rid of some unnecessary layers and made it shine.
The album's artwork was created by artist Becky Suss and it's a dreamy and beautiful piece of art. What can you tell us about its meaning?
This is from her series where she was painting from descriptions from childrens' books and young adult novels. This painting is based on a description of the interior of a lighthouse from the book Cheaper By The Dozen. I just love her work and her style.
You are one of the guest appearances on Nothing's new album, The Great Dismal. Tell us more about your collaboration with them.
Nicky and Kyle from Nothing are old friends from the years I lived in Philadelphia. I toured with them with my duo with Jeff Zeigler and Nicky and I share a birthday. It was fun to overdub harp on this song. I just recorded at my place and sent it along and Nicky loved it. It's a great song and record!
2020 has been a rollercoaster of more downs than ups in every level possible and the music industry has been affected by the pandemic all over the world. What are you thoughts about the matter and what do think we can do more and better about it?
It's really scary to have your whole livelihood unavailable for so long and I think a lot of musicians are having to pivot and hustle in new ways. I'm afraid it's going to take its toll on venues and booking agencies and all facets of this industry by the time we can play shows again. Bandcamp has been wonderful in this time of pandemic, generously donating their cut of profits each month and that's been helpful and positive. It's disheartening to see streaming services like Spotify not do the same, still only paying the artists that provide the actual content tiny fractions of pennies per stream during this crisis. I think by visiting Bandcamp and purchasing merch and records directly from the artists, it's a great help for morale too.
What are your hopes and goals for the rest of 2020?
I hope people like and listen to and buy the new record and connect with it. I hope that Americans vote Trump out of office along with his corrupt buddies. I hope that the election won't see violence and civil war. I hope that there's a vaccine on the horizon and that everyone is taking care with their health, including mental health, until then. A goal is just to encourage people to vote, to try to be good to people and to have patience and not get too too dark while living alone. I'd also love to score a film, so I'm trying to figure that out too!
Last question, what's your favorite record of 2020 so far?
Julianna Barwick's Healing is a Miracle is my favorite record of 2020.
Words: Andreia Alves // Photo: Rachael Pony Cassells – Silver Ladders is out now via Ghostly International.