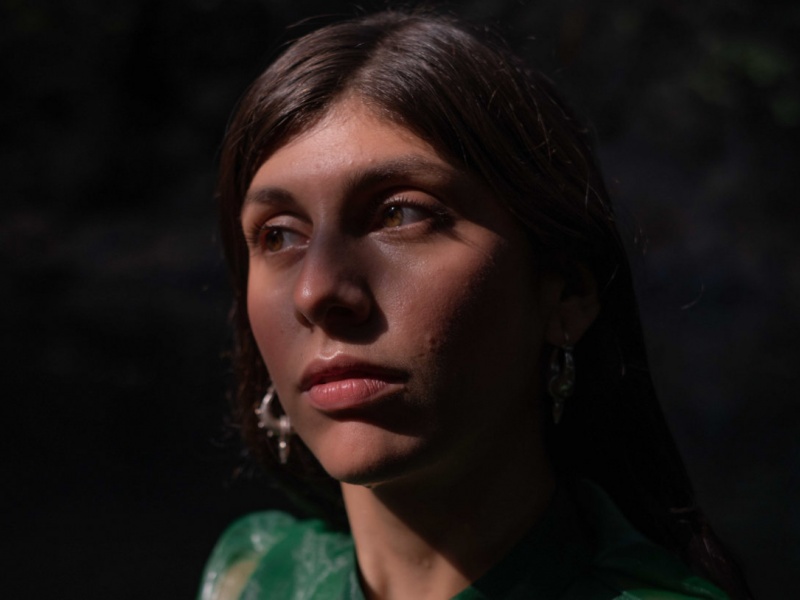 Today India-based musician Sandunes has announced details of her new EP Nowhere To Stand, which is set for release on June 25th via !K7. Along with the announcement, she has shared the EP's lead single "Shadow", which features vocals from Half Waif.
Nowhere to Stand is Sanaya Ardeshir's sixth solo EP and the farthest-reaching leap yet into Sandunes' growing collaborative universe. Four unique and diverse vocalists feature on four tracks – each driven and overseen by Ardeshir's powerful musicianship and lyricism towards a newfound pop-inspired direction.
The first track to be unveiled sees Sandunes' vibrant electronics teamed with evocative vocals from Hudson Valley-based musician Nandi Rose, who plays under the name Half Waif. Sandunes comments on the track saying: "Nandi has been a dear friend for a few years and her work stands out to me for having a very authentic voice, always steeped in deep emotions. She came up with the melody and wrote about her lived experiences, I got goosebumps when I heard what she'd done with it."
Rose adds: "This collaboration with Sandunes came about at the beginning of the pandemic, when we were all looking for new creative toeholds. Sanaya and I have been friends for many years, and I'm a huge fan of her music and the sounds she creates, so when she approached me to sing on a track she'd made, I jumped at the opportunity. I loved how her instrumental moved from more glittering, atmospheric verse sounds to a slick, cool chorus feel, so my first idea was to use a denser melody in the first section while leaving the chorus emptier, letting the ear dig deeper into the groove. Lyrically, I was exploring the idea that when you're confronted with stillness, all the old memories and feelings of shame around the past start to flood in. And when that happens, what you really need to do in order to let it all go is to move. Movement is so cathartic, and I think Sanaya captures that perfectly in her arrangement."
Listen to "Shadow ft. Half Waif" below:
Nowhere To Stand follows 2020's Spare Some Time, the collaborative electronic jazz crossover Spaven x Sandunes and 2019's 11:11. The new EP centres thematically on the journey of acquiring a relationship with transience and change – a process interspersed with dense weavings of fear, discomfort, longing, love, embrace and celebration. Over the year since her last release, Sanaya's own life has seen this wave wash over it; a drastic change in lifestyle, personal and professional decision-making, and refined focus on being free, connected to the earth, and on releasing control of the ways the world perceives her.
Nowhere to Stand artwork & tracklist:
1. A Little While Ft. Landslands
2. Shadow ft. Half Waif
3. Nowhere To Stand Ft. Sid Sriram
4. Ghosts Ft. Ramya Pothuri