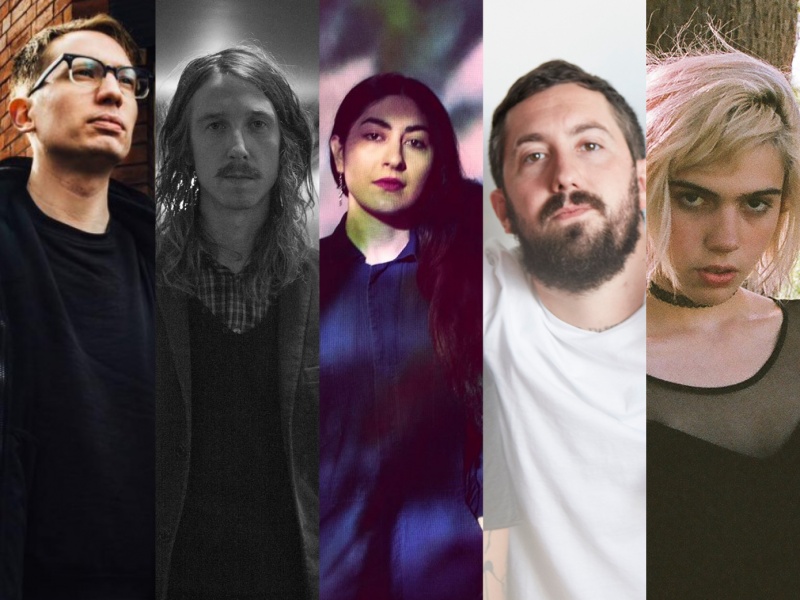 From Nothing to Sunflower Bean, from Explosions In The Sky to Miserable, it was again hard to pick just 20 albums, but here's our Top 20 (in no specific order whatsoever) Psychedelic/Post-Rock & Shoegaze albums of 2016 along with our thoughts on them.
Our main non-genre-specific 'albums of the year' list is coming soon, we want to give it some more love and make sure we don't miss out anything. Stay tuned, more lists are going to be unveiled in the following days… Enjoy!
---
Simmer – Paper Prisms (Dog Knight Productions)
On their debut full-length, Cheshire trio Simmer just sound big. All elements of their first two EPs Your Tonal Mess and Yellow Streak are there, but what stands out on this album is how they managed to embody the best of the noisy punk and shoegaze into something that easily flows from song to song, giving the idea we are listening to one big and long song. Intense and melancholic as fuck, Paper Prisms is filled with fuzzy shoegaze riffs and dreamy, atmospheric sounds. They're really good blending those elements on their music and just kind of make them fit in the right place. It's impressive to see with just a few releases that Simmer are already showing such musical maturation and an outstanding confidence.
(Andreia Alves) // Listen at Bandcamp.
---
Pity Sex – White Hot Moon (Run For Cover Records)
When Pity Sex put out their debut album, Feast of Love, everything about it was just too damn attractive and contagious – the melodic tunes, the honest lyrics, the bold artwork and even their band's name. White Hot Moon tunes are a mix of shoegaze and punk, the lyrics are sharper and the artwork is just captivating. Co-vocalists Britty Drake and Brennan Greaves feed much more the group's dynamic whether with loud or soft moments. Listening to Pity Sex feels like we're longing for something, missing someone, wanting to change something in our lives and that's why is quite easy to connect with their music.
(Andreia Alves) // Listen at Bandcamp.
---
Sunflower Bean – Human Ceremony (Fat Possum Records)
Human Ceremony is a strange album. A uniquely throwback sound, that seems etched in sixties psych-rock origins, dragging out vocals that grasp at influences as diverse as The Beatles, Bowie and Jefferson Airplane. It is a breezy, feather-light collection of songs. Delicate and fragile melody twinned with drums that are pushing and driving, but subdued all the same. A delicious album with elegant style and a fresh pulse. Maybe not for everyone, but given a good listen, plenty to stir the bones.
(Andi Chamberlain) // Listen at Spotify.
---
Woods – City Sun Eater In the River of Light (Woodsist)
After eight albums of light psych rock with a '60s groove, Woods were getting a little bit stale, their sound was becoming repetitive and the anticipation for their 9th album was at an all time low. It was with a healthy amount of distrust that I took the news of new influences being injected into the band, so when the time came, and I was blasted in the face with jazz and reggae influences, I was pleasantly surprised by how well it worked. City Sun Eater In The River Of Light is lighter and even happier, it connects well enough with their original spirit to keepfans happy, while giving the band a much needed breath of fresh air.
(Carlos Cardoso) // Listen at Spotify.
---
Teenage Fanclub – Here (Merge Records)
Teenage Fanclub seem to have never left that early noughties sound of shoegazey, indie guitar music that is wistful and innocent and sugar-coated in naïve charm. Here is a candy-coated breeze to listen too. In-offensive, full of open breasted blazer wearing charm. Music for people with no fear of the world, who constantly gaze skyward and make stories from the clouds. It's innocent, chirpy and genuinely able to conjure smiles from nowhere. What it lacks in songwriting prowess it more than ably makes up for in its purity and optimism, and for that you really have to applaud its efforts.
(Andi Chamberlain) // Listen on Spotify.
---
Explosions In The Sky – The Wilderness (Bella Union)
With a heartbeat beckoning you in, The Wilderness is a hypnotic, enthralling, rabbit hole of an album. Sonically soothing, slow build rhythms and melodies cascade together in dramatic and fantastic ways. You can imagine this being the soundtrack to some crazy Slow-Motion car-crash footage, or an avalanche chasing skiers – who pull off dazzling maneuvers in escape of the icy wall of doom behind them. A deeply resonant album; hauntingly beautiful and rich rewarding listen. Swells of soundscapes, building mood and phenomenal pacing mean it will steal your heart and play fantastical games with your mind. An absolute joy to listen to from start to finish.
(Andi Chamberlain) // Listen at Bandcamp.
---
pg.lost – Versus (Pelagic Records)
There is a depth and radiance that comes from the heightened presence of synths compared to past releases. A fantastic war of sound is waged throughout the album; ascending keys and guitars clash against sludgy bass lines and the footsteps of drums in a sonic display of Spartan might. Versus is an epic tale that resonates far beyond its recorded confines.
(Teddie Taylor) // Listen at YouTube.
---
Newmoon – Space (PIAS/Mayfly Records)
Space transcends a mere "collection of songs" description, giving the listener the choice of being immersed in all its emotional weight and depth. Newmoon's debut is a memorable trip that rewards people who are willing to lose themselves in its delicious shoegaze mazes. Space is an awe-inspiring debut and Newmoon's future couldn't look more promising.
(Tiago Moreira) // Listen at Bandcamp.
---
Mono – Requiem For Hell (Pelagic Records)
Once again nimbly sidestepping repetition while retaining a foothold for the devoted,the Tokyo quartet's ninth full-length strikes plenty of familiar emotional beats, the gentle twinkle of glockenspiel and the dissonant beauty of Taka Goto and Yoda evokingan air of still contemplation while Yasunori Takada's full-pelt percussion firmly wrenches the heart into the throat, but crafts its own identity by being their most fevered and chaotic album to date.
(Dave Bowes) // Listen at Bandcamp.
---
Grumbling Fur – FurFour (Thrill Jockey)
Intuitively constructed and blessed with an ear for a great hook (or 12), they keep their psychedelic leanings somewhat in line by focussing on streamlined pop perfection, a gently buzzing drone or mournful violin passage among the reminders that you're not currently dipping into some long-lost Erasure gem. It's all rather lovely, and whether they're stirring up a low-key danceathon on "Acid Ali Khan" or resurrecting George Harrison's world-travelling spirit on "Golden Simon", this idiosyncratically British duo prove to be a pairing who can make magic happen when they're together.
(Dave Bowes) // Listen at Bandcamp.
---
Russian Circles – Guidance (Sargent House)
Guidance is a sleekly ferocious collection that shows that there are as many permeations to their formula as there are drops in the ocean. The shifts between poles aren't always the gentlest, the transitions often jarring the listener out of whatever reverie they've been lulled into, yet again, it plays to their strengths, sidestepping cinematic soars and choosing a path that is more natural in its violence and grace. Free of melodrama and pretence and laden with more colossal riffing than you can shake a pedal board at, Guidance sounds like a band widening a channel that they, and they alone, have created.
(Dave Bowes) // Listen at Bandcamp.
---
Miserable – Uncontrollable (The Native Sound)
Throughout all the 9 tracks that compose Uncontrollable, the shoegaze, doomy, jazzy, and bluesy approach provides the adequate soundtrack to a painful, intimate and personal reads of a diary filled with gut-wrenching, soulful, and (more than one would expect) anguished howls made by someone who walks a painful journey towards understanding and acceptance of the life's dynamics. Uncontrollable is the kind of record that you want to explore for many years to come, and that's rare.
(Tiago Moreira) // Listen at Bandcamp.
---
Psychic Ills – Inner Journey Out (Sacred Bones)
Psychic Ills' new effort is a journey between diversity and mesmerizing soundscapes, that goes from country to blues, from gospel to folk, stops by to pay homage to psych-rock basic foundations. Inner Journey Out is a detailed exploration of the interior and the exterior, and the pathway between the two. Perhaps the most expansive, detailed and personal Psychic Ills' effort till date, with frontman Tres Warren exploring new territories and Elizabeth Hart's bass sonic palette sharper than ever.
(Fausto Casais) // Listen at Bandcamp.
---
Tortoise – The Catastrophist (Thrill Jockey)
Tortoise's music always felt like the base elements of jazz and rock had been fed into a software program which then regurgitated the result in machine-like manner only to find a surprising amount of soul. It's the perfect record for the paranoid procrastinator in your life, smooth and sheened on the surface, but underneath riddled with doubt and suspicion.
(Euan Andrews) // Listen at Bandcamp.
---
King Gizzard & The Lizard Wizard – Nonagon Infinity (ATO)
With an endless circle of fast, furious and tight riffs, King Gizzard & The Lizard Wizard have concocted a concept album that just about gives the idea a whole new meaning. Running at forty minutes, time is completely subjective because the album could quite easily roll around with absolutely no concern, meaning you're there for hours. You find yourself lost amongst the havoc and insanity King Gizzard brings forth.
(Steven Loftin) // Listen at Bandcamp.
---
Nothing – Tired Of Tomorrow (Relapse Records)
Here they are again with another fantastic record. Nothing's sophomore album, naturally, finds us with a more mature band. Although it might sound bleaker, Tired of Tomorrow, with its prominent shoegaze haziness and grungy feel, definitely sounds like what its title implies and seems to just accept the fact that sometimes life appears to turn into a very strange and cruel place and one must just turn off the brain for a little while and wait for the storm to pass.
(Ricardo Almeida) Listen at Bandcamp.
---
Bossk – Audio Noir (Deathwish Inc.)
With a fierce intensity, Audio Noir brings together all the classic stoner meets sludge meets doom classic elements, along with this unique way of transport the listener to another new dimension, where everything sounds raw and urgent. Rules are here to be broken and, in this new effort, Bossk were able to break a few, from their hypnotic and layered way of creating art in their own way of portraying emotions into their own instrumental landscapes.
(Fausto Casais) // Listen at Bandcamp.
---
Trautonist – Trautonist (Wolves And Vibrancy Records)
For about thirty minutes we get stuck in this kind of dreamy but dark atmosphere wrapped on an infectious energy that blends perfectly black metal with shoegaze. This is heavy and intense as hell, but there's always space to drift on the calmer and evolving parts. During this turmoil of raw and dense atmospheres, bittersweet feelings are thrown by Katharinas' beautiful voice as Dennis shouts out his deep demons. For a debut, this is just brilliant and remarkable.
(Andreia Alves) // Listen at Bandcamp.
---
Black Mountain – IV (Jagjaguwar)
Despite the quintet haven't released new material in a while, this album is for sure a great accomplishment. There's a lot of music diversity, from psychedelic to experimental rock with the beautiful male-female vocals dynamic and breathtaking melodies. "(Over And Over) The Chain" is just one of the magnificent pieces of this album. IV is a musical adventure of the group to find new ways to be creative and explore their music tastes.
(Andreia Alves) // Listen at Spotify.
---
True Widow – Avvolgere (Relapse Records)
A hybrid of stoner and shoegaze, Avvolgere is a dark, brooding, deliberately under-produced album that exists somewhere in the ether between the two aforementioned genres, but is happily flirting and dashing between the two in brazen and unashamed ways. Vocals sound like after thoughts, hidden deep in amongst the bass and fuzz-hewn guitars. Slow tempo drums beat slave ship rhythms throughout the songs, and the production allows every rough edge space to breath, enhancing the songs rather than displaying any naivety or lack of talent. It sounds like the music that would soundtrack a late 90's gothic action movie. It's completely comfortable in its skin, utterly unafraid of its limitations, wearing its heart proudly on its sleeve. And you have to kind of adore it because of that chutzpah.
(Andi Chamberlain) // Listen at Bandcamp.